Karcher are a trust worthy brand that produce some of the best and most popular pressure washers on the market. We have rounded up a guide on the 4 models from Karcher and what they are great for and how they sit compared to their other items.
Which Karcher Pressure Washer?
The Karcher power washers consists of 4 models, the K2, K4, K5 and K7. Within each model there is a eco, home and premium version, the different versions contain different features and attachments, but still have the same specification, the engine within is the same.
In 2016 Karcher rolled out upgrades to its top spec pressure washers which were titled under the name 'Full Control'. There have been updated to the K4, K4 and K7 models which now have a new design and some extra new features.
Karcher K2 Vs K4 Vs K5 Vs K7
We compare the specification and features of the Kearcher power washer range, click through to read our full and detailed reviews on each model.









Buy on Amazon
Buy on Amazon
Buy on Amazon
Buy on Amazon
Kärcher K2
Kärcher K4
Kärcher K5
Kärcher K7
Pressure (Bar)
110
130
145
160
Water Flow (l/h)
360
420
500
600
Area Cleaned (Square Metres per Hour)
20
30
40
60
Motor Watts
1400
1800
2100
2800
Motor
Air-Cooled
Water-Cooled
Water-Cooled
Water-Cooled
Detergent Intake
Suction Tube
Plug & Clean
Plug & Clean
Plug & Clean
Water suction
-
Yes
Yes
Yes
Pressure Hose Length
4m
6m
8m
10m
Power Cord Length
5m
5m
5m
5m
Spray Gun
Standard high-pressure lance Gun
Full Control Power Gun with LED Display
Full Control Power Gun with LED Display
Full Control Power Gun with LED Display
Perfect for...
Bikes
Cars
Patio Furniture
Bikes & Cars
Outdoor Furniture
Patios
Garage Doors

Bikes, Cars & Vans
Outdoor Furniture
Larger Patios
Garage Doors
Driveways
Brickwork
Cars, Vans & 4x4's
Boats
Outdoor Furniture
Large Patios
Garage Doors
Driveways
Brickwork
Our Review
Read our Review
Read our Review
Read our Review
Read our Review
Karcher K2
The K2 is the entry and budget model from Kaercher, it has 110 bar pressure, 1400 watt motor and kicks out 360 litres per hour through its high pressure hose.

The K2 is ideal for tasks such as washing down your bike or garden furniture, it can also be used on your car however you may find something a little more powerful would be better, however this is a great choice for lighter use and also very affordable. We have also reviewed the Karcher K2 Premium Home and Car Pressure Washer here.
Read our Kärcher K2 Compact Home Review
Karcher K4
The midrange K4 is perfect for a range of tasks and ideal for car cleaning on a Sunday morning. It packs a bigger punch than the K2 with 130 bar pressure, a 1800 watt motor and water flow of 420 l/h.
The power of this model allows it to do what the K2 can do and more,  the extra power makes it suitable for cleaning paths, car and motor bikes. If you are looking for a model that will be mainly used for car cleaning then this is a great choice and also great value.
In 2016 Karcher released a new model that looks slightly different to the above, this one has now been discontinued but can still be picked up on Amazon.
Read our K4 home water-cooled pressure washer Review
Karcher K5
The next model up is the more powerful mid range model, the K5. The extra power makes it suitable to tackle muddy offroaders, and masonry. The has a powerful 145 bar pressure, a 2100 watt motor and 500 l/h water flow.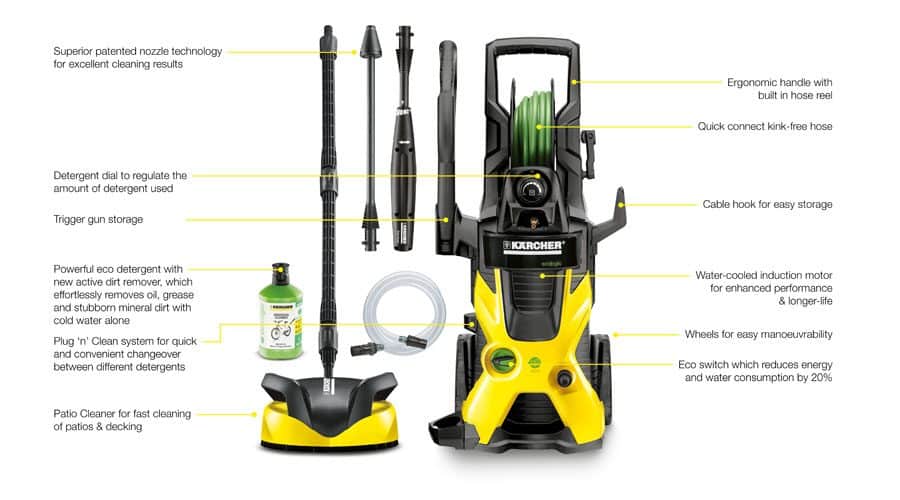 This is a great pressure washer if you are looking at cleaning your patio or driveway, it has plenty of power to do a great job. It is also great for other tasks you may not have through about, cleaning your garage door, gutters, caravan etc.
Read our Karcher K5 Full Control Home pressure washer Review
Karcher K7
The most powerful and top of the range pressure washer from Karcher is the K7. Whatever task is thrown at this model it shall clean up, a powerful 160 bar pressure, 2800 watt motor and 600 litre per hour water flow.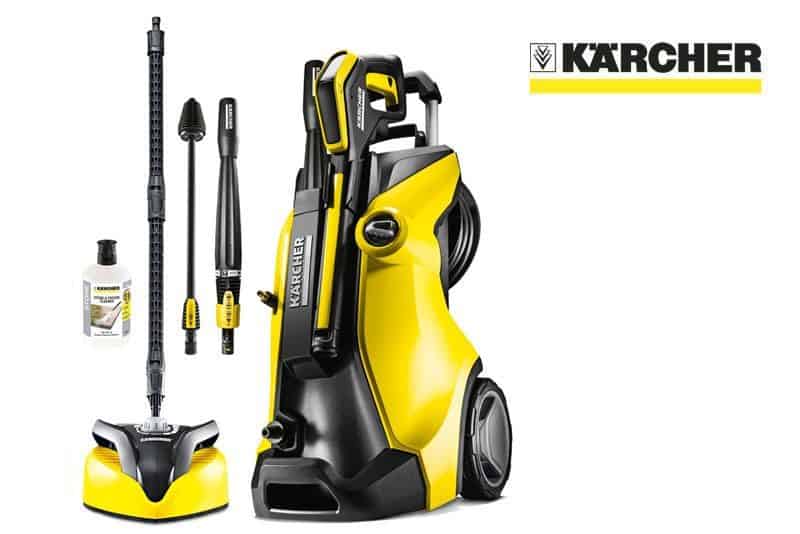 The power makes it ideal for tasks such as cleaning your patio or driveway with its patio cleaning attachment. The power and water flow makes it kick up dirt a lot easier with the pressure of the jet, the increased water flow means it is quicker and easier to complete the task as the dirt is washed up quickly.
Read our K7 Premium Full Control pressure washer Review
Best Karcher Pressure washer for Car Cleaning
If you are buying a pressure washer primarily for car washing and cleaning then there are a few things to look at when purchasing. Key things are water flow and the pressure. The higher the water flow the quicker it is to remove dirt, the higher the pressure the more power you have to kick up and shift the dirt. When it comes to car cleaning you are looking for a pressure washer around the 130 bar mark, this is powerful enough to remove dirt from your car, but more importantly won't damage your paintwork. If you wish to purchase a pressure washer with higher bar pressure, such as the Kearcher K7 that is over 150 bar, then you can adjust the sprayer gun to reduce the pressure making it safer to use on your car.
When it comes to buying a Karcher pressure washer for cleaning your car we can recommend the entry level K2 and the mid range K4.
The Karcher K2 is the entry model and also their cheapest model in their range. It is great for task that don't require huge power, so it is great for cleaning your bike, cleaning down garden furniture and car cleaning. So small imps tasks this is a great buy. The Karcher K4 has slightly more power at 130 bar and 420l/h for water flow. This is great for the tasks mentioned before but has a bit more power, so stubborn stains will be removed more easily and the higher water flow makes it easier to move the dirt away quicker. Both are great model for car cleaning. If you wanted a pressure washer to use for car cleaning and also cleaning your patio, then you would want to take a look at the higher end models, such as the K5 and the K7 units that have a lot more power making them more suitable for this task.
Best Karcher Pressure washer for Patio & Driveway
If cleaning your patio and driveway are going to be a big part of the use of your pressure washer then power and water flow is key. Your driveway may not have ever been pressure washed before, it could be 10 years old, however running a pressure washer over it can bring it up like new and show it in a way like you have never seen it before. A higher bar pressure is important to bring up stubborn moss, dirt and stains. The higher water flow rate makes it quicker and easier to wash up and remove the dirt, more water is being pushed through every hour making it quicker to carry out the task overall. With all this in mind if you are looking for a pressure washer for this task then we recommend the upper end of the Karcher range. We would recommend checking out the K5 and the K7 models.
The K5 is the more powerful mid range option, this is a great model for patio and driveway pressure washing. It has 145 bar pressure and a water flow rate of 500l/h. This is ideal for the task and also comes with a patio cleaning attachment. The 450 Patio Cleaner attachment is a splash free cleaner which helps to clean the wooden fences and also the roof top without any effort.
If you want maximum power and expect to be using your pressure washer most weeks then you may want to go for the top of the range model, the charter K7. This is a fanatics machine and certainly has all the power you need, it packs a punch with 160 bar pressure and a water flow rate of 600l/h powered by a 3000 watt air cooled motor. This will tackle any task thrown at it and is certainly powerful enough to bring your block driveway up like new. If you wanted a pressure washer that will be used often then this is certainly worth the investment.
How to use & Setup Your Karcher Pressure Washer Video
This video below shows you to use and setup your pressure washer and also how to use a water butt too.

Karcher Pressure Washer Tips & Buying Advice
When looking at the different models think about what you will be using it for, also think about other areas that it could be used that you may not have though about. You may just want a pressure washer for cleaning the car, but what about your driveway, does it need a good clean? Do you think you will want to clean it? It is better to have more power at your disposal than a pressure washer that is lacking in power for washing down your driveway for example.
There is a whole host of attachments available for Karcher models of which some will come with certain packages, but all can be bought after and all have a easy click and connect fitting.
Useful articles
Commercial Heavy-Duty Karcher Pressure Washers
Karcher Electric pressure washer Cheapest Price?
Karcher pressure washers can be bought online from many online retailers, in the UK you can also pick up most models from the big DIY stores such as B&Q, Homebase and Whickes, as well as Argos, Tesco and Asda. Shop around for the cheapest price and deals on these models.