Differences Between the Karcher K2 vs K4

Review By -

15th June 2016

We compare the Karcher K2 and K4 models, these are the base models from Karcher with the K2 being their entry model and the K4 the next model up, we take a look at the differences and advise which you should be going for.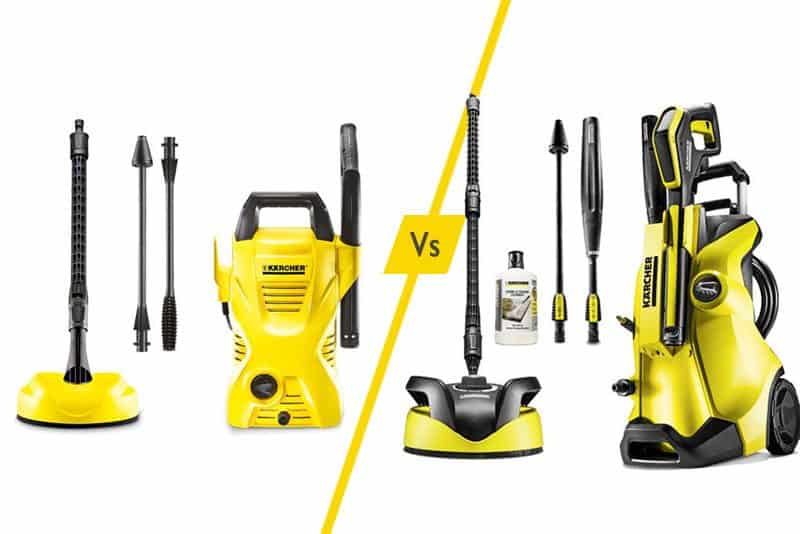 The Karcher K2 (Left) Vs the Karcher K4 (Right)
Comparing the Karcher K2 and K4
The table below compares the two models, the entry level K2 version and the new improved Karcher K4 full control model.
Kärcher K2
Compact
Kärcher K4 Full Control
Buy on Amazon
Buy on Amazon






Pressure (Bar)
110
130
Water Flow (l/h)
360
420
Area Cleaned (Square Metres per Hour)
20
30
Motor Watts
1400
1800
Motor
Air-Cooled
Water-Cooled
Detergent Intake
Suction Tube
Plug & Clean
Water suction
-
Yes
Pressure Hose Length
4m
6m
Power Cord Length
5m
5m
Spray Gun
Standard high-pressure lance Gun
Full Control Power Gun with LED Display
Perfect for...
Bikes
Cars
Patio Furniture
Bikes & Cars
Outdoor Furniture
Patios
Garage Doors

Our Review
Read our Review
Read our Review
In terms of specification the K4 model packs a bigger punch and benefits from improvements in all areas, from the pressure and water flow, to features such as a longer hose, a water cooled motor and the new LED display lance.
Karcher K2
The entry level mode and also the cheapest from the Karcher range is the K2 that comes in a few different versions, the K2 Compact and K2 Compact Home as well as the K2 Home and K2 Premium home models. Pictured below is the Karcher K2 Home Compact.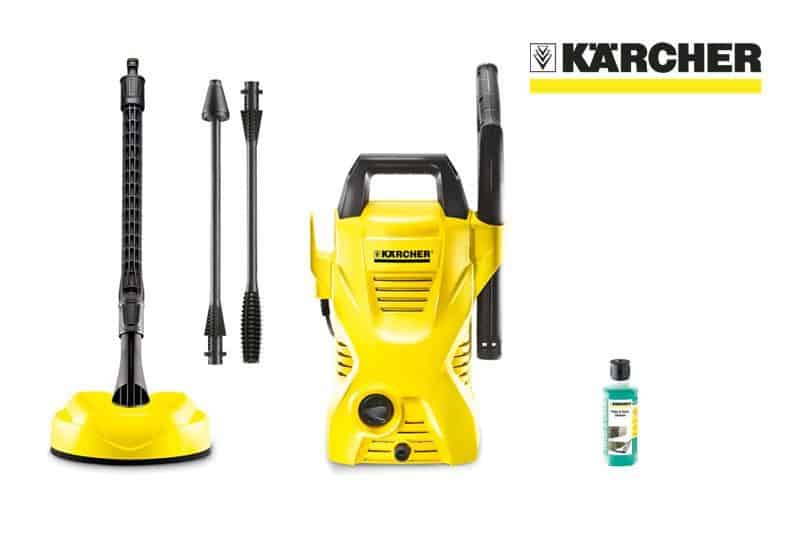 Th K2 model is a compact and well design unit that still packs a punch, with 110 bar pressure and a water flow of 360l/h it is ideal for smaller tasks such as washing down your patio furniture, bike or car. With its compact design it is perfect and ideal for people that live in a flat or apartments as you can easily transport it downstairs. This model has a 4m hose and is great for lighter use and tasks. If you are looking for a good entry model pressure washer that is compact and ideal for smaller task then this is a great model, if you want something a little more powerful, you have the storage space and want something to regally clean your car with then the K4 maybe a better investment.
The Karcher K2 comes with a 2 year warranty.
Perfect for:
Cleaning Bikes, car and Patio Furniture
Ideal for lighter use
Perfect for people who live in a flat or apartment
Read our Karcher K2 review here.
Karcher K4 Full Control
In 2016 Karcher rolled out some updates to the upper models including the K4, this model has a new design and also some new features making it even better than the older and now discontinued K4 model. Pictured below is the Karcher K4 Full Control Home Pressure Washer.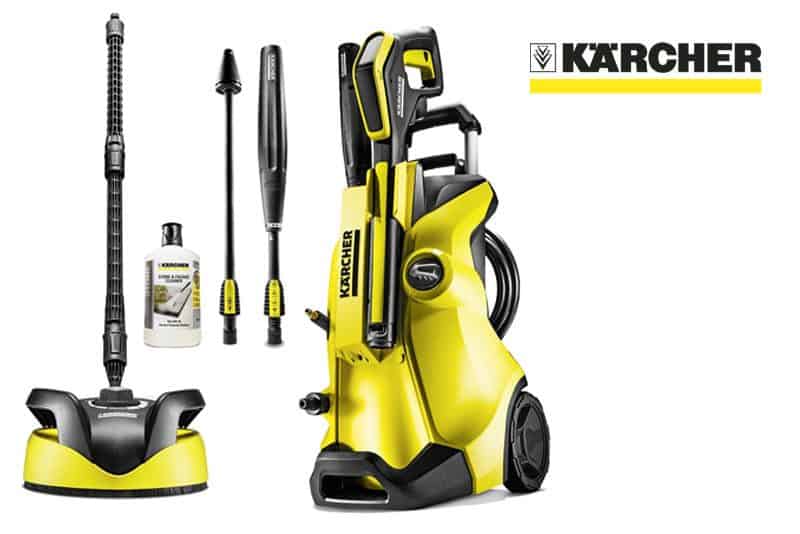 The more powerful K4 is perfect for tougher tasks, it is perfect for cleaning your car with a good water flow and pressure rate making it ideal, the 6m hose makes it easy to get around your car without having to move the device itself. It comes on sturdy wheels and is very robust, there is a telescopic handle and the new design allows for storage of the attachments and also the trigger gun and lance too. In terms of price the K4 is quite a lot more than the K2, however there are more features and the specification is a lot better.
The Karcher K4 comes with a 3 year warranty and the Karcher K4 premium has a 5 year warranty.
Perfect for:
Washing your Bike & Car
Good for washing down your patio and drive
Great for tougher tasks
Read our detailed Karcher K4 review here.
K2 Vs K4. Which is better?
If you ignore the price then the K4 is the better pressure washer, it is more powerful, a higher water flow, it suited to more tasks and has more features. Although the K4 is the better device it may not mean it is the best for you, you may not intend to use it for tasks that requires that extra power which means the K2 maybe the better power washer for you.
While the K4 is more powerful it also comes with the new LED trigger gun making it easier to know which setting to be on for what task, it also has a longer hose making it easier to move around and washing your car. The K4 has a water cooled motor compared to the air cooled motor on the K2. Other differences are the plug and clean detergent intake on the K4 where the K2 just has a suction tube.
The home models of the K2 and K4 come with the patio attachment, the K2 has a T150 Patio cleaner which is a bit more basic compared to the K4 which has the T350 T-Racer Surface Cleaner which has handles on it allowing for vertical cleaning making it ideal for cleaning down your garage door for example.
Which should you buy?
If you are buying your first pressure washer for some light tasks then the K2 is perfect, it is a great entry level model and has enough power to wash your cars, bikes, and tackle a patio. If you are looking for something that you plan to use each week or a few times a month then you may want to invest in the K4, although more expensive it has more power making it better for more tasks, it will make pressure washing you patio and driveway quicker and easier, the extra power will also improve the results removing and kicking up even more dirt.
Which to buy depends on why you are looking to buy one, what you intend to use it for, how often, and also on your budget. If you are looking at a few odd jobs such as cleaning your bike or car once a month then the K2 is perfect. If you are looking at more regular use and want to bring your patio and driveway up like new again then you may benefit from the extra power of the K4 and it may also be a better investment.