Kärcher K2 Full Control Pressure Washer Review

Review By -

22nd February 2017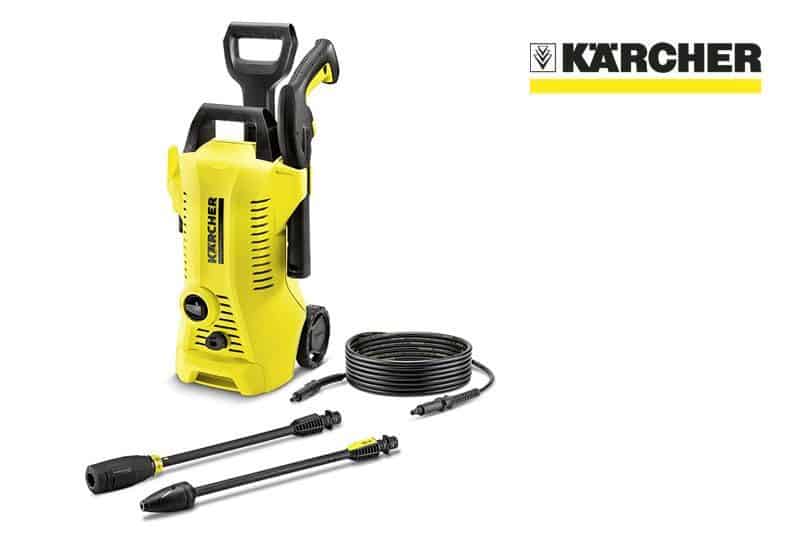 Editor Rating

Rated 4.5 stars

Outstanding
---
Reviewed by:

Published on:

Last modified:
---
Summary: If you are looking for an entry level or budget pressure washer then this is a great choice. It is ideal for car cleaning, small patio, and outdoor furniture. It is compact enough to not take up too much room in your shed or garage, and is easily moveable with the addition of wheels and telescopic handle.
K2 Full Control Review from Karcher
Over the last year Karcher has been updating its pressure washer range giving it the 'full control' treatment, where each model is redesigned and now each new model includes 'Full Control' in its name. The K7, K5, and K4 have all been updated and now the entry model pressure washer, the K2 has had the same. So we take a look at the K2 and see what is new and what is different about this new redesigned entry model
OVERVIEW
The Kärcher K2 is ideal for simple and weekly tasks, this maybe cleaning your or bike each weekend, or perhaps washing down garden furniture.
Waterflow – 360 l/h
Pressure – 110 Bar
Hose Length – 4m
Motor – Air-cooled
Watts – 1400
Weight – 4.5KG
Included with this K2 entry model is the Vario Lance, Dirtblaster and a 4 metre hose.
Specification
The engine and spec under the newly designed K2 shell is the same as it's previous model, it still has the same 110 bar pressure and a 1400 watt motor blasting out water at 360 litres an hour. It makes it ideal for car cleaning or smaller tasks such as cleaning patio furniture, washing out the wheelie bin or cleaning your bike.
While the technical specification remains the same, there are some design changes and additional features.  Matching the rest of the Karher pressure washer range this model now has twin wheels on the base allowing you to easily move it around, there is a telescopic handle for easy moving which drops down for compact storage, just like a travel suitcase. There is also built in storage for the high pressure gun, high pressure hose, full control lances and 5m power cable.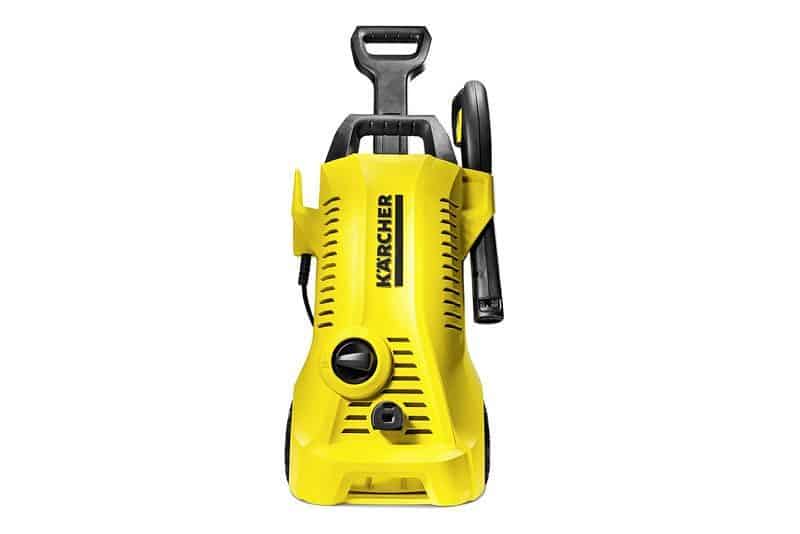 The new K2 gets the full control treatment by including a vario lance that has 4 settings allowing for easy adjustment depending on the task. The 4 settings are mix, soft, medium and hard. Mix is the lowest setting and it designed for mixing detergents using the suction tube. When it comes to cleaning then you use the 3 other settings. Soft is ideal for woodwork, medium can be used on your car and hard is for stubborn stains, maybe on your car or driveway and patio perhaps.
Performance
This entry model is ideal for car and bike cleaning. The pressure and water flow makes it ideal for these tasks. You can buy the home or premium models which come with the patio cleaner, now this will make a difference to your slabs if used, however if you are looking at removing years of dirt, grime and moss then we would recommend considering the next model up, the K4 for example. The extra power will make a big difference and also speed up the job.
If you are after a nice little compact pressure washer for cleaning you car a few times a month then this is a great option. It is well priced, comes with everything you need to get going and has enough power to do a great job. If you have a bigger budget then you can spend more and get more power.
The K2 has a compact design, is easy to move around on its wheels and the telescopic handle is a great new features to the K2 Full Control. The build of the K2 is basic, it feels very plastic, and although the casing is, it doesn't feel robust, the wheels are plastic and look basic.
The specification is the same and is still ideal for an entry level model, it looks and works great, the only grip comes with the build quality, it looks good, but it does feel like it is the budget entry model, that being said it still works well and packs a punch.
Accessories
The Karcher K2 Full Control model comes with the basics to get you started.
1. Full control Lance: This lance has 4 adjustable settings designed specifically for the task in hand, adjusting the pressure for you depending on what you are using it for.
2. Dirt Blaster: When the lance did not perform the desired cleaning you can switch onto the dirt blaster that has a rotating nozzle and you get a much more powerful water pressure the company states that the nozzle provides a 50% greater power. All kinds of grime and sticky dirt can be removed from my pathway.
3. High Pressure Hose: The 4m hose is simple to connect with the jet and the main pump.
There are also other packages of this model the home and premium, the home package comes with a patio cleaner, while the premium model comes with a patio cleaner, detergent and car cleaning kit. You also get a built in detergent tank too, where as on the other models you will need to use the suction tube.
The 3 different Karcher K2 packs:
Karcher K2 Full Control
Karcher K2 Full Control Home
Karcher K2 Full Control Premium
Perfect for…
If you are looking for an entry level or budget pressure washer then this is a great choice. It is ideal for car cleaning, small patio, and outdoor furniture. It is compact enough to not take up too much room in your shed or garage, and is easily moveable with the addition of wheels and telescopic handle. This also makes it great for older people as it doesn't need to be lifted or carried.

The adjustable lance with the 4 settings makes it easy to change the pressure ensuring it isn't going to damage your car or paint work. If you are buying this with the main purpose of car cleaning then take a look at the Karcher K2 Full Control premium model which comes with the car cleaning kit, this includes extra attachments designed for cars, plus you also get the patio cleaner too.
If you think you will be using it for patio cleaning, or washing you van or 4×4 then consider the next model up, the K4 packs an extra punch and will make a big difference to the speed you can clean up.
Bottom Line

The Karcher K2 has been a popular model for many years and this newly designed version will surely continue this. Although the specification remains the same, the design changes do improve this model, the addition of wheels makes it easier to move around, the settings on the vary lance make it easier to use, and the on board storage makes it easier to keep things tidy.
This is a great entry model and a great pressure washer for anyone looking to buy one and doesn't want to break the bank. It is well priced for a well designed and easy to use pressure washer that is ideal for car washing. If you have a small patio then this will work well too, but if you want something to make cleaning you car a little easier then this is perfect.