Best Karcher Pressure Washer Attachments

Review By -

16th June 2016

If you have invested in a Karcher power washer then you will want some attachments to go with it. Depending which model and package you bought you may already have two types of lance and a patio cleaner, however there are also a whole range of other attachments designed for different tasks that may help you.
Karcher Pressure Washer Accessories
We have rounded these accessories into different groups, from car cleaning, brickwork use and other tasks you may not have considered using your pressure washer for.
Karcher Car Cleaning Attachments
Electric power washers are extremely popular for cleaning cars, with that there are a whole host of attachments for car cleaning, here are just a few of the must haves with your Karcher power washer.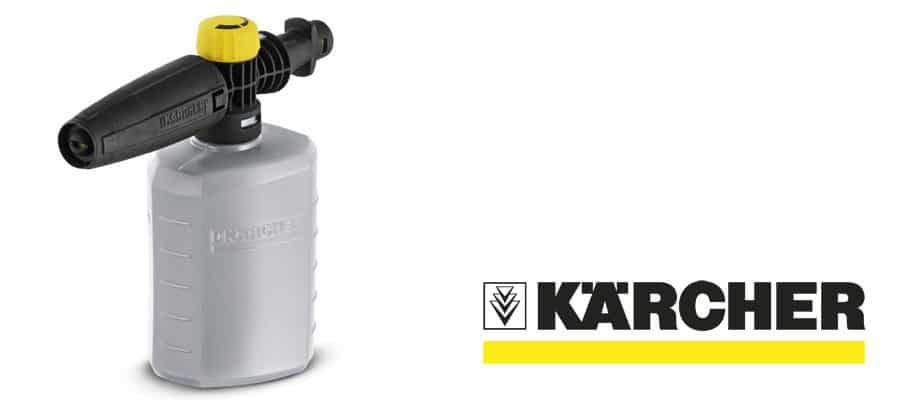 Karcher FJ6 Foam Jet Nozzle – If you are using your pressure washer for car cleaning then this Karcher foamer is a must, it easily attaches to your lance giving a powerful foam for deep cleaning. It is suitable for varnish on cars & motorbikes, glass, stone, and works with all Karcher pressure washers. This is perfect for snow foaming your car when cleaning it and works with a wide range of detergents from different brands. A well built and easy to use snow foamer attachment for your Karcher pressure washer.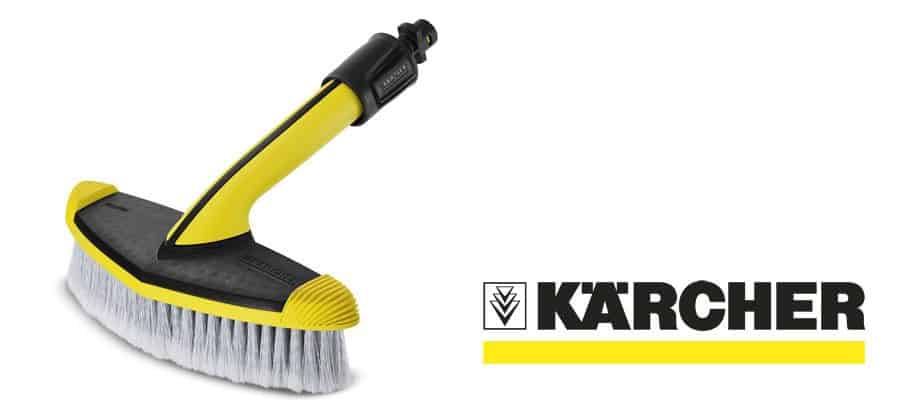 Kärcher Soft Washing Brush – This brush is perfect for washing your car, van or caravan, it has soft bristles so it won't damage your paint work, there is also a rubber pad to remove stubborn dirt as you work away. This device just simply attaches to all the Karcher pressure washer models.
It can also be used with the Karcher extension making it easier to reach and clean the top of your caravan, 4×4 or van. This can also be used on trucks as well.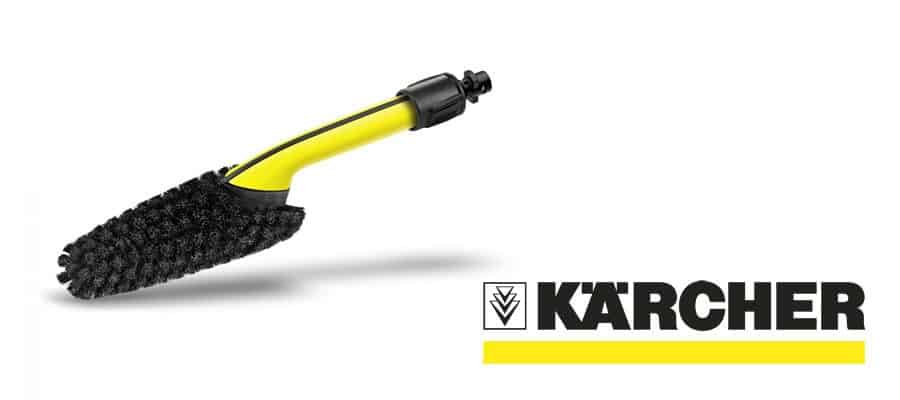 Karcher Alloy Wheel Wash Brush – This does exactly what is says, it is compatible with the full Kärcher K2-K7 series pressure washer and makes it easy to clean hard to reach areas and small recesses on all types of ally wheels. The union nut ensures secure mounting to the trigger gun and works really well. This is the perfect attachment for cleaning your alloy wheels and the design allows it to work on all designs, shapes and styles.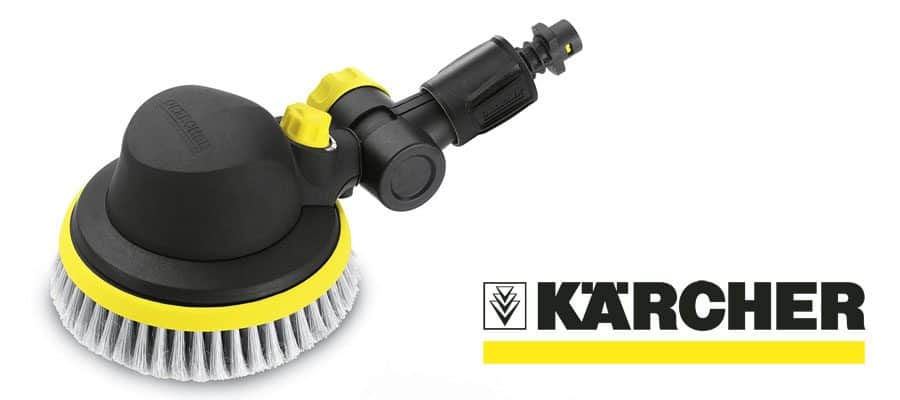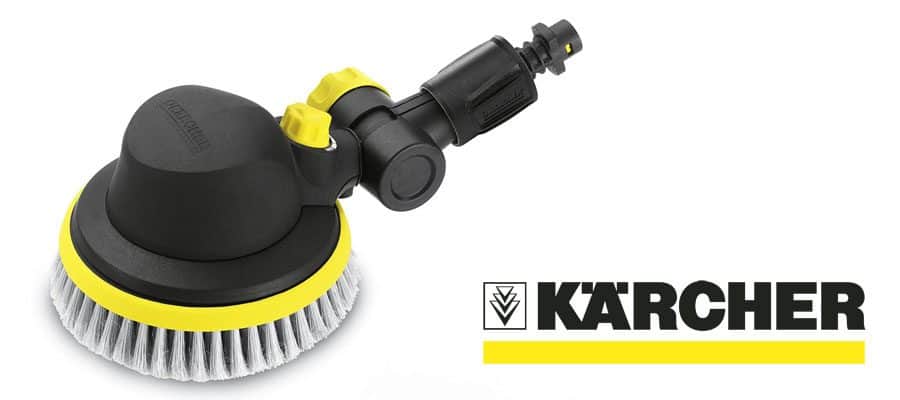 Kärcher WB100 Rotary Wash Brush – If you have a caravan then this bit of kit is ideal for you, it uses pressure to rotate the bristles making it prefect for cleaning smooth surfaces such as you caravan or car. There is a 180 degree adjustable joint allowing you to fix it in position to suit your job and make it easier to use. The rotary wash brush isn't too firm so won't damage you paintwork, it is also ideal for use on boats when washing them down too.
Karcher Patio Attachments
Many of the Karcher pressure washers come with a patio cleaner included, however if you have the pressure washer but want to clean your patio or driveway then these are what you need.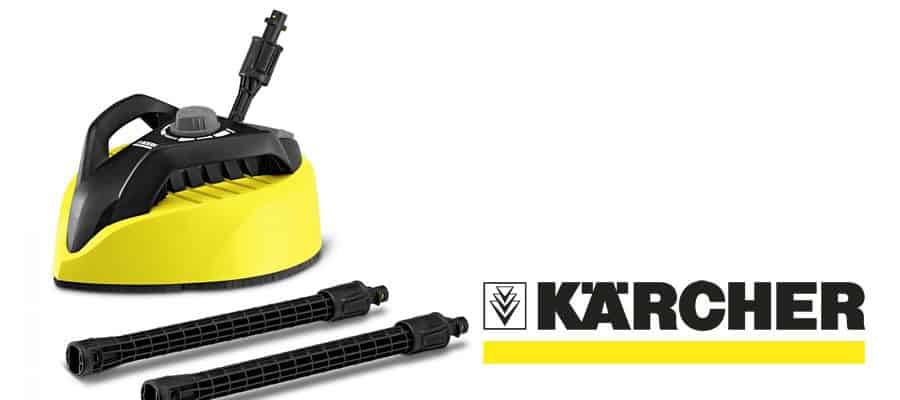 Karcher T 450 Surface Cleaner – Depending on your pressure washer you may have a patio cleaner included, however the Karcher T450 Surface Cleaner is compatible with Kärcher K4-K7 series pressure washers is a monster when it comes to cleaning you patio, driveway or decking. Design for splash-free cleaning of various surfaces it comes with 2 extra power nozzles to clean corners and edges. It also has built in handles so you can use it on vertical surfaces making it ideal for brickwork or cleaning your garage door. This also has a protective grille designed with this for gravel surfaces, there is also an adjustable cleaning pressure for when cleaning different surfaces such as stone and wood.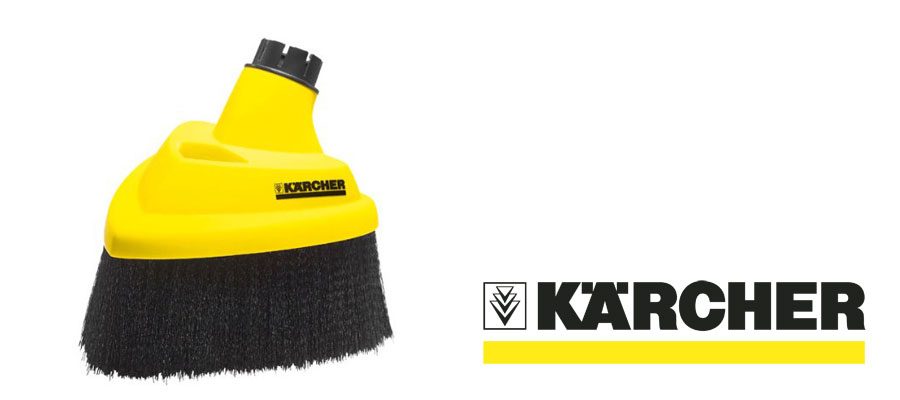 Kärcher Splash Guard for Dirt Blaster Lance – This splash guard attaches to your Karcher Dirt Blaster lance for splash free cleaning when dealing with corners and edges, this is perfect for steps and smaller patios. A set of soft, resilient bristles also helps to supply additional abrasive force when needed, for freeing up dirt from cracks in tight spaces.
Other Karcher Accessories
While there are attachments designed for car cleaning and washing down your patio, Karcher also do a whole range of other fitments designed for other tasks, we have rounded up some of our favourites below.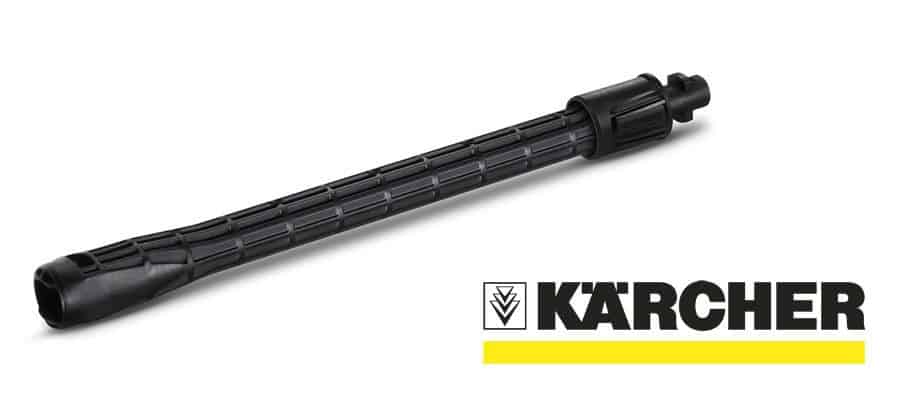 Karcher Spray Lance Extension – Compatible with the Kärcher K2-K7 series pressure washers it will extends your lance up to 0.4m making it ideal for reaching taller places such as cleaning the top of your van or caravan. It uses a union bolt to provide a firm hold and works really well if you are looking at cleaning your gutters with this.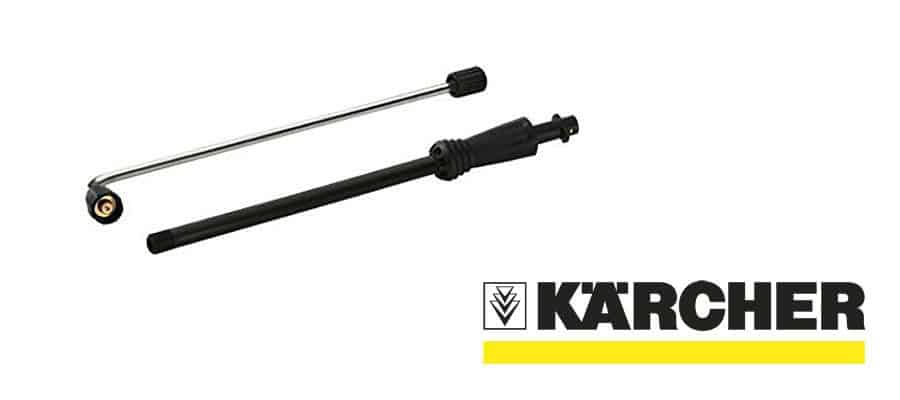 Kärcher Extra Long Angled Spray Lance – Designed with a 90 degree angle to the device it is great for cleaning gutters or the underside of your car, van or pick up truck. It creates a narrow fan type spray that is very powerful. Great for removing moss and dirt from your gutters and roof.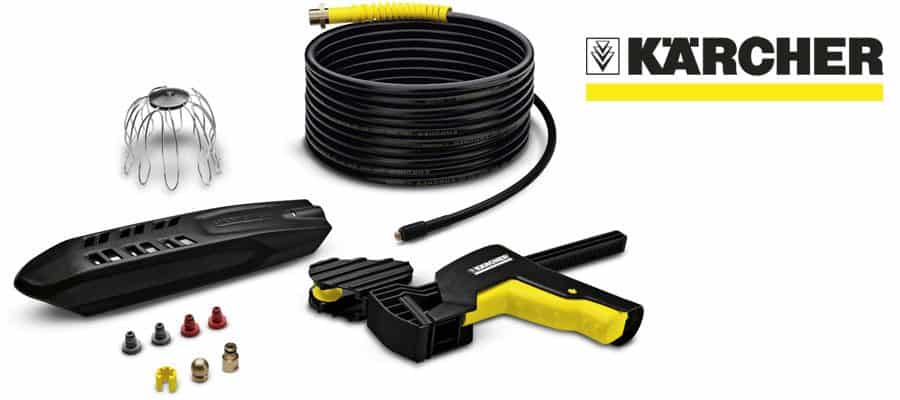 Kärcher 20m Pipe And Guttering Cleaning Kit – If cleaning your gutters is a must with your pressure washer then you will need this great bit of kit. It comes with a 20m high pressure pipe, clip for the piping onto the gutter and the gutter sled to help clear blockages. This great piece of kit can even shift limescale in the pipes as well. No more climbing ladders to clean gutters this bit of kit will clear it all for you.
Dirt blaster – The dirtblaster fitment is a powerful narrow and focused nozzle jet that provides up to 50% greater cleaning power than a standard high pressure lance. This makes it ideal for removing stubborn stains and dirt, or moss on your patio. The pressure from this is strong, seriously strong. The name dirt blaster says it all.
Vario Lance – Unlike the dirt blaster the vary lance is more about control, allowing you to twist the spray lance to just the pressure, depending on the job and task you can adjust to a low spray or high pressure jet, this is great for car cleaning so that you can adjust the pressure not to damage your car paintwork.
T350 Patio cleaner – This device allows you to easily use your pressure washer to clean your patio quickly without splashing water everywhere. Within this are two orating flat jet nozzles that power out water cleaning and removing dirt. The enclosed until prevent water just being pushed around and dirt being moved around your patio, it also allows for a focused clean making it easier to clean you patio. It can be used on slab, stone work and great for driveways.
The unit also has handles on it making it easy to use on vertical surfaces, great for brickwork or washing down your garage door.
Ecologic Suction hose and Filter – This connects to your pressure washer at one end, the other end can be dropped in a water source, such as a garden water butt tank or bucket. You could also use this to remove surface water, if perhaps you have a flooded section on your patio you can suck this water up and spray it out into your garden flower bed for example.
High-pressure hose – All Karcher pressure washers come with a high pressure hose which easily connects to your pump and then your spray gun,  different models come with different length hoses, however if you can purchase longer length hoses online here if needed.
3-Step Lance Extension Pole – This accessories consists of 3 poles that connect together to give an extension to your pressure washer gun, this makes it good for cleaning windows, or guttering. When fully extended the pressure is strong and it an feel a little unstable. Using this you can extend to either 90cm, 1.30m or 1.70m when using all 3 poles.