Kärcher K5 Full Control Home Review

Review By -

4th June 2016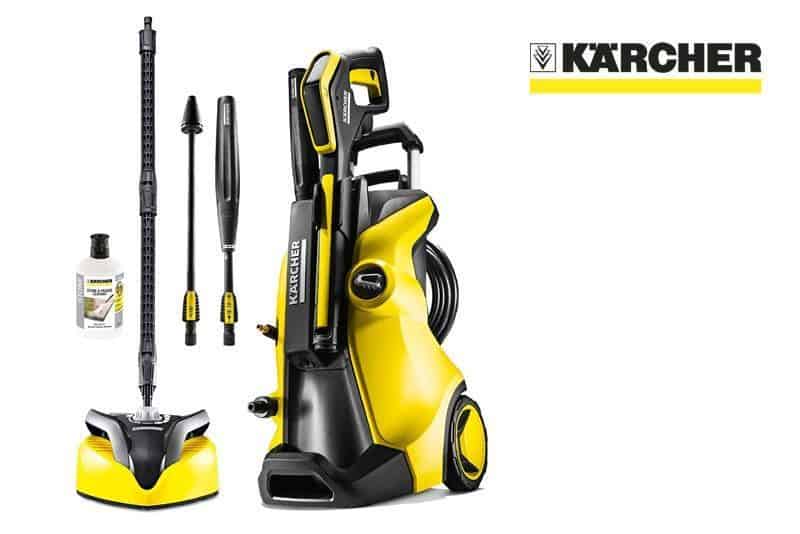 Editor Rating

Rated 4 stars

Excellent
---
Reviewed by:

Published on:

Last modified:
---
Summary: The new K5 is a fantastic pressure washer, the new sleek design looks great and with the new features it really is a top power washer. The LED trigger gun is useful and makes changing between jobs sick and easy while ensuring you are set with the correct pressure for the job in hand.
In 2016 Karcher updated their popular pressure washer range, the K4, K5 and K7 have a redesign and some new features were added. The new model has the same spec engine and motor running it as the previous and now discontinued K5 model. It still has 145 bar pressure, a water flow of 500 l/h, a 2100 watt motor powering it which is water cooled, and it still comes with a 8m long high pressure hose. The power of the K5 makes it the ideal pressure washer for patios and driveways, and also perfect for your car too using the LED lance.
OVERVIEW
The new Kärcher K5 Full Control Home Pressure Washer from the outside has had a redesign. A new sleek racing design that looks like something designed by a formula one team while maintaining that Karcher yellow and stylish smart back colours. While the casing is different it also brings in new features such as extra storage with a change in design making this model even sturdier than its predessoior.
Waterflow – 500 l/h
Pressure – 145 Bar
Hose Length – 8m
Motor – Water-cooled
Watts – 2100
This Home kit version of the K5 includes a T350 patio cleaner and a 1L bottle of 3-in-1 stone and facade cleaner as well as the dirt blaster and vary lance.
Kärcher K5 Pressure Washer Review
We take a look at the features, specification and perfjoamcne of the Karcher K5 Home Pressure Washer.
Features
The K5 Full Control Home Pressure Washer comes with everything you need to clean you car, patio, driveway, or bike.
Full Control Spray Gun – One of the new features on the full control models is the LED display on the Power Gun, this allows you to simply check that the right power level has been selected. You will see a number of options on the trigger gun which are preprogrammed to adjust the power, there is a setting for cleaning a car for example, this will ensure that the pressure is not to low but also not to high to ensure you don't damage your paintwork. If you wish to tackle your patio then you will select the setting for this which will give you maximum power so that you can remove all the dirt quickly and efficiently. The new trigger gun uses two aaa batteries which are included to power this little system.
Onboard Storage – While the power washer packs a punch it will also pack all your gadgets away too, there is storage for the 8m hose as well as the trigger gun and connected lance. Everything is easy to store making it ideal to pack away and also bring out, the sturdy design and wheels on this allows you to easily put everything away and then wheel the pressure washer away into the garage or shed for storage, no heavy lifting or taking things to and from the garage each time you wish to use it. The K5 also has a extendable aluminium handle which makes transporting the pressure washer really easy.
Warranty – The Home full control K5 has a 3 year warranty, if you go for the premium version it has a 5 year warranty.
Performance
This model is a great all rounder, it has enough power to tackle most tasks, it is great for cleaning your car and has enough power to tackle brickwork, from your patio slabs and driveway, to stone walls in the garden. With the 145 bar pressure it will remove dirt and grime that has been there for years and bring slabs up like new, the 500 l/h water flow allows you to quickly and efficiently wash over your patio in no time removing all that dirt quickly.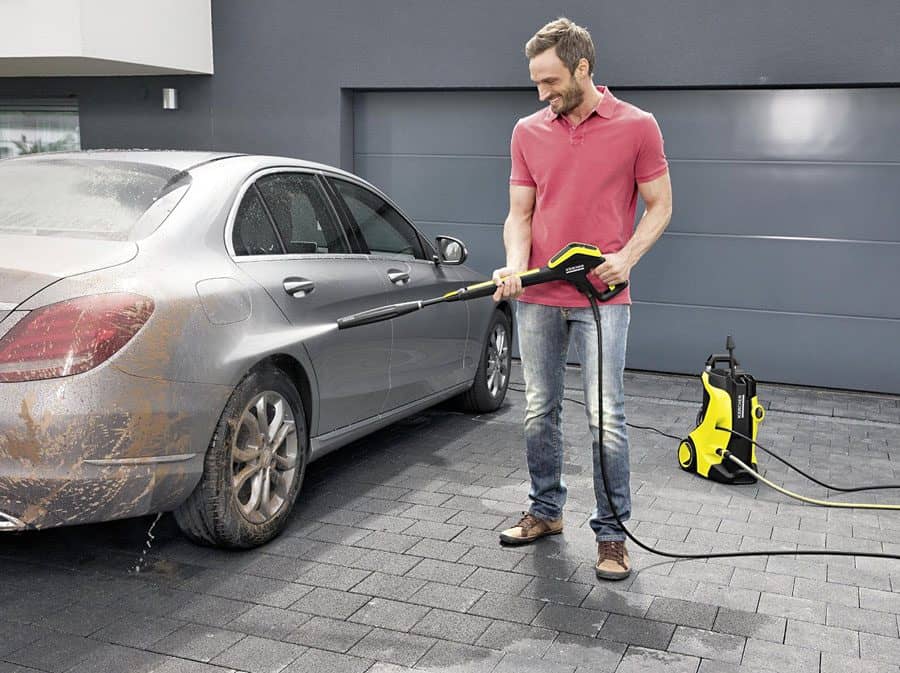 The K5 comes with a 8m hose which allows you to get around you car, van or caravan easily without having to keep going back and moving the pressure washer unit itself. It is very sturdy and robust and can be easily be moved on the wheels, however with the long 8m high pressure hose there is no need to keep going back to it until the job is done. It is also good for reaching up onto the top of your van or caravan, as well as cleaning gutters, or just moving around your patio.
ACCESSORIES
The K5 Full Control Home Pressure Washer is compatible with almost all the Karcher washer accessories while this model and package comes with some to get you started:
1. Vario Lance: Easily regulate the water from a fine spray to a high pressure jet simply by twisting the Vario Lance Spray Lance making it ideal to adjust depending on the job in hand. Increase the pressure to remove stubborn stains from your patio, and make a finer spray when washing your car.
2. Dirt Blaster: The Karcher dirt blaster does what you may expect, it produces a powerful rotating point jet that should be used to blast away stubborn dirt making it ideal for weather worn surfaces.
3. T350 T Racer Patio Cleaner: Clean patios or walls with this great splash free attachment, will bring your patio up like new and can also be used on vertical surfaces making it ideal for cleaning your garage door for example.
4. 1L Stone detergent: The Powerful stone and facade cleaner with Three-in-One formula for high cleaning performance, care and protection in one step. Suitable for stone patios, walls and facades all around the home.
5. High Pressure Hose: To be able to get a high pressure the Karcher K5 Pressure washer comes with an additional high pressure hose. It's longer and powerful measuring 8m the hose can easily be screwed on. It helps you cover a larger area and saves having to keep moving the main unit around with you, great for cleaning your car.
Good & bad
Good
A powerful pressure washer
Great for car and masonry tasks
Well built
Sleek design
Not so good
Storage is a little on the small side
A little pricey
IN THE BOX
1 x Karcher K5 Full Control Pressure Washer
1 x Vario Lance
1 x Dirt Blaster spray lance
1 x T350 T Racer Surface Cleaner
1 x 1L bottle of Stone detergent
2 x AAA batteries (These are for the LED lights in the handle)
Bottom line
The new K5 is a fantastic pressure washer, the new sleek design looks great and with the new features it really is a top power washer. The LED trigger gun is useful and makes changing between jobs slick and easy while ensuring you are set with the correct pressure for the job in hand.
Last updated on 2019-11-14 / Affiliate links / Images from Amazon Product Advertising API
The Kärcher K5 Full Control Home Pressure washer is not cheap, but you do get a lot of power for your money and the home model comes with a 3 year warranty. With the power of the K5 you can quickly and easily lean your car, patio and driveway, it is a great all rounder that is a good solid investment if you plan to use your pressure washer often.