Kärcher K2 Compact Home Air-Cooled Washer Review

Review By -

28th March 2015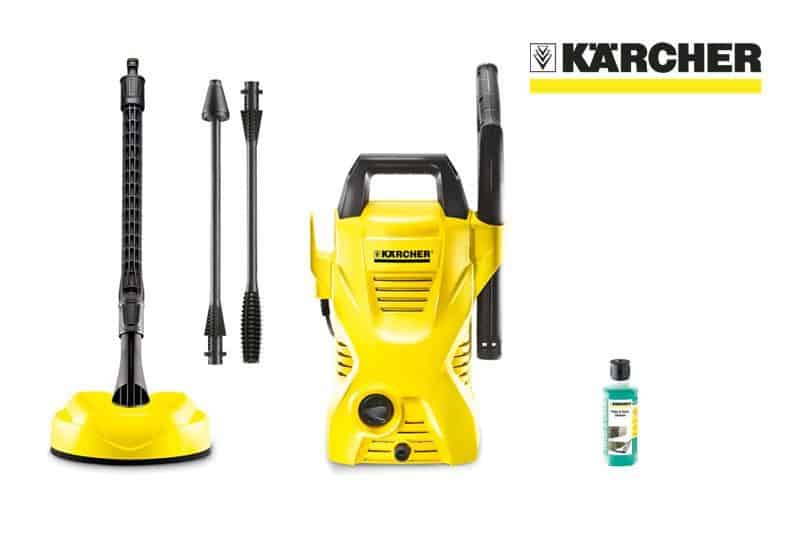 Editor Rating

Rated 4.5 stars

Outstanding
---
Reviewed by:

Published on:

Last modified:
---
Summary: A great entry level pressure washer, the Karcher K2 is ideal for car cleaning, washing down garden furniture and removing dirt from your patio, all at a reasonable price.
This model is now discontinued, however Karcher have released a new K2 Full Control version, read our review here.
---
Kärcher K2 Compact Home Review
If you are looking at getting your first pressure washer then the Kärcher K2 Compact Home Air-Cooled Pressure Washer is one to consider, it is Karchers entry model and cheapest of the range retailing at around £75.
OVERVIEW
The Kärcher K2 Compact is a perfect washer for washing your car or bike.
Waterflow – 360 l/h
Pressure – 110 Bar
Hose Length – 4m
Motor – Air-cooled
Watts – 1400
Included with this model is the Vario Lance, Dirtblaster and T150 Patio Cleaner.
The difference between the Kärcher K2 Compact Home, and the Kärcher K2 Compact is what is included, the unit, specification is all the same, the difference is that this model, the Kärcher K2 Compact Home includes the T150 Patio Cleaner.
Specification
As an entry level model the specification reflects this, the key figures are the 110 bar pressure powered by a 1400 watt air cooled motor, generating a water flow of 360 l/h. Now if you compared this with something at the other end of the Karcher range then these are low, however this is where it depends on your use.
The Kärcher K2 Compact packs enough power to tackle car cleaning, washing down your patio furniture or washing leaves off your pathway. The water flow on this model is low at 360 l/h, so the amount of water being forced out isn't as high as other models in this same price range, this means that cleaning your car may take a little longer and an increase in this will make a difference.
Performance
The Karcher K2 home and car pressure washer is not only compact and lightweight, it also packs a punch at 110 pressure bar with 1400 watt motor. It also comes with a range of accessories ideal for  a selection of tasks.
The machine comes with extremely powerful motor that has an in-built air cooling mechanism. This helps to supply fresh cool air to the motor all the time when the device is being used. A cool motor means a long life for the washer. The pressure of the water is highly powerful and get for cleaning you car or garden furniture.
The Karcher K2 home pressure washer comes with an automatic Start / Stop motor meaning that the machine itself known when it is ideal and switches off the motor. The pressure washer also has a shock –proof twistable rubber coated On/ Off switch. There is also storage the One Way Lance, Dirt-blaster and electrical cable. There are slots for each as well as a  detergent pipe, perfect for cleaning a much more murkier dirt then the washer has a detergent suction tube available.
It's well priced as compared to many of its counterparts and doesn't hit the wallet to hard. It is the best deal as a number of accessories are supplied along with the new kit and you need not buy them separately.
The K2 compact, is what it says, compact, it doesn't have any wheels on it but is small and light enough to be easily carried around, it also has two clips on it as well for easy storage of attachments.


Accessories
Included with the Kärcher K2 Compact Home Air-Cooled Pressure Washer is:
1. One Way Lance: This accessory supplies a contact flow of water pressure that can be used to clean the outdoor furniture, patios, cars and bicycles. The continuous flow helps to get an even cleaning throughout the area.
2. Dirt Blaster: When the lance did not perform the desired cleaning you can switch onto the dirt blaster that has a rotating nozzle and you get a much more powerful water pressure the company states that the nozzle provides a 50% greater power. All kinds of grime and sticky dirt can be removed from my pathway.
3. T150 Patio Cleaner: Many of the entry level washers do not come with a patio cleaner but the Karcher K2 has a patio cleaner included in its accessories list.
4. High Pressure Hose: The 4m hose is simple to connect with the jet and the main pump. An ideal length for cleaning the car.
It is important to note that the high pressure hose is from the pressure washer itself to the spray gun, you will need a hose pipe that goes from your garden tap or water butt and connects to the input on the unit, this is not included.
Perfect for…
As an entry level model pressure washer it is certainly good enough to get your car shining, it is lightweight and compact and easy to set up, it is powerful enough to remove dirt from your car and stains on your alloys, while not being to intense to damage any paintwork.
If you are thinking of using it to clean your patio or driveway then we would advise taking a look at the next models up, perhaps the K4 or K5, the higher pressure will make a huge difference. The K2 will clean your patio, however the lower pressure will mean it struggles with some dirt and grime, also the lower water flow means it will also take quite a bit of time to get it done.
The K2 is perfect for car and bike cleaning, washing down garden furniture, removing leaves from your patio, washing down pots and small patios.
User Reviews
At the time of this review there have nearly 600 reviews on Amazon.co.uk giving a 4.5 star rating, this is one pressure washer to certainly consider!
"As the lowest on the rung in terms of pricing you'd naturally expect a dip in quality but not with Kärcher. This small unit delivers a very high pressure and completely destroys any algae and ground staining with its various attachments, and when you look at the catalogue after purchase you realise that its a small investment you've made into stress free and easy cleaning as the other attachments are suited to a vast array of uses, you can see how it will save a lot of time, effort and money as you won't have to fork out on bottles of patio cleaner." Amazon Customer
Why Buy?
A great entry level pressure washer at a good price, compact and easy to use, ideal for cleaning your car and bike, or getting your patio furniture and BBQ ready for the summer.
2 Year Warranty. The Karcher K2 comes with a full 2 year warranty covering against everything including malfunctioning or defects in material and workmanship.
The K2 is lightweight, easy to move and perfect for around the garden, a great base range model that makes a great first pressure washer.
Bottom Line

Overall it is wonderful, and a perfect machine for smaller home gardens, bicycles, small patios and cars. The company provides a 2 year guarantee for the machine as well, which gives good security to the investment.
If you are looking to clean your patio too then we would certainly recommend checking out the next model up which is the K4 which is more powerful and maybe better suited if you shall be cleaning your car every week.
Last updated on 2019-09-19 / Affiliate links / Images from Amazon Product Advertising API
At around £80 it is great value and a good investment if you just want to use it to clean your car each month, as a first pressure washer this is also a good starter and entry model. You can easily purchase extra attachments that will work with other models too if you decide to upgrade at a later point.
Number 1 seller on Amazon UK, it is well built, good entry spec and compact design make it a winner for any first time pressure washer buyer, great value and a good investment, you can't go wrong. If you are looking to use it just for car cleaning then check out our Karcher K2 Premium Home and Car Pressure Washer bundle review here.
Click the link below for the Karcher K2 home and car pressure washer best price on Amazon.