Karcher K2 Premium Home & Car Pressure Washer Review

Published By -

19th August 2016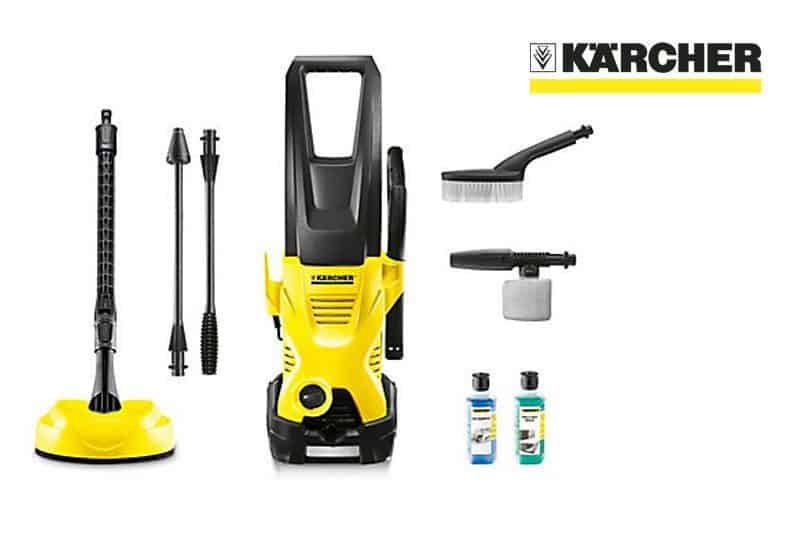 Editor Rating

Rated 4 stars

Excellent
---
Reviewed by:

Published on:

Last modified:
---
Summary: The K2 is a great entry level model pressure washer, the spec is at the lower end however it is perfect for cleaning your car, bike or patio furniture.
Kärcher K2 Premium Home & Car Review
When it comes to cleaning you car a pressure washer is a must have to help speed up the time it takes, to get it sparkling and also make it quick and easy to clean your alloy wheels. The Karcher K2 Premium Home and Car Pressure Washer bundle is perfect for this and while it maybe the entry level model it still packs a punch and is great value too.
OVERVIEW
This model, the Karcher K2 Premium Home & Car Pressure Washer is perfect for not only cleaning your car, but also bikes, patio furniture, muddy boots and dirt from your patio.
Waterflow – 360 l/h
Pressure – 110 Bar
Hose Length – 4m
Motor – Air-cooled
Motor Watts – 1400
Included with this model is a extension lance, a dirt blaster lance and Pressure adjustable lance. For your car you also get a Wash brush for long life operation. A patio cleaner is included with a bottle of detergent too. There is also the low pressure detergent gun.
Specification
In terms of power and the spec of this pressure washer it packs enough punch making it ideal for cleaning your car or bike. This is the entry level model from Karcher and also the leading pressure washer on Amazon UK with hundreds of positive reviews. If you are looking for your first pressure washer, or something that is powerful enough to clean your car every once in a while without breaking the bank then this is a great choice.
With 110 bar pressure it is great for removing dirt and cleaning your car, a water flow of 360 l/h makes it quick and easy. It has a 1400 watt motor driving it which is air cooled. The next models up from the K2 have a water cooled motor however for the price of the K2 the air cooled motor works well enough. The Kärcher K2 premium home air cooled pressure washer is a good all round entry model that from a speculation pint of view is perfect for car cleaning.
It has two wheels on the base so it can be moved around like a suit case, there is also a long 5m power cable from the pressure washer that is then plugged into the mains.
Performance
The K2 Premium is very quick and easy to setup. Once ready to go the power of the K2 is ideal for cleaning your car removing dirt and grime. It makes it very easy to clean your alloy wheels no matter what the design. With the 110 bar pressure it won't damage your car or paintwork yet it powerful enough to clean it and remove dirt and grime. For cleaning your car, bike or patio furniture this is ideal and will certainly do the job.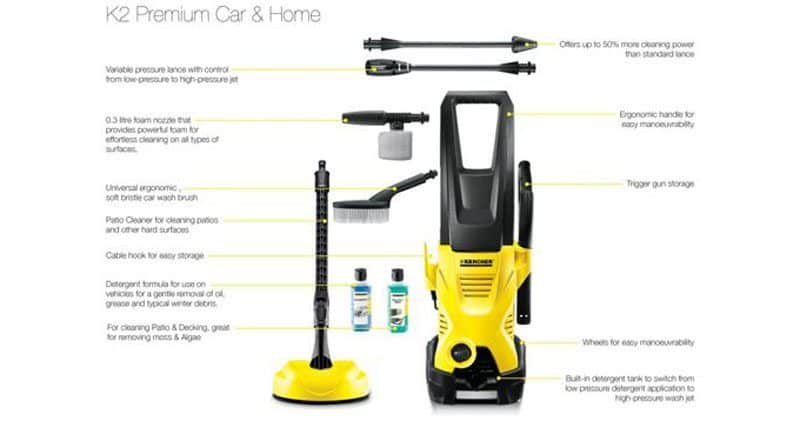 This model comes with a patio cleaner, it is Karchers most basic patio cleaner attachment and it does look basic. That being said if you have a small patio or paved area that you want to clean up after the winter then this will work. It is suitable for small patio areas however anything large you maybe there for some time. When it comes to patio or driveway cleaning you want high pressure and high water flow. Higher pressure makes it easier to remove the dirt that may have built up over the years, and the higher the water flow the quicker and easier it is to do the job moving all that first quickly. While the K2 is perfect for small patios or decks, if you have a larger patio or large driveway that you want to clean too, then you should take a look at the K4 or the K5 models. These are more expensive however the difference in power will make a big different when it comes to your patio.
As well as car and bike cleaning, the Karcher K2 is also ideal for washing down garden furniture, removing leaves from your patio, washing down pots, dirty boots and small patios.
No products found.
Accessories
Included with the Karcher K2 Premium Home & Car Pressure Washer bundle you get:
One Way Lance: This accessory supplies a contact flow of water pressure that can be used to clean the outdoor furniture, patios, cars and bicycles. The continuous flow helps to get an even cleaning throughout the area.
Dirt Blaster: When the lance did not perform the desired cleaning you can switch onto the dirt blaster that has a rotating nozzle and you get a much more powerful water pressure the company states that the nozzle provides a 50% greater power. All kinds of grime and sticky dirt can be removed from my pathway.
T150 Patio Cleaner: Many of the entry level washers do not come with a patio cleaner but the Karcher K2 has a patio cleaner included in its accessories list.
High Pressure Hose: The 4m hose is simple to connect with the jet and the main pump. An ideal length for cleaning the car.
Wash Brush – There is a brush with soft bristle ideal for cleaning paintwork or alloy wheels.
Car shampoo – This comes with a small bottle of car shampoo to get you going
Deck and Patio Cleaner – There is also a small bottle of patio and deck cleaning detergent included with this pack.
It is important to note that the high pressure hose is from the pressure washer itself to the spray gun, you will need a hose pipe that goes from your garden tap or water butt and connects to the input on the unit, this is not included.
Good and Bad Points
As with any product there are always good points, and also some negative points, so here they are.
Pros
Perfect for your car – If you want a pressure washer for cleaning your car then you really can't go wrong with this model.
Comes with everything you need – It comes with a range of attachments and makes great value for a entry level pressure washer from a popular and reliable brand.
Comes with a 2 year Warranty
Cons
Not great on patios – If you want to bring up your patio like new you may want to look at the more powerful K4 or K5 models, when it comes to cleaning patios or driveways the more power the better.
No suction tube – If you wish to use a bucket or water tank to draw water then you would need to look at the K4, however if your water butt has a tape you could connect your hose to this.
Bottom Line

The K2 is a great entry level model pressure washer, the spec is at the lower end however it is perfect for cleaning your car, bike or patio furniture. If you are are planning to use it every weekend then you may find the K4 to be a better investment, however for just cleaning your car this is ideal. The Karcher K2 Premium Home & Car Pressure Washer package comes with everything you need and for a first pressure washer this is ideal. The included detergents are a great bonus and work really well.
Click the link below for the Karcher K2 home and car pressure washer best price on Amazon.
*Disclosure: This article may contain affiliate links, and at no additional cost, this site may earn a commission if you buy.Last updated on 2020-08-05 / Affiliate links / Images from Amazon Product Advertising API