Kärcher K7 Premium Pressure Washer Review

Published By -

7th June 2016


*Disclosure: This article may contain affiliate links, and at no additional cost, this site may earn a commission if you buy.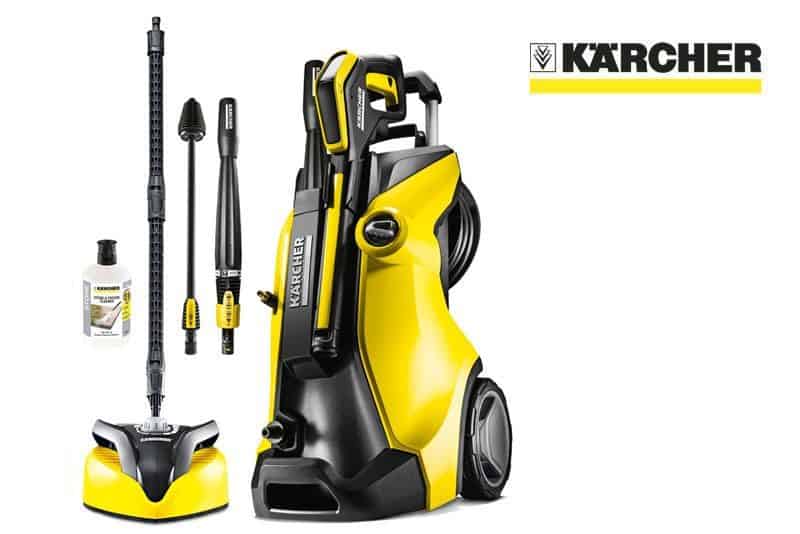 Editor Rating

Rated 4 stars

Excellent
---
Reviewed by:

Published on:

Last modified:
---
Summary: The Kärcher K7 Premium Full Control Home Pressure Washer replaces the now discounted old K7 model, while still having the same spec motor and power as it previous model, it now features a new design and new features
The Kärcher K7 Premium Full Control Home Pressure Washer replaces the now discounted old K7 model, while still having the same spec motor and power as it previous model, it now features a new design and new features. Now with a new sleek design while still coloured in the Karcher black and yellow colour scheme the K7 still maintains its top spec performance and it still the top of the range Karcher power washer.
Kärcher K7 Premium Full Control Review
The key features to the Kärcher K7 Premium Full Control Home Pressure Washer are as follows.
Features
The K7 is very easy to put together out of the box taking just a few minutes, as with all Karcher pressure washers the attachments all click and connect together and then it is ready to use. There is a telescopic aluminium handle making this robust device easy to move around, weighing 18kg this is a solid and weighty bit of kit that won't be easily knocked over.
On the back of the K7 is a hose reel which will hold the 10m long high pressure hose when not in use, it is easy to quickly pull out or wind back in when finished. To the front are holding part for the lances and trigger guns, allowing you to hold them there when not in use or when you have finished and are packing away. There are two large and robust wheels on the pressure washer making it easy to move around, as well as the telescopic handle there is also a handle grip at the front to the base too for lifting. At the front is also the on/off switch which is very solid and of high quality, reflecting the overall build quality.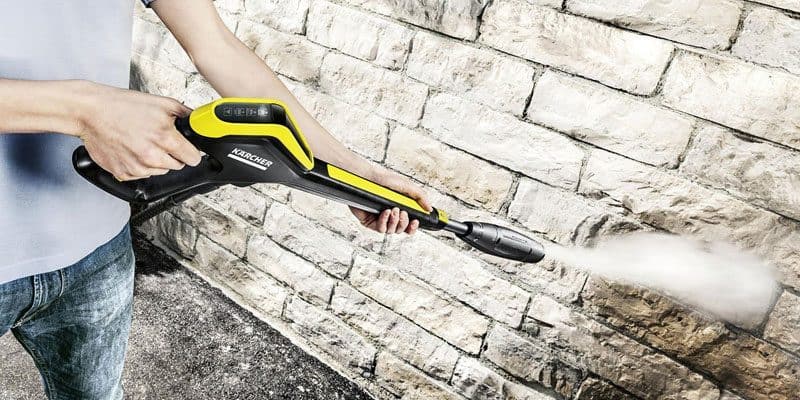 LED display trigger gun – With all new Karcher pressure washers that are now 'Full Control' they come with a new trigger gun. The difference with this one of the previous version is the LED display, it requires 2 AAA batteries that come with it to power this. The display shows what setting you are on and what it is best suited for. On the display you will find an image of a fence, car and brickwork, for soft, medium and heavy use.
Plug'n'Clean Detergent System – With just one simple movement you can drop in your detergent bottle and you are ready to go, no need to fiddle around with tubes and settings, just drop it in and off you go.
Warranty – This premium K7 version has a 5 year warranty giving piece of mind when investing in this.
Performance
With the 160 bar pressure the K7 is the pressure washer of choice for the toughest of jobs, the power makes cleaning patios and driveways easy and with a water flow of 600 l/h it is extremely quick too. This model will allow you to clean up to 60 square metres an hour. The motor is water cooled using Karchers patented cooling system helping to reduce wear and increasing the lifetime of the machine.
K5 v K7 – How it compares
The K7 is the top spec model and it the most powerful electric quarter pressure washer, this table shows how it compares to the K5 which is slightly cheaper and has a lower specification.
Kärcher K5 Full Control
Kärcher K7 Full Control
Buy on Amazon
Buy on Amazon






Pressure (Bar)
145
160
Water Flow (l/h)
500
600
Area Cleaned (Square Metres per Hour)
40
60
Motor Watts
2100
2800
Motor
Water-Cooled
Water-Cooled
Detergent Intake
Plug & Clean
Plug & Clean
Water suction
Yes
Yes
Pressure Hose Length
8m
10m
Power Cord Length
5m
5m
Spray Gun
Full Control Power Gun with LED Display
Full Control Power Gun with LED Display
Perfect for...
Bikes, Cars & Vans
Outdoor Furniture
Larger Patios
Garage Doors
Driveways
Brickwork
Cars, Vans & 4x4's
Boats
Outdoor Furniture
Large Patios
Garage Doors
Driveways
Brickwork
ACCESSORIES
With the home package it comes with the Karcher's T450 Patio Cleaner attachment, a 1litre Plug'n'Clean Detergent as well as two different lances for your spray gun.
1. Vario Lance: Easily regulate the water from a fine spray to a high pressure jet simply by twisting the Vario Lance Spray Lance making it ideal to adjust depending on the job in hand. Increase the pressure to remove stubborn stains from your patio, and make a finer spray when washing your car.
2. Dirt Blaster: The Karcher dirt blaster does what you may expect, it produces a powerful rotating point jet that should be used to blast away stubborn dirt making it ideal for weather worn surfaces.
3. T450 T Racer Surface Cleaner: This is the top spec patio cleaner attachment and it works really well, with the power of the K7 it gives amazing results transforming old and tired looking drive ways and patios. The handles on it allow you to clean vertical surfaces too, such as your garage doors for example.
4. 1L Stone detergent: The Powerful stone and facade cleaner with Three-in-One formula for high cleaning performance, care and protection in one step. Suitable for stone patios, walls and facades all around the home.
5. High Pressure Hose: The Karcher K7 comes with a lengthy 10m high pressure hose making it easy to get around without having the keep moving the pressure washer too. This is ideal for washing cars, vans and caravans, as well as large patios and drives.
In the box
Karcher K7 Premium Full Control Pressure Washer
Vario Power spray lance
Dirt Blaster spray lance
T450 patio cleaner
1 litre bottle of stone detergent
2 x AAA batteries.
Bottom line
The Kärcher K7 Premium Full Control Home Pressure Washer is pricey, it is the top spec model and will set you back over £440, however that being said you are buying a fantastic pressure washer that is certainly well built and has enough power to tackle any job. Although not cheap it does come with a 5 year warranty making it a great investment, if you are buying a pressure washer just to clean your car then it is worth thinking about of jobs that you could tackle that you haven't consider, such as patio furniture, bins, drive way, garden brick work, the list goes on.
If you have got the budget for this then you cannot go wrong. it isn't cheap, however it is a fantastic piece of kit that will bring up your home like new.
Last updated on 2019-11-19 / Affiliate links / Images from Amazon Product Advertising API