Karcher K4 Full Control Home Pressure Washer Review

Review By -

11th March 2016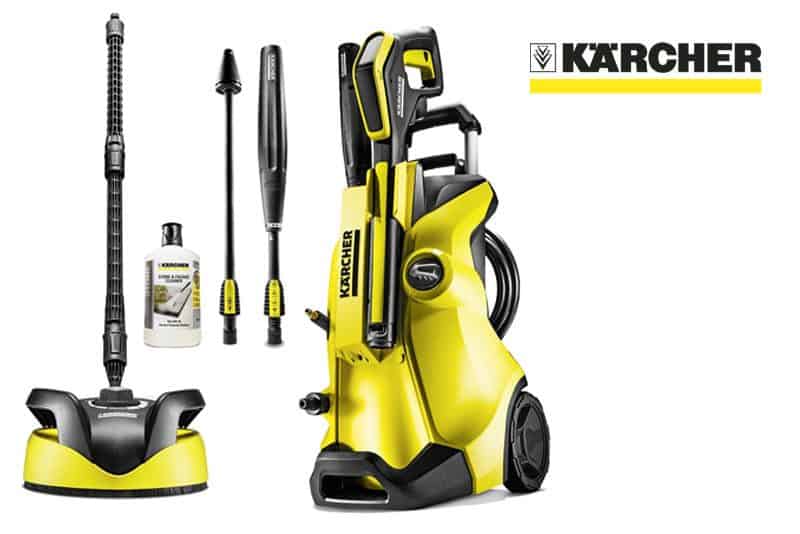 Editor Rating

Rated 4.5 stars

Outstanding
---
Karcher K4 Full Control Home Pressure Washer

Reviewed by:

Published on:

Last modified:
---
Summary: A great pressure washer that has been taken to the next level by Karcher. The new features and included items are a great addition, it is easy to use and the ease of storage of all the bits also helps keep it all together.
Popular pressure washer brand Karcher have updated there fantastic K4 pressure washer with new features and a new futuristic design while still having its striking yellow coloured outer casing.
If you live in the UK or any other part of the world that receives adverse weather that comes with dirt, then you need something that will give you an easy time as you clean your home. Customers who are looking for the easiest way to keep the cars they drive and the environment they live in clean should reading this Karcher K4 Full Control Home Pressure Washer review. This is a powerful and effective machine that enables you to achieve the best clean environment. So what makes this pressure washer better that the previous models? Let's take a look.
K4 Full Control Review
What this pressure machine gives customers is the best settings for every job. The K4 Full Control has been designed to give car or home owners complete confidence so that they can maximize the high pressure from the machine. You can vary the pressure according to the status and texture of the surface you are cleaning or how dirty the surface is. To do this you only need to twist the spray lance to what you find suitable.
You can also check the level of pressure you have selected on the Full Control Power Gun through the LED display. So if you are new to the Karcher K4 Full Control Home Pressure Washers, you can easily know the right setting for ideal results. You don't need any professional help to handle the machine.
Features
What you get from the home package apart from Karcher's T350 Patio Cleaner attachment is a 1L Plug n Clean Detergent formulated for removing stubborn dirt and maintaining the stone surfaces.
If your car has the thickest mud on the tires, rims or under then you don't have to worry about how you are going remove it. Karcher K4 has a dirt blaster lance that deals with any type of mud, whether wet or dry. This lance produces a powerful rotating point jet, more powerful than any other of its predecessor. This spray blasts away stubborn mud which makes this washer ideal for weather worn surfaces.
Full Control Vario and Dirtblaster Lances
By twisting the barrel of the pressure, the user can vary the pressure until the desired level is selected. This is what makes the Vario Power Spray the selling point for this machine. This new system developed by Kärcher helps to guide you on the right pressure to use on whichever surface. You should thus choose the correct spray lance depending on the type of surface in question. There are three pressure levels and a detergent setting that makes this pressure different from the rest.
The LED display is another feature that makes this pressure machine different from its predecessors. The LED on the trigger is what will guide you as you select the right pressure setting for your task. Use it to check that the adjustment is the power required.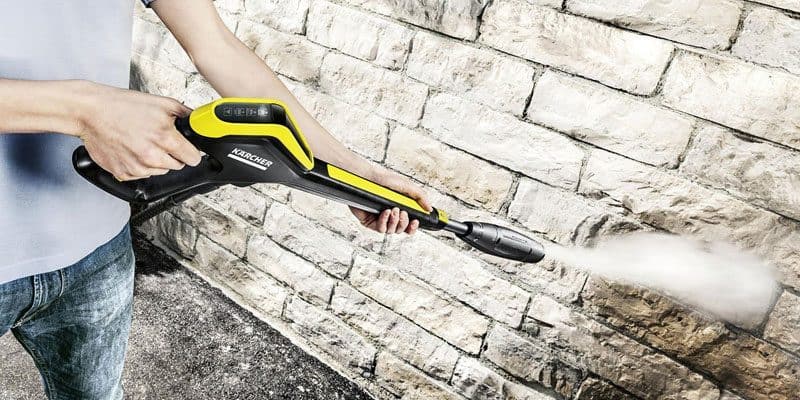 The symbols on the screen will also work as a guideline. What this means is that you can never go wrong as it helps you to select the right setting for the job in hand. If you are cleaning your car there is a setting for that, brick work, there is a setting for that. These setting adjust the pressure of the lance so that you have the most power for cleaning your drive, but slightly less so you don't damage your car paintwork when cleaning your vehicle.
The LED display uses two AAA batteries which comes with this and they are fitted into the handle of the trigger gun.
If you have never owned a home pressure washer, then you will love the T350 T-Racer Surface Cleaner. This makes cleaning a wide range of exterior surfaces quick, efficient and spray free. This means that you don't have to be too good to make an exterior of your car clean. The washer also has an integrated handle to clean vertical surfaces like a garage door.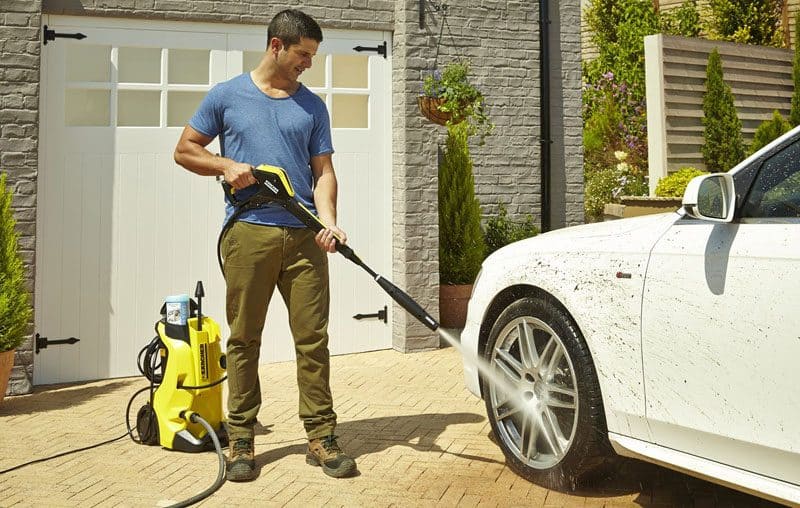 Parking position for easy accessory storage at all times – The other feature of the Karcher K4 Full Control Home Pressure Washer that makes it outstanding is the fact that the Full Control trigger gun and the connected spray lance can be easily stored on the pressure washer each time you wish to take a break during the cleaning process. The on-board storage of hoses and lances is a better way to keep your working environment organised. The main reason why the storage had been built on this particular pressure machine was to have all the accessories in hand and readily accessible.
The Full Control gun is also easily accessible. If you have owned pressure washes before, you will appreciate the fact that the Full Control trigger gun and the spray lances can be stored on the machine in order to save storage space. This is a feature not found in most pressure washes in the market.
Plug and Clean – You save more time when you use the Karcher K4 Full Control Home Pressure Washer. For instance, it only takes a matter of seconds with one simple move to replace the detergent thanks to the Plug'n'Clean system. So when you have your pressure washer on detergent mode, you can quickly and easily apply detergent on the dirty surface.
Using Kärcher detergents will also give you maximum results especially if you are trying to get rid of a stubborn dirt. The detergent also increases the efficiency of the pressure washer since it prevents the dirt from returning and help care and protect the surface you have cleaned.
When it comes to style, Karcher did more than enough on this particular pressure machine. The machine comes with high impact wheels and aluminum telescopic handle that makes this particular washer more than just a pressure machine. The handle has been places at a proper height making it easy to pull whilst being fully retractable for simple storage.
How it stacks up
The K4 is a mid range model from Karcher, the table below shows how it comes to the rest of the range in terms of power and waterflow.









Buy on Amazon
Buy on Amazon
Buy on Amazon
Buy on Amazon
Kärcher K2
Kärcher K4
Kärcher K5
Kärcher K7
Pressure (Bar)
110
130
145
160
Water Flow (l/h)
360
420
500
600
Area Cleaned (Square Metres per Hour)
20
30
40
60
Motor Watts
1400
1800
2100
2800
Motor
Air-Cooled
Water-Cooled
Water-Cooled
Water-Cooled
Detergent Intake
Suction Tube
Plug & Clean
Plug & Clean
Plug & Clean
Water suction
-
Yes
Yes
Yes
Pressure Hose Length
4m
6m
8m
10m
Power Cord Length
5m
5m
5m
5m
Spray Gun
Standard high-pressure lance Gun
Full Control Power Gun with LED Display
Full Control Power Gun with LED Display
Full Control Power Gun with LED Display
Perfect for...
Bikes
Cars
Patio Furniture
Bikes & Cars
Outdoor Furniture
Patios
Garage Doors

Bikes, Cars & Vans
Outdoor Furniture
Larger Patios
Garage Doors
Driveways
Brickwork
Cars, Vans & 4x4's
Boats
Outdoor Furniture
Large Patios
Garage Doors
Driveways
Brickwork
Our Review
Read our Review
Read our Review
Read our Review
Read our Review
Pros & Cons of the Karcher K4 Full Control
The K4 is a great all rounder, here is a quick summary of the good and bad points.
Good Points
Easy to setup and use
Great for use on your car or cleaning your patio
Powerful yet quiet in operation
Can be used with a water butt
Comes with a  good patio cleaning attachment
Well priced all round pressure washer
Comes with a 3 year warranty
Bad Points
The LED panel on the lance isn't really needed
The storage section for the accessories and cable feel a little flimsy
In the Box
1 x Karcher K4 Full Control Pressure Washer
1 x Vario Lance
1 x Dirt Blaster spray lance
1 x T350 patio cleaner
1 x 1L bottle of Stone and facade cleaner
2 x AAA batteries (These are for the LED lights in the handle)
When you purchase the Karcher K4 Full Control Home Pressure Washer, you will also get yourself a three-in-one stone detergent and façade cleaner. This is a powerful formula that ensures you get high cleaning performance, protection and care all in one step. So when you still have unkempt stone patios, facades and walls then you really don't have an excuse.
Last updated on 2019-11-14 / Affiliate links / Images from Amazon Product Advertising API
Our Verdict
The K4 is a great all rounder, it is perfect for regular use and cleaning your car each week, it also packs enough punch to clean up your patio and driveway. The only real drawback is the price, although not the cheapest the Karcher K4 does come with a 3-year warranty and the premium model has a 5 year warranty. It is a solid investment, the new full control model improves on the well designed older K4 and is well built and designed, easy to use and internally has a powerful motor that really does make this pressure washer a good choice.
For us the K4 is great for users who want to clean their car, but also have a patio and driveway that needs cleaning down once or twice a year. The K4 gives enough power for both tasks while still not being as expensive as some of the most powerful pressure washers on the market.