Karcher Pressure Washers: K4 vs K5

Review By -

7th January 2015

Editors Note: This article has been updated (April 2016) to reflect the new Karcher K4 and K5 models released in 2016.

The middle weight models from Karcher, the K4 and then the K5 which is the next model up before the mighty K7. If you are looking at buying a pressure washer from Karcher and want something a little more powerful than the entry level K2 model then the K4 and K5 models are for you.
Karcher K4 vs K5
The Karcher K4 and K5 pressure washers are smiler in design and function, but under the hood there are a few difference.
Last updated on 2019-11-14 / Affiliate links / Images from Amazon Product Advertising API
Specifications
In terms of differences the K5 is slightly more in all fields to the K4, from power, pressure hose length and of course price. Both model do have a plug and clean detergant intake, and both have the clever water cooled motor. In terms of specs there is a difference, but it isn't huge, the K4 has a 1800 watt motor pumping out water at 130 bar, and a water flow of 420 litres per hour, compared to the K5 which has a 2100 watt motor, giving a bigger 145 bar pressure and a water flow of 500 l/h. The hose included is 8m with the more expensive K5 and shorter at 6m for the K4 model.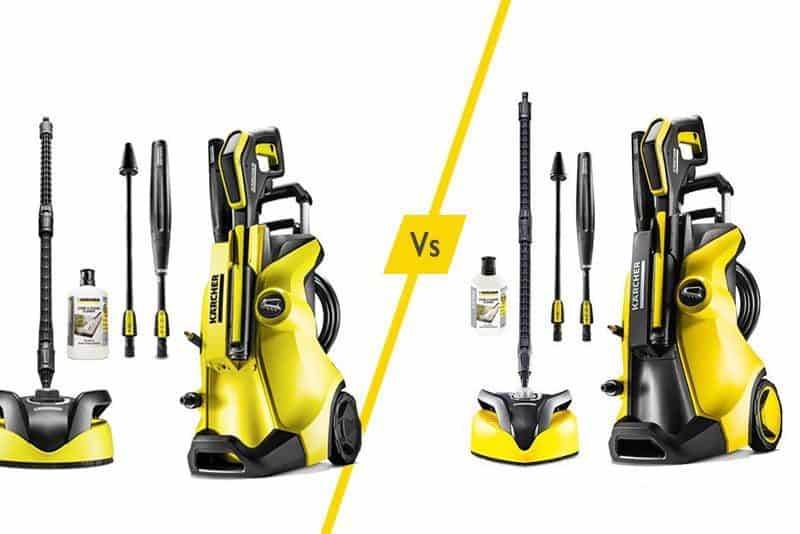 Karcher K4 Full Control Home Pressure Washer (Left) Vs the Kärcher K5 Full Control Home Pressure Washer (Right)
Other Differences?
In terms of build they are both good quality and robust pieces of kit, the K5 has a better design with a reel included for the 8m hose which is great for easily putting it away and keeping it all tidy. This all depends on the model you buy, you can get these models in the compact, home and premium models which all have slight differences but carry the same spec as mentioned before.
Then there is of course the attachments and accessories, you can buy these for both models however it is what is included with them that is different. The attachments you want and will use depends on what tasks you have in mind, both include a patio cleaner which does a great job.
Both models come with a 5 year warranty which gives piece of mind on your investment as they not cheap whichever you go for.
Overview
Below is a table comparing the Karcher K4 model and the Karcher K5.
How do they stake up?
How do the K4 and K5 stack up agains the rest of the Kaecher pressure washer range, this handy graphic shows below.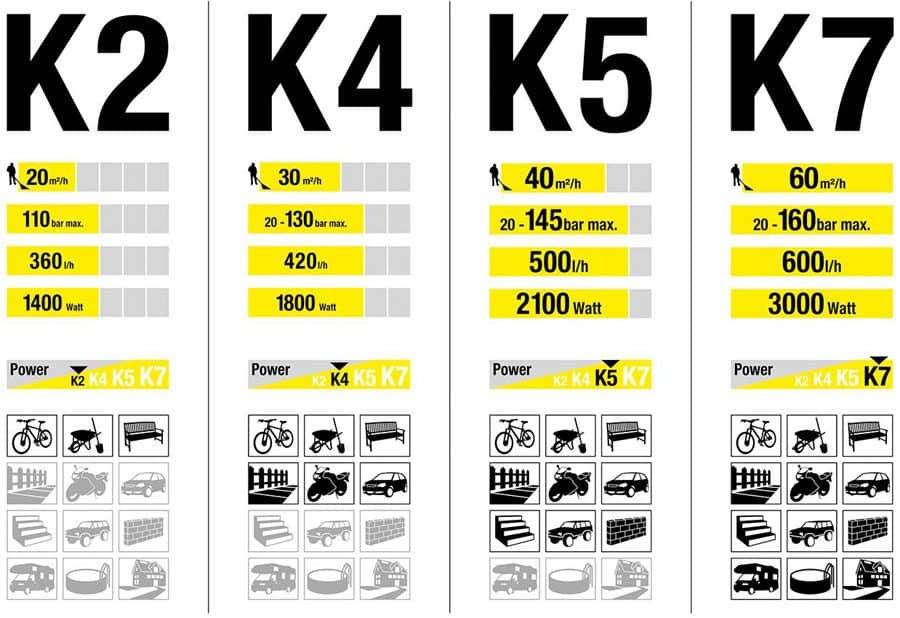 Which one?
The one to buy depends on how you intend to use it, if you were going to use it mainly for car washing then the K4 is more than good enough for this, however if you think you will be using it to clean your patio, driveway, slabs and pathways then the extra power of the K5 will make a big difference and also speed up the process.
If you think you will be cleaning your patio or driveway quite a bit, or it is in desperate need of a good clean then the Karcher K5's extra power will make the difference. Read our full report here in our Kärcher K5 Full Control Home Pressure Washer review.
If your pressure washer is more for car cleaning most months then the Karcher K4 is perfect for this, it can still be used to tackle your patio and drive and will make a difference, however the K5 will make a bigger difference and more quickly with its increased power and water flow. We have more details about this model in our Karcher K4 Full Control Home Pressure Washer review.
Our Verdict?
If we were to pick one the Karcher K4 is our choice, a well designed and built model that has enough power for most tasks you would need it for. The K5 is more expensive, and the extra cost for the power you get doesn't seem great value. If you really need power then do look at the K7 model.
Which do you own or will you be buying?