Bosch Vs Karcher Pressure Washer. Which to Buy?

Review By -

20th August 2016

In the UK Karcher is one of the leading brands when it comes to electric pressure washers, however next to them you will also find models from other brands such as Bosch and Nilfisk. Which model from which brand you go for depends on a number of things:
Budget
Specification
Build Quality
Reliability
Karcher vs Bosch pressure washer
We compare and take a look at these two brands and how their pressure washers stack up adjacent each other on a number of points.
Budget
Bosch pressure washers tend to be cheaper to the Karcher models, you also get more accessories and your value for money is better. You certainly get more for your money with a Bosch pressure washer. Karcher are certainly at the more expensive end of the pressure washer range which ever model you look at, be it the entry models or the top end high spec power washers.
Specification
Which ever model you look at the specification is close and similar. When it comes to value the Bosch pressure washers do have a little bit more, either they are slightly higher in pressure compared to the similar Karcher model, they also tend to have a longer hose or an extra attachment thrown in too. Karcher models such as the K4, K5 and K7 all have a well built and designed water cooled motor which the Bosch models do not. They also now have a LED trigger gun in their 'Full Control' range which is new for 2016.
Build Quality
When buying a pressure washer no matter what the budget you want something that is well built, reliable and that will last. We have always found Karcher pressure washers to be well built and long lasting, in comparison Bosch pressure washers are cheaper and also feel that too. A lot of online reviews and comments suggest the reliability and length of use of a Bosch pressure washer is poor, however that being said they are cheaper to a Karcher power washer.
Reliability
As mentioned before this is certainly one of the more important points, there is no point going for value and the cheaper model is it won't last. If you plan on using it regularly then the Karcher electric pressure washer are longer lasting and the K4, K5 and K7 models are certainly worth considering. At the lower end the K2 from Karchaer doesn't feel as well built. Bosch pressure washers don't seem to last as long and don;t feel as well built as other brands. Both companies include 2-3 year warranty on their pressure washers and with Karcher premium models the warranty included can be up to 5 years. This certainly gives some piece of mind over your investment.
Editors Choices
Karcher Choice: Karcher K4 Full Control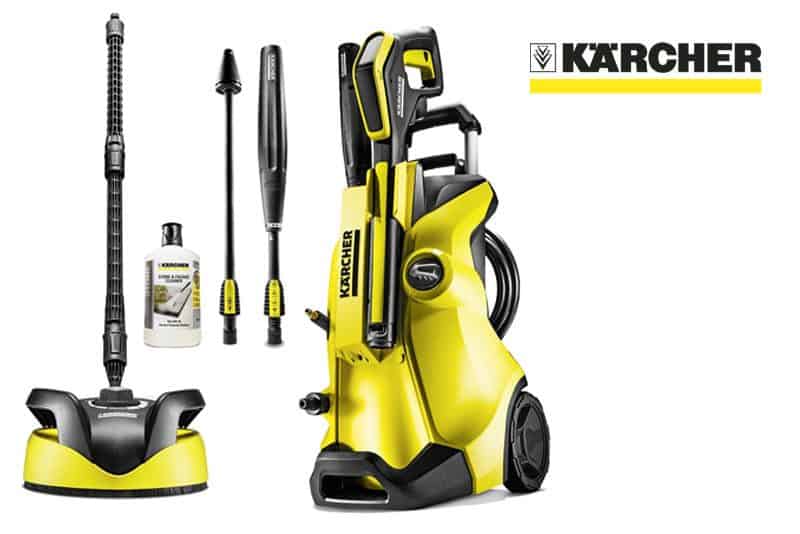 From the Karcher range the 2016 K4 is the standout model for us, it is a great all rounder, great value making it perfect for cleaning your car, patio and blasting your driveway.
Which to buy?
If you are looking for a budget pressure washer that you want to use on your car every so often, then either a Bosch or Karcher is there for you. Both has similar specifications and build, it really comes down to your budget and the package you want depending on what attachments you want included.
If you have a larger budget or are looking for something more powerful than the entry models then the new 2016 Karcher pressure washers are certainly worth considering, they are not cheap but they are well built and made to last.