The Differences Between Karcher Pressure Washers

Published By -

17th August 2019

Continuing its legacy in pressure washers, Karcher, a prominent brand has come up with world class technology to produce impressive and powerful pressure washers. From removal of dirt to stubborn paint, the various models of pressure washer will make your work seem quick and effortless. Young or even the elderly, all can efficiently make use of this devices.
Karcher pressure washer Specification
The table below compares the specifications of the different models, the higher up the model the bigger and better the spec, from higher pressure and water flow, to longer a longer hose.









Kärcher K2
Kärcher K4
Kärcher K5
Kärcher K7
Pressure (Bar)
110
130
145
160
Water Flow (l/h)
360
420
500
600
Area Cleaned (Square Metres per Hour)
20
30
40
60
Motor Watts
1400
1800
2100
2800
Motor
Air-Cooled
Water-Cooled
Water-Cooled
Water-Cooled
Detergent Intake
Suction Tube
Plug & Clean
Plug & Clean
Plug & Clean
Water suction
-
Yes
Yes
Yes
Pressure Hose Length
4m
6m
8m
10m
Power Cord Length
5m
5m
5m
5m
Spray Gun
Standard high-pressure lance Gun
Full Control Power Gun with LED Display
Full Control Power Gun with LED Display
Full Control Power Gun with LED Display
Perfect for...
Bikes
Cars
Patio Furniture
Bikes & Cars
Outdoor Furniture
Patios
Garage Doors

Bikes, Cars & Vans
Outdoor Furniture
Larger Patios
Garage Doors
Driveways
Brickwork
Cars, Vans & 4x4's
Boats
Outdoor Furniture
Large Patios
Garage Doors
Driveways
Brickwork
Our Review
Read our Review
Read our Review
Read our Review
Read our Review
Buy on Amazon
Buy on Amazon
Buy on Amazon
Buy on Amazon
Which Karcher Pressure Washer should I buy?
The Karcher pressure washer range includes:
Karcher K2 – It is compact, powerful and lightweight. It comes with lance, trigger gun and cable storage. There is a detergent suction tube for application of detergents. It has an ergonomic carry handle. Its water inlet prevents dirt particles from damaging the pump and it comes with a warranty of 2 years.
Karcher K4 – It has a motor which is water cooled, and  it has a rapid system for the high-pressure hose, includes a plug 'n' clean system for changing its course over different detergents. It comes with a lance, trigger gun and cable storage as well as a warranty of 3 years. Ideal for car cleaning this pressure washer is a great choice.
Karcher K5 – It has a motor which is water cooled and has a patented cooling system reduces wear and increases the lifetime of the machine. It comes with an eco rotator switch and it cuts electricity and water usage by 20%. It has a rapid system high pressure hose. Plug 'n' clean system for changing course over different detergents. It also has a suction hose for drawing water from a tank or it can be attached to your outdoor water tap, it comes with a filter kit and a warranty of 5 years.
Karcher K7 – The top rate model come with a water cooled motor. It is the most powerful of the Karcher K range and also the most expensive. The powerful motor gives high water flow and bar pressure making it suitable for the toughest of tasks, from cleaning your patio to remove graffiti from walls, the pressure can be adjusted making it suitable for cleaning your car without naming the paintwork, or set to max pressure for cleaning your driveway.
If you want maximum power and will be using it for tasks such as cleaning slabs, patios, decking, or any masonry walls then the K7 is worth the money.
Our Choice
Karcher K4
We love the Karcher K4, it is a good all rounder that has enough power for most tasks without breaking the bank. Perfect for car cleaning and washing down your patio and drive after winter.
Buy on Amazon
Differences between Karcher Compact and Full Control
In 2019 Karcher rebased compact models of their pressure washer range, for example, you can buy a Karcher K2 Full Control, or K4 Full control, and you can also get a Karcher K2 Compact, or Karcher K4 compact.
So what are the differences? The compact version is more compact, it is the same spec as the full control counter part. So the engine is the same, in terms of accessories you get lance, however the compact version is more basic and doesn't have the visual settings of the full control version.
The detergent bottle isn't built in, you get a suction tube which you insert into your own bottle that you would have to place on the ground next to the pressure washer.
The compact models are also cheaper than that full control versions too, so if you don't think you will use the detergent bottle feature and don't need the full control lance, then you can save some money with the compact version which is also smaller and lighter too.
What is the difference between Karcher K2 and K2 compact?
The specification of the K2 is the same throughout, the pressure is still 110 bar with a 1400 watt motor that is air-cooled. The differences are in the casing and design, that compact K2 is what it says, more compact, it is designed to be as small as possible and easy to carry. Where as the K2 Home and Premium models have wheels and an extended handle to allow you to pull the pressure washer around like a suitcase.
Karcher K2 Compact
Great entry level pressure washer, light, portable and compact for easy storage. Ideal for people that live in a flat or want something for lighter tasks on a budget.
If you live in a flat, or have limited storage space then the K2 Compact is a great choice.
What is different about the 
Full Control Model?
In 2015 Karcher started rolling out a new update to its range of pressure washers which are titled under the 'Full Control' umbrella. Any model which includes this will include the new LED display trigger gun, this new design is to help guide you to the correct pressure setting for the surface you are trying to clean. It makes it easy to know which pressure setting to be on, you will want to be on max power for cleaning your patio removing dirt and grim that has been there for years, however while cleaning you car you will want to reduce this pressure as your may otherwise damage your car paintwork, so with the new trigger gun you can easily adjust this down to the desired setting.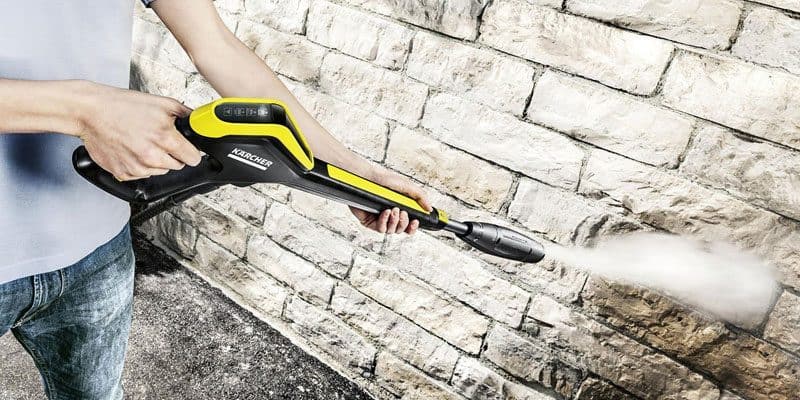 As you can see in this image there are 4 LED settings with a little image that show the job it can be set for, such as brick work, your car, or fencing.
What are the differences between the Premium & Compact models?
Depending on which model you are looking at they all have the same spec, for example it you were looking at getting the K5 Pressure washer, there is no difference in terms of performance weather you go for the home, premium or compact, they all have a 2100 watt motor, giving 145 bar pressure, they all come with a 8m hose and have a flow rate of 500 litres per minute. So the internal power and pressure is the same which ever model you go for.
The differences are in how it is housed and how it is from the outside. There premium model has on board storage for attachments as well as a place to store and hold the trigger gun. On the premium model there is also a hose reel on the back for the lengthy 8m high pressure hose. With all this extra weight the design is very robust, it has large wheels to make it easy to move, however it is heaveir and bulkier than the compact for instance.
The compact version is just that, more compact, there is no on board storage or a hose reel built in, it is designed to make the main unit as small as possible while still packing the powerful punch inside. Although the compact is smaller in size you still need to also store the hose and attachments somewhere else. With it being smaller it is also lighter making it easier to move and carry if needed.
Compact, Eco, Home and Premium
K2, K4, K5 and K7; each comes with different packages – compact, eco and premium. K2 is air cooled while K4, K5 and K7 are water cooled. Also the number of accessories that come with each model may differ.
Recently the Eco models have been discounted, although can still be bought online, with the new Full Control range you can choose between the home and premium packages. The spec of the pressure washer remains the same, however the attachments that come with it differ.
All models are robust and easy to use, setting up and for the first time and using it to clean your car. All models are good enough for cleaning down patio furniture, bike or car, however if you plan to use it more regularly then do look for a more powerful model. If you want to use a pressure washer for your patio and driveway then do look t models from the K4, K5 range, as these pack a bigger punch and will make a huge difference to the entry level K2.
Choose the appliances according to the work to be employed in for the best results. Do not fear spending when the premium version is needed.
USEFUL ARTICLES
*Disclosure: This article may contain affiliate links, and at no additional cost, this site may earn a commission if you buy.Last updated on 2020-09-26 / Affiliate links / Images from Amazon Product Advertising API