Best Pressure Washers for Washing Your Car

Review By -

30th October 2015

When searching for the right pressure washer to clean your car, it is very important to choose the right one. It is best to invest in a pressure washer that is not only capable of high-pressure washing, but gentle pressure washing as well. Using a pressure washer that has a very high water pressure can damage your car and strip or chip paint off of it. Another aspect to consider is whether you should buy an electric or gas-based unit.

For car washing purposes, a lower-bar pressure washer that can do tougher cleaning as well as lower pressure cleaning such as automobile washing, is perfect for multi-use. Karcher is one such pressure washer brand that offers a variety of washers with different water pressure capabilities.
Karcher K2 Compact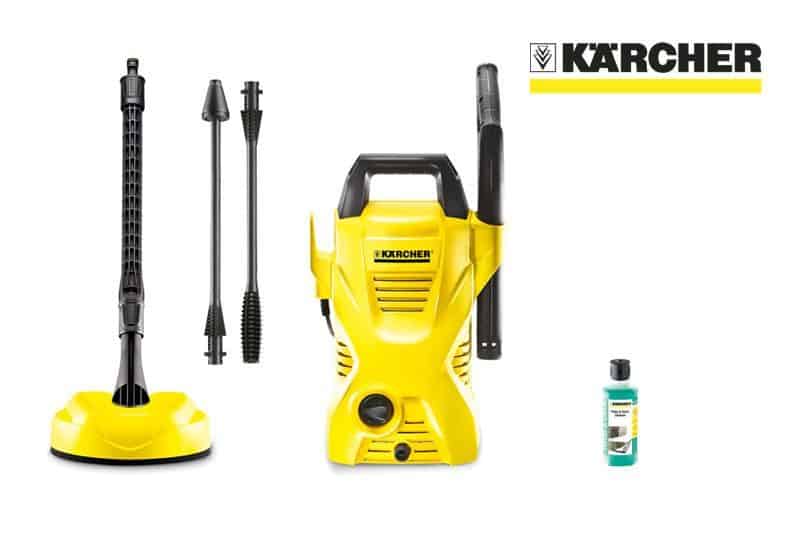 The Karcher K2 Compact Pressure Washer has an air-cooled, universal motor, a water inlet filter that prevents damage to the pump, and has a 4 meter pressure hose and 5 meter power cable. This electric pressure washer is perfect for washing cars, as it is compact, contains a handle for easy lifting as you wash, and comes with a variety of lances to choose from, so you can choose the correct wide-spray nozzle so you can wash your automobile without nicking or stripping the paint off your car.Intended for cleaning tasks around the home and garden, the K2 also comes supplied with a trigger gun, dirt blaster lance (which provides 50% greater cleaning power than the standard lance), and a one-way lance.
The K2 has 1400W of power with 110-maximum bar pressure, and has automatic start and stop functions with a detergent suction tube, and onboard storage, allowing a flow rate of 360 litres per hour. This is the perfect compact pressure washer for washing your automobile and for small projects around the home.
Read our full Kärcher K2 Compact review here. 
Karcher Pressure Washer K4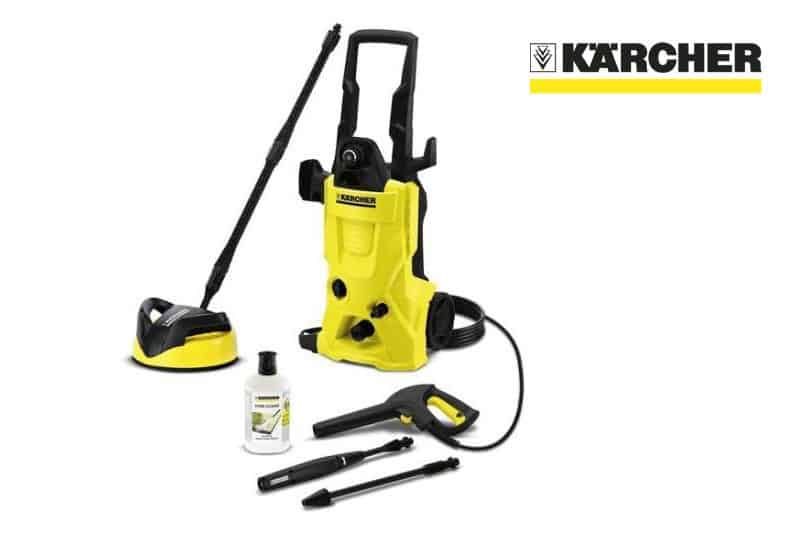 The Karcher Pressure Washer K4 Home is also a consumer-grade pressure washer and is both a more powerful pressure washer than the K2, but is also mobile and ideal for all cleaning tasks. This water-cooled induction motor allows for enhanced performance and longer life-span.
Only weighing in at 11.8 kg, this pressure washer is mobile and includes an integrated water filter, standard quick connect, and high-pressure guns for tougher jobs. The pressure this unit offers is around 20 mega pascals (MPa). The K4 Home comes with a Vario Lance wand, detergent suction hose, and Dirt blaster Lance wand, which provides up to 50% greater cleaning power than a standard high pressure wand. Using a wide-spray nozzle, this makes for ideal car and motorcycle cleaning, as well as wood and stone cleaning outdoors.
Nilfisk pressure washers are also an excellent and compact option for washing cars, and they come in residential models that are excellent for washing surfaces with paint and other small projects.
Read our in-depth K4 home water-cooled pressure washer review.
Nilfisk C120 6-6 PCA X-Tra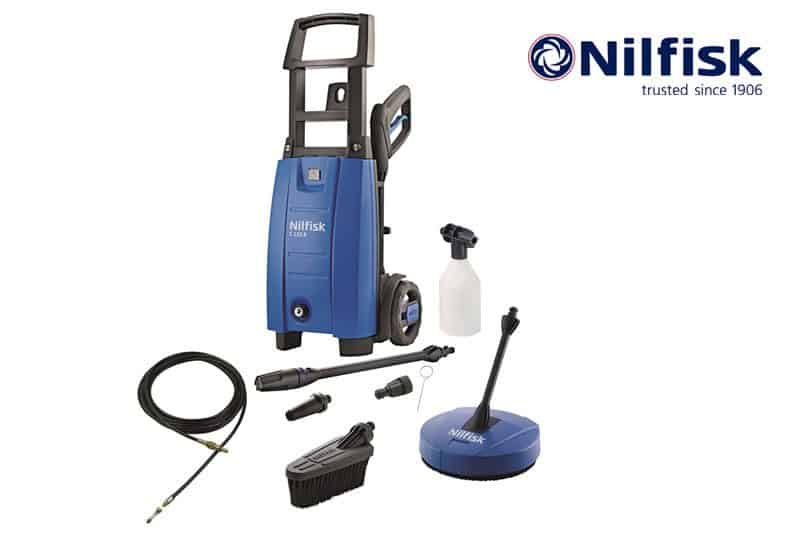 The Nilfisk C120 6-6 PCA X-Tra is a light-weight alternative to Karcher brands that deliver consumer-grade pressure washing for washing one's home or automobile. With a handle for easy carrying, this easily-transportable pressure washer is perfect for a number of cleaning functions around the house. With a maximum pump pressure of 110/11 (bar/MPa) and a Voltage of 230, this little powerhouse has a 5 meter cable length for easy plug in, a 6 meter hose length, and weighs only 6.6kg, making this model by Nilfisk, a highly portable and efficient pressure washer.
Read our Nilfisk C120 6-6 PCAD pressure washer review here.
Power Washers for your car
If you are outside often cleaning your car then a pressure washer is a great investment, it will help keep your car sparkling and speed up the process.
When is comes to which pressure washer to buy then most on the market will certainly be good enough to do the job, a lot of entry models that are at the low end of the price scale are certainly suitable, but there are some things to bear in mind.
Considerations
Accessories – If you know that you are just using your pressure washer to clean your car then there are a few things to look for. First make sure that is comes with a variable lance jet and not just a dirt blaster. Even on the low end of the pressure scale at 110 bar the focused jet can damage your paintwork. Different models come with different accessories, so make sure you pick one that has useful attachments for for cleaning, a wheel brush, soft brush fitment, and a detergent bottle that can be added between the hose and spray gun which is ideal for foaming your car.
Pressure – You can pick up a pressure washer with 110 up to 180 bar, even at 110 bar this is more than enough to clean your car, if you wanted to clean your patio then the higher the better. When it comes to your car the higher pressure can damage your paintwork, so ensure you can adjust the pressure and spray on the gun itself.
Hose – Most entry model will have a hose length of 4m, this is usually good enough for most people's car, however if you are cleaning a large 4×4, or a van for example you may want something longer which will save you having to keep moving round the pump itself and working about pulling it over.
Waterflow – This is the measurement of water through the pump an hour in litres, generally the higher the water flow the better, this speeds up the process, the higher the flow, the shorter the length of time it takes to clean.
Other Uses
It is important to think about how else you may use your pressure washer, if this is your first one then you may find yourself using it for things that you didn't think you would, cleaning your BBQ, patio furniture, cleaning the drive or patio, garage door and guttering.
The reason to consider other uses is the ensure you get something that will do those jobs, you could buy an entry level pressure washer that is perfect for cleaning your car, however if you wanted to clean your drive or patio you may find that the pressure and water flow just isn't high enough to do the job.
Which Pressure Washer?
If you are just looking for a pressure washer to clean your car then Karcher and Nilfisk have a great entry level model that is perfect for this, there is the Kärcher K2 Compact Home Air-Cooled Washer which can be picked up for around £75, and the Nilfisk C110 4-5 PC Xtra Compact High Pressure Washer which is around £80. Both are 110 bar and are easy to use, compact and are a good solid first pressure washer.
If you want to spend a bit more and have a bit more flexibility then you can look at the Karcher K4 and K5 models, here you get higher water flow and pressure, a longer hose and usually a few more attachments included depending on the model. There are great for more than just cleaning your car, if you want to clean your drive or patio then these are worth taking a look at.
Overview
Finding the right pressure washer for your car that can also be used for projects in the future is an important decision, as you want to make a sound investment, but also need a pressure washer that isn't too strong as to destroy your car's paint job and cost you money. The Karcher K2 and K4 are perfect examples of pressure washers made for uses such as cleaning cars and homes, and Nilfisk's C120 model is an excellent alternative that can do the same job and offer different uses for the future.
All of these models are electricity-based, and due to the small projects that these models are intended for, this is recommended as opposed to gas-powered models that are typically used for tough jobs and can be dangerous to use for residential purposes. Consider which pressure washer is right for you and you'll be glad you did.