Nilfisk C120 6-6 PCAD Pressure Washer Review

Published By -

29th July 2015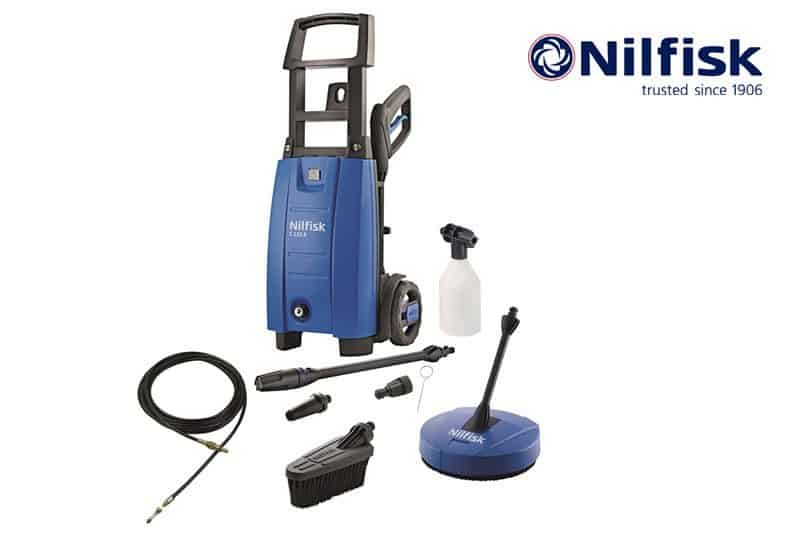 Editor Rating

Rated 4 stars

Excellent
---
Reviewed by:

Published on:

Last modified:
---
Summary: The Nilfisk pressure washer is ideal for cleaning most areas around the home, including outside areas and the windows. It is easy to use, and the accessories that are supplied with the washer makes it very versatile.
The Nilfisk C120 6-6 PCAD pressure washer can be used to clean everything from your car to your driveway, and it will do so with speed and ease. Nilfisk are one of the world's leading manufacturers of cleaning equipment, and have been producing pressure washers for over 30 years.
Overview
The Nilfisk C120 6-6 PCAD pressure washer is a solid and well built device with the power to go with it.
Waterflow – 440 l/h
Pressure – 120 Bar
Hose Length – 6m
Motor – Air-Cooled
This popular pressure washer comes with a patio cleaner attachment, wash brush and nozzle attachments, all of which click and connect in place.
Performance
The washer has a 1400W air cooled motor and a metal pump which is designed to be tough and durable. The pressure can reach 120 bars and is capable of allowing 440 litres of water per hour flowing through it. The pressure washer weighs 10kg and is wheel mounted which means it feels lightweight when it is in use.
The spec of this model makes it ideal for cleaning your car, patio furniture, and the patio itself. The pressure and water flow of this power washer makes it ideal for small to medium sized patios, if you have anything larger you may want to look for something with a bigger water flow rate to make the process a bit quicker.
The pressure washer is cased within blue recyclable plastic, and this helps to protect the washer from becoming damaged. It has wheels and a handle so it can be moved around easily when you are using it. It is also easily connected to an outdoor tap or water butt.
It is a lightweight design and fully movable with wheels, handle and onboard storage making it great to pack away and store in the shed or garage ready for use with everything where it needs to be. Weighing nearly 10kg it is very robust and sturdy.
Accessories
There are several accessories that are supplied with this washer that help you to get the best from the machine. The click and clean nozzle allows you to change between accessories quickly and easily. There is also a 6m hose, wash brush and ergonomic handle supplied with the washer.
Pros
A good solid pressure washer from a brand you can trust, if you want something that is ideal for car cleaning then this is worth a look, enough power for getting your car sparkling and a 6m hose and 440 l/h water flow will get it done in no time.
Cons
Not quite enough power to tackle your drive.
In the box
With the Nilfisk C120 6-6 PCAD X-Tra Big Accessory Pressure Washer you get:
1 x Big Accessory Pressure Washer C120 6-6 PCAD X-Tra Pressure Washer
1 x Detergent dosing bottle and foam applicator
1 x Powerspeed nozzle
1 x Vario nozzle
1 x 6 Metre hose
1 x Soft Grip Gun
1 x Click&Clean lance
1 x Patio Cleaner
1 x Wash Brush and Drain and Tube Cleaner
Bottom line
The Nilfisk pressure washer is ideal for lighter jobs such as car cleaning, washing down you patio and furniture, it is well priced and good value for the performance and spec of the machine. It has over 300 reviews on Amazon UK and a 4.5 star rating, so it is certainly a good pressure washer. Compared to the Karcher K2 which is similar this is great value and has a good range of attachments, the Nilfisk C120 6-6 PCAD X-Tra Big Accessory Pressure Washer is a good deal and very well priced, it also has a 2 year warranty making it a sound investment.
*Disclosure: This article may contain affiliate links, and at no additional cost, this site may earn a commission if you buy.Last updated on 2020-09-23 / Affiliate links / Images from Amazon Product Advertising API