10 Best Microfibre Cloths & Towels for Cleaning your Car

Review By -

10th January 2019

Microfiber cloths are known to be the best for car cleaning because they are soft, super absorbents durable, perfect in applying wax, polish, removing dirt and spray detailers.

Microfibers have a good pricing hence affordable by anybody. The problem comes in when choosing the best quality microfiber among the ones available in the market. I did a research and found out the microfiber cloths that are preferred in the market by most people.
Best Microfibre Cloths & Towels for Cleaning your Car
According to my research the following are the best microfiber cloths for cleaning your car:
Top 10 Best Microfibre cloths
About Microfibre Car Cleaning Cloths
We round up the top 10 best Microfibre Car Cleaning Cloths and details about them.
It is perfect when cleaning dirt and removing grime. It is considered to be a good absorbent because it can absorb up to 6 times its weight. It is lint and streak free hence suitable for cleaning. They are seen to be of the best quality and when used for cleaning they do not require any detergents or chemicals. It can be cleaned without any detergents easily and be reused later.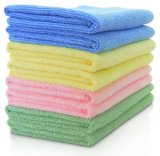 They are among the best microfiber cloths in the market. These are 720gsm Ultra Thick Microfibre Car Cleaning Cloths that are a popular choice and it is easy to see why. Perfect for car cleaning and drying your paintwork, they are doubled sided and can soak unto 10 times their weight in liquid. It's lint free and streak free for cleaning hence give the best results.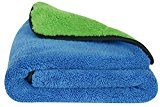 This type of cloths are packed in twelve with different colors.They are the best when it comes to cleaning cars because they are made from a high quality material and are very soft. They are super absorbents hence preferred in cleaning wet places for instance when cleaning your car.
They are lint and scratch free hence give the required results after the clean-up. Sinland microfiber can remove tough stains such as grease and espresso. It's easy to wash with just soap and water.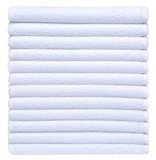 This type of microfiber cloth is offered by AmazonBasics and is known to be among the best due to its features. It's the best absorbent because it can absorb up to around 8 times its weight. Once it has been rinsed, it can be reused up to 100 times hence preferred for cleaning.
Like other microfiber cloths, AmazonBasics are soft, non-abrasive hence do not scratch car surfaces and can be used for other activities.This microfiber cloth is used in the garage and can clean things or places without chemical use. Finally, it's lint and streak free.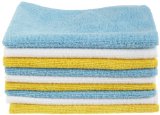 This type of microfibre cloth give sparkling clean results after use. It's a good absorbent due to its thickness.The cloth has safety edging that prevent it from scratching your car. Meguiar's microfiber cloth can be washed and reused for some time and work quite well with PH-balanced cleansers. With this type of microfiber I bet you will love it for cleaning your car and other surfaces.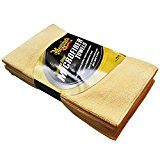 It measures 14 by 14 inches making it to be one of the largest microfiber cloths hence can be used comfortably. It's preferred for drying purposes due to its ability to absorb up to 8 times of its weight.You can use it to clean your car, home or even use in general cleaning purposes. It gives the best results after using it. Also, it's easy to clean because it is machine washable.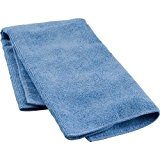 These cloths are among the top best due to the results they give when using them. They are very soft and scratch resistant hence can be used to clean delicate surfaces such as car wind screens.They are among the best absorbents by absorbing up to 8 times their weight hence used for drying purposes.The cloth is streak and lint free and is also used to clean dirt without using detergents or chemicals. With this type of micro fiber cloth you should expect the best results therefore you can try it out.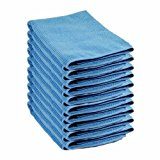 It's among the top 5 best microfiber cloths this is due to some of the features it has that others don't. When cleaning your car you can be sure to kill bacteria 99% without using any antiseptic or detergent.
The fibres of this cloths are made in such a way that they can attract moisture and oil dirt it any surface this makes it the best to clean your car. It's very light hence easily used unlike the heavy ones. E-cloth microfiber comes with an adjustable telescopic handle to make it fit your hand. Try this out there will be no regrets.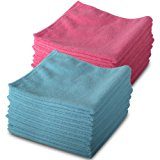 It's the best microfiber cloth used to clean cars and give the best results. They are used for dusting, buffing, polishing, washing and cleaning cars and other automobiles.With this type of cloth you only require one piece to complete an entire cleaning job without tearing or even getting dirty. They are machine washable hence can be reused many times.They are durable hence can last longer after using the first time.This is the best cloth you can go for to give your car sparkling look.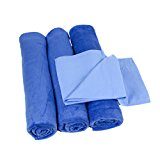 This microfiber type of cloth is used in general cleaning be it furniture, kitchen or cars. You can use it to give a quick wipe, to polish and even wash. It is used as an absorbent up to 10 times its weight. It is also used to give a shine on appliances in the kitchen or car,You, can use it to clean waterless car products as it gives its best. It has up to 360000 strands per square inch. It's streak and lint free hence give the best results.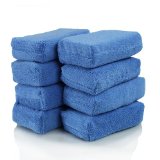 The above mentioned microfiber cloths are the best in the market and give the best results after use. Among the ten, you can choose the one with the features and the quality you like easily and thereby try it out and see wether you can get the needed results.
Most of the above mentioned microfibers are for general use hence if you don't need to buy many of them, one pack is enough. Try these microfibers out and you will get the best out of them without regrets. I'm pretty sure you will get one of the best here, I wish you well.