Ryobi Pressure Washer Reviews

Published By -

4th December 2019

Ryobi are known for their power tools and one battery that fits all, however they also offer mains electric powered pressure washers too, ranging from the low end to more powerful jet washers.
Ryobi Pressure Washer Reviews
We take a look at the Ryobi Pressure Washer range and review the different models.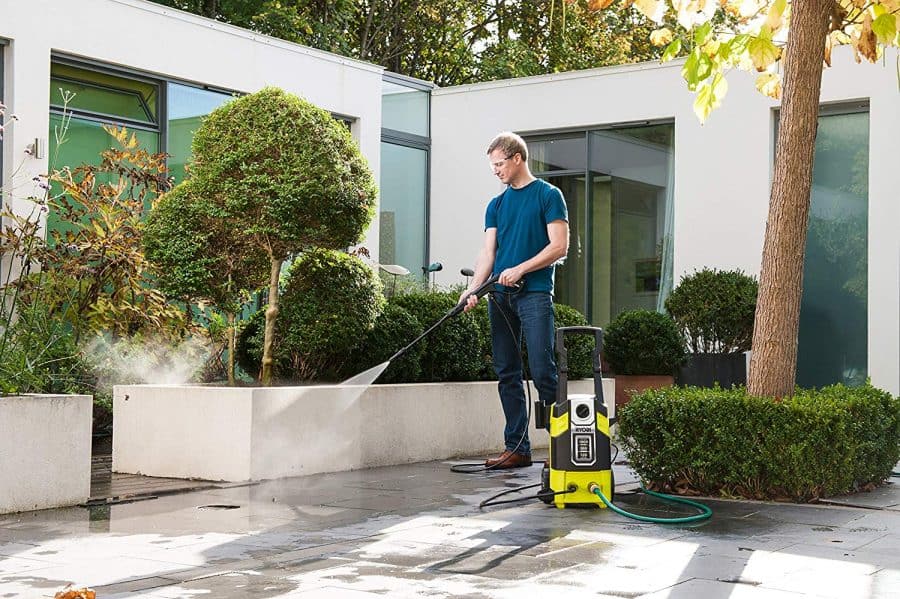 Ryobi RPW110B Pressure Washer
The entry model is the Ryobi RPW110B Pressure Washer, it is compact and portable. In terms of spec and power, it has a 1500W motor delivering a max pressure of 110 BAR and a max water flow of 360L/H. While compact in design, it also has storage for the power cord, 5m hose and lance. It also comes with an external detergent bottle too unlike other pressure washers in they price bracket. As well as that you also get the trigger gun, turbo lance, vario lance, jet foam bottle and a 5m long hose.
For an entry level model this is a good value, for small tasks every so often, this is ideal. If you are after a small pressure washer for tasks such as washing down your car, or use in the garden for furniture, kids toys or bikes, than this is great and good for the price tag.
Ryobi RPW120B Pressure Washer
The next model up is the Ryobi RPW120B Pressure Washer, with a 1800 W motor. This 1800W motor provides 120 bar maximum cleaning pressure with 380 litre per hour maximum flow rate. Again there is lots of on board storage for the different parts and 5m hose. It has an upright handle and twin wheels to make it easy to move around.
This model has an incorporated 1L detergent tank for car shampoos or patio cleaning fluid. For under £100 this is great value for money, ideal for car cleaning and also patio cleaning in small areas. It is well built, compact and great value.
Ryobi 1800 watt Pressure Washer
The top spec model is the Ryobi RPW130XRBB Pressure Washer. It has a powerful 1800W motor delivering 130 bar pressure and 380 l/h flow rate, making it ideal for car cleaning and patios.
With this model you get a longer hose at 6m, on the pressure washer there is a built in hose reel, it also comes with more accessories, you get a patio cleaner brush, wash brush, adjustable lance and a turbo nozzle too. The extra bar pressure makes it better for cleaning patios, paths or decking, but it certainly isn't the most powerful on the market.
Another great things with the Rypbi pressure washer is the three year warranty it comes with too.
Ryobi – Lithium + 36 V
There is also a cordless pressure washer in their range too, the battery powered 36volt jet wash only needs to be connected to a tap to use.
Using a 37 volt battery that you have to buy separately this delivers 16000w and 120 bar. You also get an impressive 320 l/h in water flow which is great for a cordless pressure washer.
With this you get the pressure washer which is very well built and robust with a metal frame and aluminium telescopic handle for ease of moving, as well as a 5-in-1 nozzle for quick change between functions, integrated compartment for storing the hose, high-pressure gun and lance nozzle.
Not battery is included and this must be bought separately.
*Disclosure: This article may contain affiliate links, and at no additional cost, this site may earn a commission if you buy.Last updated on 2020-09-23 / Affiliate links / Images from Amazon Product Advertising API