Nilfisk C110 4-5 PC Xtra Compact High Pressure Washer Review

Published By -

28th March 2015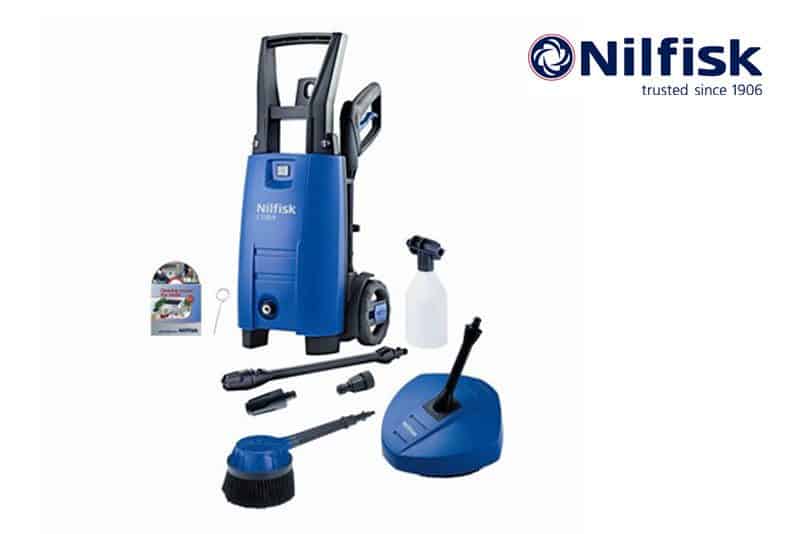 Editor Rating

Rated 4 stars

Excellent
---
Reviewed by:

Published on:

Last modified:
---
Summary: A great all rounder and a great option away from the Karcher range, lightweight and easy to move, yet still sturdy and well built, and comes with a great selection of attachments as standard.
Nilfisk are a renowned company in manufacturing cleaning equipments. The Nilfisk C110 4-5 PC Xtra Compact High Pressure washer is a little more expensive as compared to its counterparts, so lets see if it makes up for it.
OVERVIEW
The Nilfisk C110 4-5 PC Xtr is a entry model from the well known and trusted Nilfisk.
Waterflow – 440 l/h
Pressure – 110 Bar
Hose Length – 5m
Motor – Air-cooled
Watts – 1400
Included with this model is everthing you could need to get you started, extension lance, spray handle, Tornado Nozzle & Power speed Nozzle, Foam Sprayer and a Patio Cleaner which can all be attached to the 5m pressure hose.
Specification
This model has 110 bar pressure with 440 litres per hour water flow high cleaning power, which is ideal for car cleaning, with a 1400W motor. There is a patio cleaner with this however the pressure from the pump may not be as good as you want to remove the dirt and grime that may have built up over the years. If you are looking at something with patio and driveway cleaning in mind we would recommend looking at the next models up.
Performance
The robust and rugged design helps the washer to perform all the desired task of cleaning with lightning speed and incredible ease.
This pressure washer has a pump inside it and to protect it from any kind of damage the company has made it from aluminum whereas if you go through the specifications of many other pressure washers they are not made of aluminum. The pumps water inlet has a pre-fitted filter to protect it from any kind or dirt from the water supply. To be on the safer side I use additional removable filters at the water supply end just to make sure that the pumps performance does not get affected.
The lightweight pressure washer has an incredible mobility; it can be wheeled from one place to another without any effort. Also the accessories can be stored onto the washer itself. The performance and quality of the product can be adjudged by knowing that the washer consumes a lot less power as compared to the other appliances available.
Nilfisk provides an automatic On / Off option which has a thermal sensor to help shut the pump in case of high load and help save a lot of water. An overall excellent and a must have device to perform jobs like Patio cleaning, car, bike, garden pavements & furniture's, walls, etc.
Accessories
The Nilfisk kit includes some additional accessories. One can always buy individual accessories separately but some are standard and are included in every kit. The standard accessories included in the pack Nilfisk C110 4-5 PC Xtr are:
1. Extension Lance: Ideal for focusing the jet and water pressure on certain areas. The lance 360 degree movement helped me to adjust the water pressure and force.
2. Spray Handle: The handle enables to have an easy and strong connection with swivel hose.
3. High Pressure hose: The 5m long high pressure hose helps to reach out to places which were otherwise very difficult.
4. Foam Sprayer: The kit has an extra handy spray bottle that could be used to manually spray any detergent onto the dirty surface. This saves a lot of water and also the detergent.
5. Tornado Nozzle & Powerspeed Nozzle: The various nozzle types are available to perform the different kind of cleaning jobs. The nozzle selection would depend on the task we intent to perform.
6. Jet Nozzle Cleaner: Sometimes even the nozzles get clogged and we require cleaning it. This is done using the Jet Cleaner. We would recommend keeping the nozzle clean after use just to help maintain it and stop any blockages building up.
7. Patio Cleaner: Designed to make it easy to clean your patio as you move it around like a hoover.
Pros
Simple, sturdy and easy to use, comes with wheels, handle and onboard storage for all the attachments to that come as standard and allows for easy mobility. A great entry level pressure washer that is great for car cleaning.
Cons
Slightly expensive compared to other similar models on the market, but it is one of the best sellers on Amazon UK.
Bottom line
The Nilfisk C110 is an excellent, great and a highly recommended appliance that is best suited for your home and cars. It is very well priced and can be picked up on Amazon for under £90, it is also one of there best sellers at the time of writing with over 330 reviews and a 4.5 star rating.
As an entry level pressure washer at this price point you really can't fault it! If you want something simple that works well and is robust then this is the one to take a look at.
*Disclosure: This article may contain affiliate links, and at no additional cost, this site may earn a commission if you buy.Last updated on 2020-09-23 / Affiliate links / Images from Amazon Product Advertising API