Differences between the Karcher SC2 and SC3

Published By -

21st April 2017

We compare the differences between the Karcher SC2 and SC3 steam cleaners, both are popular models to buy, but what are the differences and which is better for you?
Karcher SC2 vs SC3
Below we have rounded up a review and overview of the differences between the  Karcher SC2 and the Karcher SC3.
| | | |
| --- | --- | --- |
| | Karcher SC2 | Karcher SC3 |
| Area Performance | 75 m² | Re-fillable |
| Heating Time | 6.5 minutes | 30 seconds |
| Water Capacity | 1L | 1L - Re-fillable |
| Max. Steam Pressure | 3.2 bar | 3.5 bar |
| Heating Power | 1500 W | 1900 W |
| Weight | 3.2 kg | 3.5 kg |
| Steam-Regulation | Comfort | Comfort |
| | Buy on Amazon | Buy on Amazon |
Karcher SC2 Multi-Purpose Steam Cleaner
The Karcher SC2 is the perfect addition for cleaning purposes in the home. This product combines the superior power of steam to provide users with unrivaled cleaning results. The added benefit is that this product does not need any chemicals or scrubbing, and it can effortlessly work to eliminate the effects of grease from the ovens hobs and extractor fans.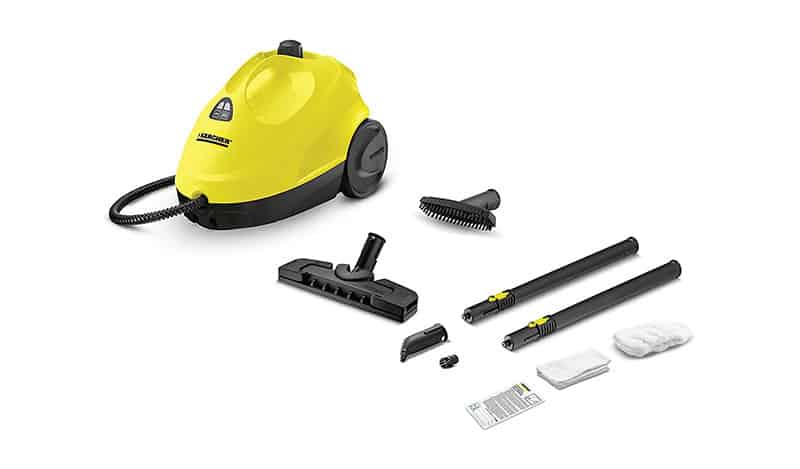 This powerful and all one steam cleaner is perfect for deep cleaning without the need for chemicals. It works to reach the deep sections of the floors, taps, work surfaces and the tiles as well. Besides that, this unit also comes with a lamellae floor tool that works to clean effectively and the customizable steam control feature for added convenience. The added benefit of this unit is that it also comes with safety features such as the childproof lock.
Works on all floors and using only tap water – The steam pressure of this Karcher unit works well to eliminate the effects of dirt and stains gently and effectively as well. The inclusion of the ample sized water reservoir ensures that even large sections can be cleaned only using tap water
Powerful stain removal – This Karcher steam cleaner can work to remove as much s 99.9 percent of the bacteria and dirt that are compromising the usability of your surfaces. The steam works well to eliminate the effects of stubborn dirt even in the most remote sections.
Excellent cleaning features – The inclusion of the power nozzle, joints, and the round brush ensures that all surfaces are clean and free from the effects of dirt. The inclusion of the powerful means that you can easily carry this unit along with you to wherever you need cleaning power.
Fast heat up, simple and safe to use – The added benefit of using the Karcher SC2 is that it has fast heat up and simple operation results. This unit can be prepped in a few minutes that the LEDs will indicate when the unit is on and ready for functionality. More so, the manufacturers have done well to ensure that the steamer can only be opened once the pressure is released. This feature and the child lock system helps to guarantee that even children are safe from the dangers of that can arise from using the devices.
Key Features
3.2 bar pressure for deep cleaning results
This product can eliminate as much as 99.99% of germs and bacteria
This product can be used for hygiene purposes with only water
It comes with small and compact design
Karcher SC3 All-in-One Steam Cleaner
The SC3 is an all in one steam cleaner that can deliver sufficient steam without causing any interruptions for your cleaning needs. This unit will heat up in as little as 30 seconds meaning that it can be used almost as soon as you set it up.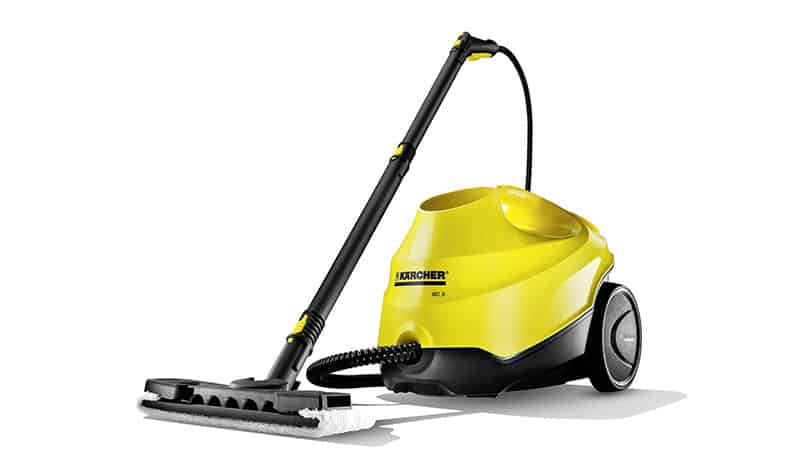 The water tank is simple to refill when the machine is used, and it will eliminate any hold ups, which are ideal for large scale cleaning purposes. With the inbuilt anti-limescale filter, this unit provides powerful steam cleaning results and the comfort floor tool provides easy access even in the most remote locations.
Dynamic accessories – This unit comes with an exclusive set of tools that allows users to reach even the most remote sections that require cleaning.
Cleaning using steam
This unit will provide you with the sufficient cleaning power by using steam and no need for detergents of chemicals. It also comes with a proprietary flexible joint system that makes cleaning awkward and remote locations a simple procedure.
LED display and simple filling – The added benefit of using the SC3 is that it comes with a unique LED display that demonstrates when the half a minute heat up time has run out. The inclusion of a water shortage display indicates when the tank requires refilling, which can occur even during use and in even hard water sections with nonsteam power.
Inbuilt descaling filter and on-board storage – This SC3 also comes with an intelligent anti-lime scale cartridge that filters water automatically to make it perfect for cleaning even in areas with hard water as their primary water source. More so, the additional onboard storage tools can be easily stored in the main section for secure and simple storage.
Features
Continuous steam with a refillable water tank
This can kill 99.99% of bacteria for enhanced results
It comes with Auto descaling functionality
The Karcher SC3 comes with a 3.5 bar pressure for deep cleaning
Overall
Broadly speaking, the difference between the Karcher SC2 and the SC3 boils down to auxiliary features that these things come with for cleaning. While these cleaning mechanisms might have significant differences in functionality, both have solid performance features and will provide impressive affordability. Therefore, you can choose the SC2 if you seek basic cleaning features and the SC3 if you want auxiliary cleaning features.
*Disclosure: This article may contain affiliate links, and at no additional cost, this site may earn a commission if you buy.Last updated on 2020-08-05 / Affiliate links / Images from Amazon Product Advertising API