Which Black and Decker Pressure Washer

Published By -

27th May 2016

A pressure washer is a handy piece of equipment to have around. It can cut major cleanups and outdoor spring cleaning times in half by eliminating the need to scrub by hand. Black and Decker is a well known, reputable small and major appliance brand. Black and Decker produces two types of power washers – gas powered and electric; as well as accessories and replacement parts.
Gas Powered Pressure Washers
Black & Decker BDX3100 3100 PSI 2.5GPM Gas Powered Pressure Washer
This pressure washer boasts an easy-start,powerful Honda engine. It has a pro-style spray gun, wand and nozzles, and built in detergent tank. Built to last, this pressure washer comes with a one-year limited warranty and two-year honda limited warranty.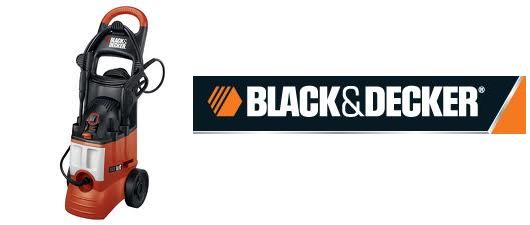 Black & Decker BDX2700 2700 PSI 2.3 GPM Gas Powered Pressure Washer
This pressure washer has a Honda easy-start engine with maintenance-free axial cam pump that has PowerBoost technology that allows higher pressure. Pro-style spray gun with safety feature, wand, and nozzles are included. The built-in accessory storage of this compact pressure washer is large enough to hold the spray gun, wand, pressure hose, and nozzles. It is factory tested and includes a one-year warranty with two year Honda warranty.
Black & Decker 3100 PSI 2.6 GPM 196cc 6.5 HP OHV Gas Powered Pressure Washer BDP3100
This durable pressure washer has a 6.5 HP engine with 3100 PSI drive at 2.6 GPM. The nozzle has a variety of spray patterns to choose from to get all your outdoor projects done quickly and easily. The light-weight, easy to use spray gun attaches to a twenty-five foot hose.
Electric Pressure Washers
Powerstroke PS171433D 1700 High Electric Pressure Washer
This pressure washer has an easy on and easy off trigger. This is a compact, all-in-one pressure washer with storage capabilities that holds both the spray gun and wands. It is ready to use from the moment you open the box – no assembly is required for this light-weight, easily maneuverable, powerful yet quiet pressure washer.
AR Blue Clean AR527 1800 PSI Electric Pressure Washer
This pressure washer comes in a stylish blue color with wheels for easy maneuverability. The adjustable sprayhead has several settings that can easily be changed to suit your needs. There is a built in storage holder to make all your accessories easily accessible. For added safety, there is a safety lock. The Bonus Turbo Nozzle makes cleaning even faster with wider coverage.
Black & Decker 1550 PSI Electric Pressure Washer
This pressure washer is light-weight and compact for easy storage and use. It has an automatic Total Stop System that saves on energy, water, pump life, and motor life. The 3-in-1 spray gun allows you to adjust the spray to the specific cleaning task you are performing. The built in storage holster allows you to easily store accessories.
Pressure Washer Accessories & Replacement Parts
Black & Decker Electric Pressure Washer H2O Water Broom Accessory
This pressure washer attachment fits all pressure washers due to 6 adaptors that are included in the package. It is made of high-quality, long-lasting materials. In one pass, this squeegee attachment brushes away dirt and grime from solid surfaces, such as patios, garage floors, driveways, and more. This attachment is light-weight and easy to use.
Black & Decker Gutter and Eave Accessory Kit
This light-weight accessory makes cleaning the gutters, eaves and auto undercarriages even easier with their long, extended reach and angles connectors, as well as the power of the pressure washer you connect them to. The adjustable nozzle allows you the ultimate control to get the job done.
Black & Decker 285800-98 Spark Plug
This black spark plug replacement part works not only on Black & Decker, but also on Dewalt pressure washers as well. It will get your pressure washer running as good as new.
Black & decker 22BDA-205 PowerFoam High-Pressure Detergent Nozzle
This accessory is for gas powered pressure washers. It is an excellent choice for hard to reach areas and 2nd stories. There are built-in pressure adjustment valves to control the amount of detergent released, and a fifteen-foot suction hose to give you plenty of room to work.
Black & Decker produces a vast array of pressure washers and pressure washer accessories. There is something for everyone, from the light-weight easy to maneuver electric pressure washers, to the heavy-duty, easy to use gas powered pressure washers.