WOLF BAR 200 Petrol Pressure Washer Review

Published By -

4th April 2017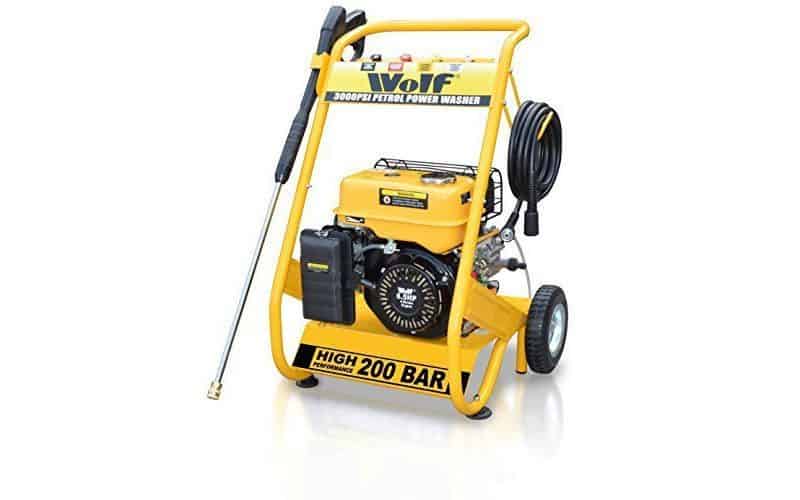 Editor Rating

Rated 3.5 stars

Very Good
---
Reviewed by:

Published on:

Last modified:
---
Summary: The WOLF BAR 200 stacks up as a versatile and hardy pressure washer. It's got enough power to run alongside the strongest of machines, and great mobility due to its gasoline powered engine.
Nothing beats a pressure washer when it comes to cleaning up your property. A powerful pressure washer lets you skip hours of scrubbing and back-breaking labor. Just point and spray to power rinse the dirtiest of surfaces.
So which pressure washer should you consider? Well, we've done a full review of the WOLF 200 BAR, and we think you'll find interesting what we have to say.
Read on to get our full review of the WOLF BAR 200.
WOLF 200 BAR Review
Power-washing, or pressure-washing, is a cleaning method using high pressure water spray to get rid of loose paint, mould, filth, dust, and soil from items and floors like vehicles, structures and concrete floors.
Regardless of the scope of your cleaning project, your job can be made easier with a pressure cleaner. Gasoline powered pressure washers, in particular, are great for tackling any size job. Unlike electrical power washers, gasoline powered engines have the added benefit of increased mobility.
When it comes to gas powered pressure washers, the WOLF 200 BAR is a strong choice. As a 4.5 star rated washer, this machine deserves a good close look before you consider an alternative.
Quick Look
The WOLF 200 BAR is a durable yellow pressure washer that comes equipped with the tools to tackle most outdoor cleaning jobs.
Run with a 6.5HP 4-stroke petrol-driven motor this washer creates 200BAR (3000 psi) of pressure and outputs a remarkable 8 litres of water per minute. Given an assortment of 4 fast fit nozzle accessories and detergent hose, it can be used for a wide variety of jobs.
Let's dive deeper into this review with a feature-by-feature look at what the WOLF 200 BAR can do.
Features
These are the stand-out features included in the WOLF 200 BAR high pressure washer.
High-pressure
This washer is aptly named after it's 200BAR pressure (3000 psi). The 6.5HP 4 stroke petrol-driven engine is what enables the WOLF to emit massive quantities of water at a rate of up to 8 litres per minute. You're unlikely to find any dirt, mould, or grime that a blast from the 200 BAR can take care of.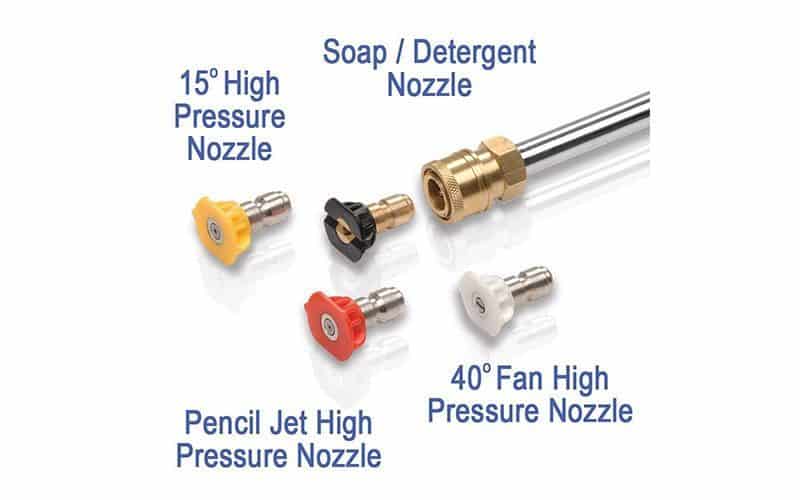 Highly configurable nozzle
A flexible nozzle is a must-have for a pressure washer. The WOLF 200 BAR comes with 4 nozzle attachments. Beyond the basic attachment, this includes a pencil jet, fan, and detergent facility for sparkling clean surfaces.
Heavy Duty Lance
If you're going to be washing with this kind of pressure, you don't want to be holding a toothpick. You want a sturdy, durable lance. The heavy duty lance provided with the WOLF includes a 6 metre hose and detergent suction tube.
Durable frame
Speaking of durable, the frame of the pressure washer itself is quite strong. Made from steel and equipped with all-terrain wheels, this machine can be trekked through the toughest of environments.
Compatible with other WOLF products
WOLF has a suite of accessories and attachments available separately from the 200 BAR. Recently, WOLF released a new patio cleaner attachment compatible with this washer for cleaning decks, porches, and patios. It's also easy to find hose extensions and detergents compatible with the 200 BAR.
Pros & Cons
Like all products, the WOLF 200 BAR has its share of highs and lows. Here are the pros and cons of the machine.
Pros
Multiple nozzles
Heavy duty lance
Durable, steel frame
200 BAR (3000 psi) pressure
Easy assembly
Detergent house for vehicle washing
Cons
Loud
Brackets for lance don't hold well
Filler cap can be wobbly
In the box
If you find yourself with a WOLF 200 BAR at your doorstep, here's what you can expect to find inside the box.
1 x WOLF 200 BAR
1 x heavy duty lance
1 x fan nozzle
1 x pencil jet nozzle
1 x high pressure nozzle
1 x soap / detergent nozzle
1 x 6 metre hose
1 x detergent suction tube
Conclusion
The WOLF BAR 200 stacks up as a versatile and hardy pressure washer. It's got enough power to run alongside the strongest of machines, and great mobility due to its gasoline powered engine.
This pressure washer can be used around the home and also for projects far from an electrical outlet. The steel frame and all-terrain wheels will help you get up close to any stains with the lance to blast them spotless.
The WOLF BAR 200 is available for order now and comes with a standard 2 year warranty. It's a viable contender for your pressure washing needs.
*Disclosure: This article may contain affiliate links, and at no additional cost, this site may earn a commission if you buy.Last updated on 2020-08-05 / Affiliate links / Images from Amazon Product Advertising API