Sun Joe SPX3001 Pressure Washer Review

Published By -

25th March 2017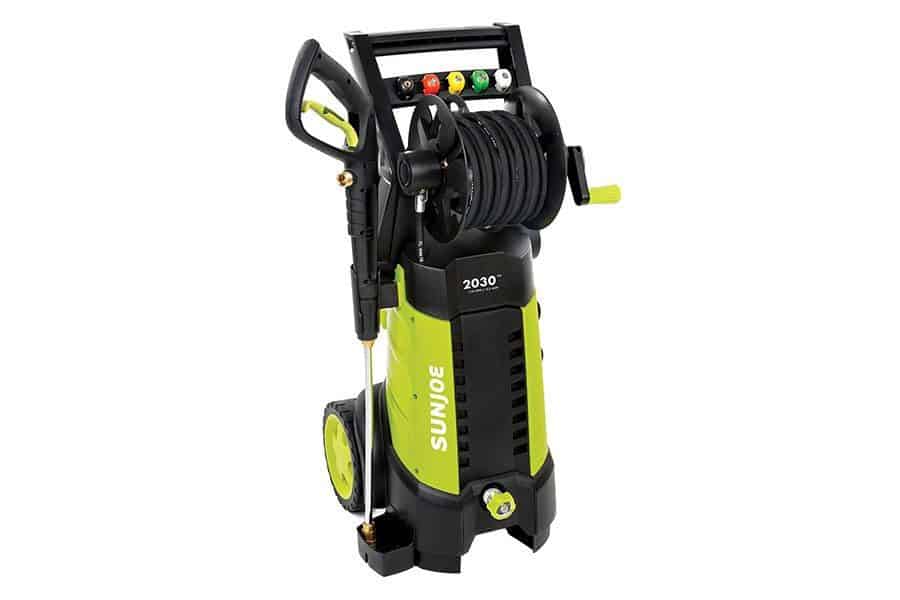 Editor Rating

Rated 4 stars

Excellent
---
Reviewed by:

Published on:

Last modified:
---
Summary: The Sun Joe SPX3001 power washer is perfect for home use and can do almost any job that you need around the house. It is portable, lightweight, and compact, yet still powerful enough to get the job done.
No matter what type of job you need to do, the Sun Joe SPX3001 has the power and control to do it. This unit is powerful enough to remove road tar, tree sap, and any other type of debris from your vehicles.
Sun Joe SPX3001
It can remove grease, mildew, rust, caked-on mud, and any other type of grime from concrete, decks, siding, barbecues, and almost any other surface. The Sun Joe SPX3001 can save you time and money while maintaining your vehicles and house in pristine condition.
Overview
The design of the Sun Joe SPX3001 is portable and compact. Its green detailing reminds you that power washing is not only good for maintaining your home and vehicles, it is also good for the environment. The top carry handle and large wheels make it easy to move it to wherever you may need it. Everything fits easily into its own space on the unit, making storage a cinch.
Waterflow – 1.76 GPM
Pressure – 2030 psi
Hose Length – 20 ft. (6m)
Motor – 14.5 amp
Watts – 1800
The unit comes with five quick connect spray tips (0°,15°, 25°, 40°, and soap). This allows you to adjust the unit to exactly what you need for anything from light jobs to the grimiest heavy duty cleaning job.
Features
This power washer has many features that make it one of the favorite choices among consumers with many different cleaning needs.
Versatility – This unit allows you to have complete control over the type of spray that you need and the pressure so that you can easily tackle any job that comes along. The four different nozzels, soap head, and additional controls on the handgun allow you to fully adjust the spray to get it exactly where you want it. The unit comes with an extra-large onboard 40.6 fl oz (1.2 Liter) detergent tank, which means it will hold enough to finish the job without having to stop and refill.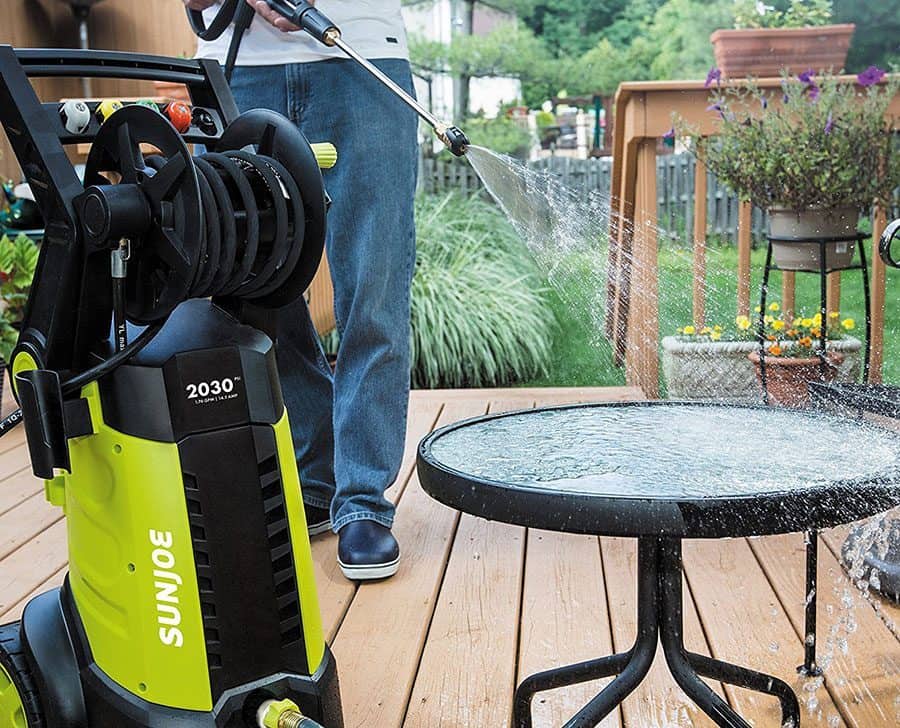 Storage – The Sun Joe SPX3001 uses a compact design including an onboard hose reel so that you can quickly put away the unit for storage. This feature allows you to quickly and easily real in the 20-foot high-pressure hose. It comes with a heavy duty 35-foot power cord with GFCI protection, also with its own convenient and easy storage system.
Other Features – One of the best features of the system is its TSS trigger, which stands for Total Stop System. This allows the unit to automatically shut off the pump whenever the trigger is not engaged. This is another feature that gives you total control of the unit and assures its safe use. All you have to do is to let go and the unit will stop by itself.
Warranty – The SPX3001 comes with a full two-year warranty and is CSA listed.
Performance
This unit has plenty of power to efficiently clean any deck or patio in little of no time. The hose is long enough to reach gutters, and move around a vehicle fully without having to go back to the unit to move it. The unit was lightweight and easy to move to and from the garage with ease. The entire unit only weighs 31 pounds.
Accessories – The system comes with a convenient garden hose adapter and needle cleanout tool too. The high-pressure hose can handle the maximum pressure put out by the unit, yet still remain easy to control. If you need additional length, you can also purchase a 25-foot high-pressure hose extension.
This would give you 45 feet of reach if you include the hose that already comes with the unit. You can also purchase a surface cleaning attachment specifically designed for patios, decks, and other flat surfaces. A rotary brush kit is also available, as well as a high pressure turbo head nozzle.
In The Box
1 x Sun Joe SPX3001 Power Washer
1 x power cord
1 x high pressure hose
5 x different washer heads
1 x quick connect garden hose attachment
1 x needle tool
1 x 34-inch extension wand
Bottom Line
The Sun Joe SPX3001 power washer is perfect for home use and can do almost any job that you need around the house. It is portable, lightweight, and compact, yet still powerful enough to get the job done. It is as powerful as some low-end professional grade power washers. You can change out the nozzles easily and quickly. When it arrives, the hose, nozzle, and nozzle holder are the only parts that you need to assemble, which takes about five minutes. The rest of the unit comes ready to use right out of the box.
The ability to customize the unit with extra attachments and features, as well as full control of the flow rate are what makes this unit one of the best for home use. An electric unit is much lighter than a gas powered unit, which is another great feature that customers love about this power washer. Its power and compactness are another important feature that makes this pressure washer a favorite among consumers who bought it.
This is the perfect power washer to tackle almost any job you can imagine quickly, so that you can get back to your weekends and doing what you enjoy.