Norse SK90 Electric Pressure Washer Review

Published By -

22nd July 2020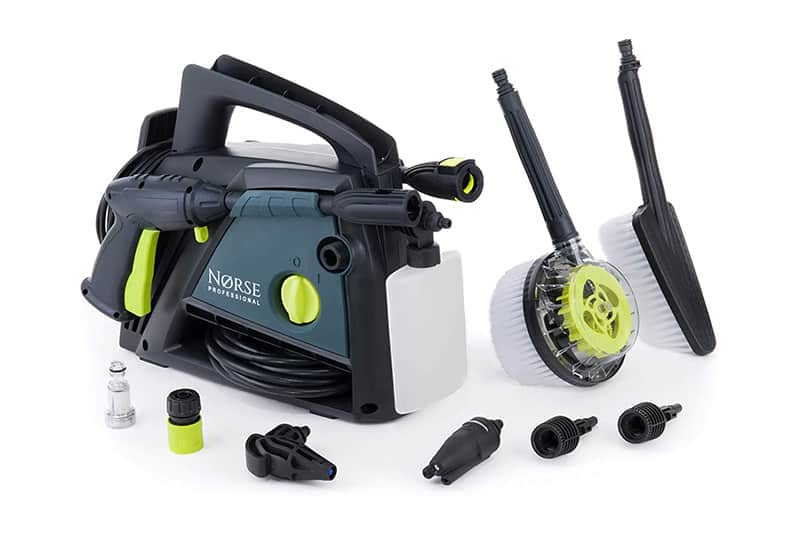 Editor Rating

Rated 4 stars

Excellent
---
Reviewed by:

Published on:

Last modified:
---
Summary: The SK90 is a great pressure washer that comes at a pocket-friendly price. You get a powerful machine with lots of functionality that's to the numerous included accessories.
Norse SK90 Pressure Washer Review
Portable pressure washers are becoming more and more popular, a great way for people who live in a flat or have limited space to store a larger pressure washer. The Norse SK90 is a portable and compact Electric Pressure Washer that also packs a punch.
The Norse SK90 has gained a lot of popularity in the recent past due to its compact size and versatile design. You get a powerful pressure washer that has a continues 90 bar pressure maxing at 130 bar. This electric pressure washer works in the same way as your standard and larger jet washer with a main plug and hose to a tap.
Features
1800W copper wound motor
The Norse SK90 features a powerful 1800 motor that produces 1900 PSI. You get a pumping rate of 435 liters per hour, thus ensuring that you can quickly get rid of tough stains and dirt. You probably think that a powerful motor translates to a bulky design. However, this device is considerably lightweight at 6.9 KGs.
Compact size
The SK90 is considered as ultra-portable thanks to its sleek modern design. You can easily use this device in a confined space with limited access. Cleaning can be somewhat tricky when handling a large pressure washer in a small area.
90-degree turbo nozzle
The turbo nozzle is instrumental whenever using any pressure washer. With this device, you get a 90-degree turbo nozzle that lets you get to those awkward places quickly. You can, therefore, complete cleaning jobs within a short period.
Powerful suction
The Norse SK90 features a powerful suction that lets you draw water from a standing water source. You also get to quickly attach this machine to conventional water mains supply thanks to the standard-fit adapters. Don't worry about any dust or debris because the product also includes a filtered hose.
Multiple accessories
There are several accessories included in the package when you purchase the SK90. The included accessories ensure that you get cleaning jobs completed quickly and effectively. You don't have to worry about getting to those hard-to-reach areas. Buying such a tool with included accessories also ensures that you save a lot of time and money.
Pros & Cons
We need to take a quick look at both the good and bad. Below is a summary of how the good and bad stack up when it comes to the SK90.
Good points
Lightweight and versatile design making it very convenient
Comes with a 24-month warranty
Easy to use and store
Powerful and quiet operation
Great value and affordable price
Negative points
Garden hose is not provided
In The Box
Included during the purchase are lots of accessories that save you a lot of money and time.
1 x Norse SK90 electric pressure washer
1 x detergent bottle
Additional hose
An assortment of died or rotary brushes
Multiple nozzles
Due to the many included accessories, you can quickly handle different types of jobs. The rotary brushes will help you get rid of stubborn dirt. At the same time, the multiple nozzles ensure that you always work with ideal pressure.
Why buy
When you need a high-quality electric pressure washer that is affordable and powerful, then you need to get the Norse SK90. You will complete cleaning tasks quickly, which means that you can save a lot of time and effort.
The 2-year warranty gives you peace of mind knowing that you are covered. Understand that an extended warranty usually denotes a manufacturer's confidence in its product. You are fully covered when it comes to defects or malfunctioning.
Verdict
The SK90 is a great pressure washer that comes at a pocket-friendly price. You get a powerful machine with lots of functionality that's to the numerous included accessories. It is a substantial investment that will give you years of quality service with minimum maintenance. Clean up is also quite easy with this device, it is a great buy, packs a punch and is good value for its power and accessories that are included in the package.
*Disclosure: This article may contain affiliate links, and at no additional cost, this site may earn a commission if you buy.Last updated on 2020-09-26 / Affiliate links / Images from Amazon Product Advertising API