Nilfisk E 140.3-9 X-TRA 2.1KW Pressure Washer Review

Published By -

4th September 2015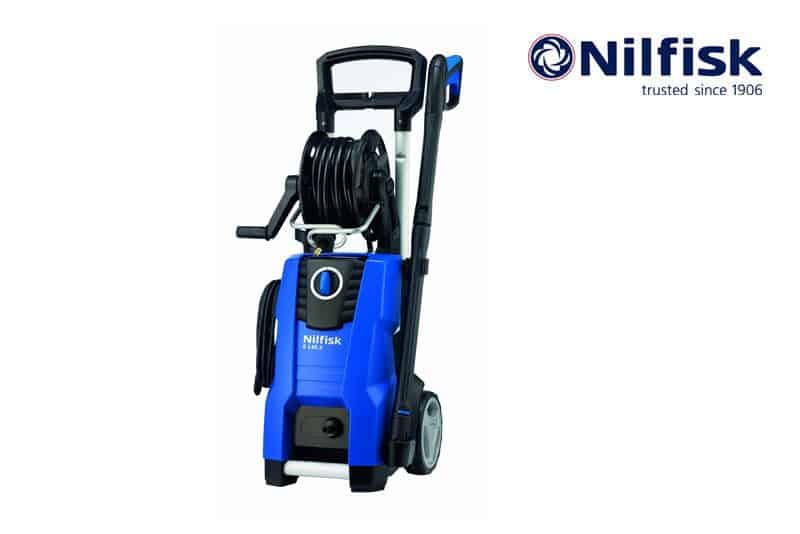 Editor Rating

Rated 3.5 stars

Very Good
---
Reviewed by:

Published on:

Last modified:
---
Summary: The Nilfik E140 is sturdy, easy to use, efficient, and effective of right about any surface. The accessories make it easy to work with as it ensures you have what you need to meet the needs of various tasks.
The Nilfisk E140 pressure washer aims at easing your washing tasks no matter what type of surface you are cleaning. It is also easy to use and does not require a lot of space for storage. It is flexible and easy to maneuver in tight spaces. When you purchase one, it comes complete with a power-speed nozzle, vario nozzle, soft grip gun, and a click and clean lance.
Performance and Design
This pressure washer comes with a powerful motor to ensure that performance is top notch and that your cleaning needs are met just as you would love. The 9M hose allows for flexibility as you can stretch further without constantly dragging it along and you can reach highly placed areas comfortably and with ease. Whether you are on your regular cleaning routines or you want to clean out hectic concerns such as moss from your walls, the Nilfisk E will deliver your objectives.
It is designed to ensure that it is easy to maneuver thanks to its wheels and the cozy handle. Its dimensions allow you store it is little space as you can store it while standing upright. The overall design ensures that it is compact and boosts the equipments performance.
Features and Specifications
Has a powerful 2.1Kw induction motor
This motor is powerful thus making it possible to clean any kind of surface. It releases water fast and with the right pressure to ensure that surfaces are stain free. This feature is important for optimum performance.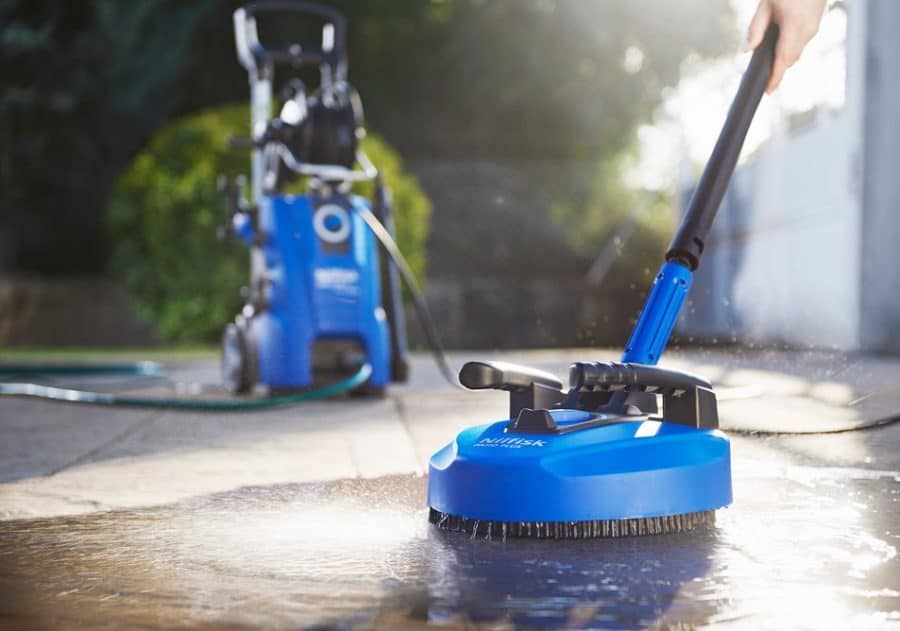 Has a 9M high pressure hose
With a 9M hose, it is evident that this pressure washer is flexible thus meaning you can work over large areas without moving the entire pressure washer. This makes it less tedious to work with when cleaning. This is accompanied with the 9M hose pipe.
It has aluminium material for durability
This pressure washer is made of aluminum material making it durable as well as light in weight to ease with maneuverability.
Has an onboard accessory storage
You can be sure that you will be minimizing the risk of causing accidents as the pressure washer comes with a hose guidance system for the hosepipe at the top of this washer. It automatically winds on and off of the storage reel so you do not have to leave it lying on the ground when not in use. In addition, it comes with a spray gun, lance, nozzle, and a detergent storage area thus making it an effective and efficient tool.
It comes with an auto start/stop function
This feature comes in handy when seeking control. When you are using the ergonomically designed spray handle, it ensures that you can easily control it as well as ensure your safety. This also saves on the water you use with the help of the thermal sensor as they also protect the pump.
It weighs 22kg and has 37.4 x 38.8 x 73 cm dimensions
This weight is adequate to ensure that it is portable and with the mentioned dimensions, it I not only portable but also easy to store away in smaller spaced areas. You can carry it from pone point to another and it can easily fit in your car.
In the box
E140 3-9 Xtra pressure washer
Detergent dosing bottle and foam applicator
Power-speed nozzle
Vario nozzle
9 Metre anti-kink soft hose with integrated hose reel system
Soft grip gun
Click and Clean lance
Pros & Cons
Pros
It is durable thanks to the aluminum material
It is light in weight
It is easy to maneuver with the attached wheels
It is also flexible with the 9M hose
It is effective and efficient
It is easy to store away with minimum storage capacity
It is easy to control with a start and stop control also making it easy to change the accessories
Cons
You cannot use it on outside painted walls as a result of its high pressure as it will remove the paint job.
Bottom line
The Nilfik E 140 pressure washer is your ideal washer when looking to take care of your cleaning chores around the home. Some of the chores it can help with include cleaning your car; clean your patio or driveway. Anything on its way is as good as clean. It is sturdy, easy to use, efficient, and effective of right about any surface. The accessories make it easy to work with as it ensures you have what you need to meet the needs of various tasks.
*Disclosure: This article may contain affiliate links, and at no additional cost, this site may earn a commission if you buy.Last updated on 2020-08-05 / Affiliate links / Images from Amazon Product Advertising API