Makita HW101 Pressure Washer Review

Published By -

2nd July 2017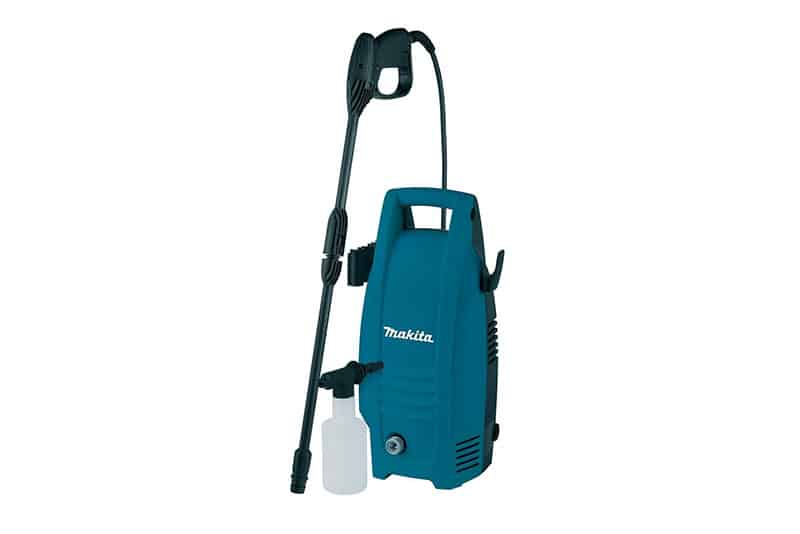 Editor Rating

Rated 3.5 stars

Very Good
---
Reviewed by:

Published on:

Last modified:
---
Summary: Discover the excellence of the Makita HW101 Pressure Washer. This machine comes with a powerful motor and in a compact design. It is also simple to use and store, thereby making it a meaningful addition for your hygiene needs. It also has a powerful and maintenance-free motor, which is suitable even for large-scale cleaning projects.
This pressure washer comes with cutting-edge features for an unrivaled cleaning performance. For those who are tired of cleaning using the conventional methods such as moppers and brush scrubbing, then this machine is perfect for your needs. It allows for simple assembly, and it has been customized for impressive performance benefits.
Best of all, this machine is compact and without causing any compromise on the overall performance of the unit. It has a unique total stop system, which is powerful and fully functional for you unique cleaning projects.
Makita HW101 Pressure Washer
This is a handy pressure washer that is perfect for various types of domestic functionalities. In fact, whether you want to clean your driveways, patios, decking, the car or even drains, this machine is the ideal solution. This machine has a powerful 1300 watt motor that has an exceptional 1.26 GPM of water flow for enhanced cleaning power. Remove grease from concrete, heavy mildew stains, rust from steel or simply another type of stubborn grime or dirt. Users can also customize the output of the spray to suit specific cleaning needs and in relation to the available spray nozzles.
Several users appreciate that its compact pressure washer, yet powerful at the same time. By the same token, the pressure washer is also feature packed, and it starts within seconds to let you complete your cleaning within minutes. In fact, it is perfect for those who want an economical cleaning solution that ensures greater performance. It provides reliable options without the hassles associated with gas or the high cost of machine operation over the years. The machine is simple to start, and it helps you leave the hassles associated with gas models behind With its highly intuitive design, this machine is both fun and simple to use.
Best of all, the machine has also been designed with meaningful auxiliary features such as the TSS system. This helps to ensure the machine provides minimal maintenance benefits each time. Unlike the conventional pressure washers, this particular model is compact. You can just carry it to your preferred location and kick-start the cleaning procedure. This feature is backed by an ergonomic handle, which makes it easy to transport the machine.
Features
Adjustable nozzle and heavy duty design
Perhaps one of the most notable features of this pressure washer is that it comes with an adjustable nozzle. In fact, it lets you customize the pressure output of the spray to suit your unique cleaning needs. More so, the inclusion of the interchangeable nozzles makes it simple to go from a high-pressure jet to a low-pressure fan spray. This also makes it simple to apply the detergent to the cleaning surface, by using the nozzle for added cleaning convenience. Furthermore, this pressure washer also has a heavy duty design, to make it perfect for any cleaning project that you throw at it.
TSS (Total Stop System) and ergonomic design handle
Further lending to the superior design of this unit is that allows users to automatically shut off the pump, especially when the trigger is not engaged. This helps users to save energy, and it also plays an important role in extending the longevity of the pump. Designed to be comfortable and simple to use, this unit also has ergonomic handles for improved cleaning efficiency for your needs. The ergonomic handles are well positioned to make it simple to transport the pressure washer.
Powerful universal motor
Taking things to the next level, the manufacturers of this pressure washer have done well to include the 13 amp universal motor. This motor provides water-resistant benefits for longevity and improved power delivery. It can deliver an average of 1.26 gallons per minute of water flow, which is more than enough for the conventional cleaning applications. Furthermore, this pressure washer is also simple to turn on with just the simple touch of a button. The motor allows for minimal maintenance benefits and to suit almost any type of cleaning project that you throw at it.
Wobble plate pump and adjustable detergent bottle
The Makita HW101 best pressure washer is also available with a wobble plate pump. This type of pump is ideal since it can provide minimal maintenance. It can run dry and still deliver high pressure for your needs. The other advantage is that it does not come with any seals moving with the piston. As a result, this helps to improve the lifespan of the pump for enhanced functionality. Additionally, the adjustable detergent bottle makes it simple to apply cleaning solutions or detergents. This makes your cleaning projects much easier, and it also helps to save time. Moreover, the detergent bottle disconnects easily and its simple to attach in the lance as well.
Good & Bad
Pros
This unit comes with a customizable nozzle design
It also has stainless steel pistons
This machine has a total stop system for improved functionality
It has a universal electric motor with wobble plate pump
It also has ergonomic handles and its simple to set up
Cons
It does not come with wheels for portability
This pressure washer does not have dual detergent tanks
In the Box
This pressure washer is available with the following items:
Makita HW101 Pressure Washer
3M high-pressure foot hose
Gun and lance
Detergent bottle
Conclusion
In taking all the important factors into perspective, it's essential to make the right decisions especially when it comes to addressing our hygiene needs at home. This is why we have prepared this Makita HW101 Pressure Washer Review.
This pressure washer meets all the ideal values of a good pressure washer. It is compact yet feature-packed at the same time. While it may not come with any attached wheels for rugged terrains, it comes with several other meaningful features for your needs.
*Disclosure: This article may contain affiliate links, and at no additional cost, this site may earn a commission if you buy.Last updated on 2020-09-23 / Affiliate links / Images from Amazon Product Advertising API