Toy Karcher Pressure Washer for Kids Review

Published By -

16th May 2017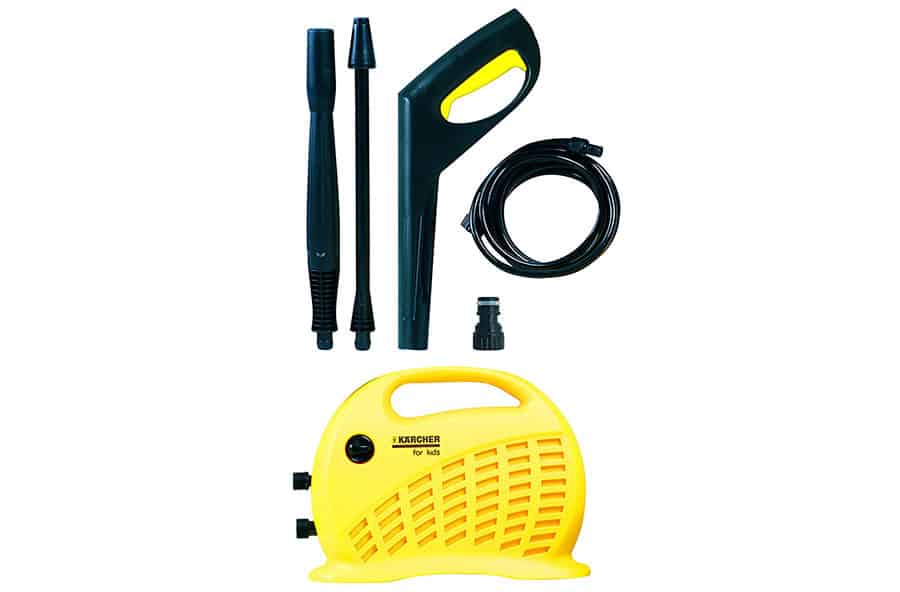 Editor Rating

Rated 5 stars

Spectacular
---
Kärcher for Kids High Pressure Cleaner

Reviewed by:

Published on:

Last modified:
---
Summary: A perfect toy for kids that love to help dad clean the car or that want to have a go with the pressure washer. A great way to get your children involved and outside. Looks like a real pressure washer and is safe and fun for kids.
If you already have a pressure washer and your children are fascinated by it, wanting to have a go, eager to help but you always have to tell them to stand back for safety then how about a pressure washer designed just for kids.
Kärcher for Kids High Pressure Cleaner
The Kärcher for Kids High Pressure Cleaner is a small little toy that allows children to have the same experience and fun as the adults with a safe power washer. The difference is the lack of power, as an adult you wouldn't use it, however for a child it allows them to do what daddy is doing on their own little bike, or ride on garden toys and clean them up like daddy is with his car.
The Kärcher for Kids High Pressure Cleaner doesn't use any power, no batteries or mains electrics plug, it just uses the mains hose pipe tap connected to it, and then there is a safe lance with trigger gun to spray out the water. It is very safe and is really just like using a hose pipe and squeezing the end to create a jet spray.
This Karcher children's toy pressure washer allows them to be outside with you, and helping them to keep their outdoor toys and bikes clean. No batteries or mains power needed, just connect the hose to a tap to allow for it to work.
The unit comes in the bright yellow like all Karcher pressure washers and is very light and easy to carry with its built in carry handle. It is lots of fun for kids and allows them to clean their own bike or help clean the car too, dad with his big pressure washer and son with a smaller safer pressure washer but still does the same thing.
It comes with everything you need, just hook up your hose pipe to this and attach the fixings and lance and it is good to go, there is a robust on off switch to allow the water through. Once on the lance can be used with the trigger gun just like the large adult version.
Toy Pressure Washer for Kids
See it in action here:

Bottom line
This small little toy looks like a pressure washer and acts like a pressure washer while being safe and fun for kids. This little device is great for getting kids involved with car cleaning and helping out with weekends chores. If you have a child that love coming out and helping when you are using your pressure washer then this is a must and a great gift for Christmas or birthdays.
*Disclosure: This article may contain affiliate links, and at no additional cost, this site may earn a commission if you buy.Last updated on 2020-08-05 / Affiliate links / Images from Amazon Product Advertising API