Karcher OC3 Mobile Pressure Washer

Published By -

23rd August 2017

If you love hiking, taking the dog for a walk, or off road biking then you will have encountered moment you get back tot he car and have to take off your muddy boots, or put the dirty bike in the back of the car. A great way of removing that dirt before you get in the car is with this Karcher mobile and hand held pressure washer.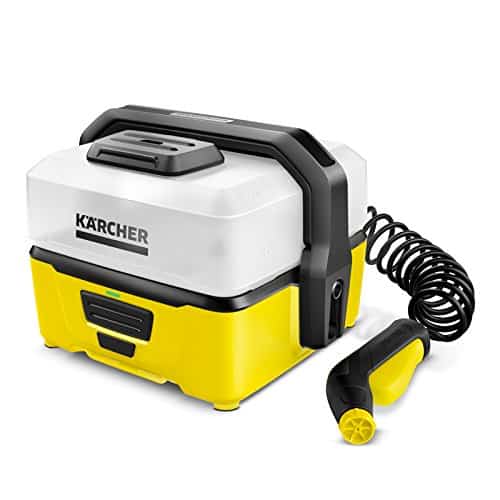 The Karcher OC3 Pressure Washer is a battery powered compact pressure washer that is ideal for keeping in the boot of your car or in a caravan.
Karcher OC3 Pressure Washer
A small 4 litre water tank and a 5 bar pressure pump and a hand held mini trigger gun allows your to wash down your bike or dirty boots from your car. The design is great, a cube shape with two parts, the water tank and handle, and the pump below, the water tank lifts off allowing you to store the hose and trigger gun in there when not in use.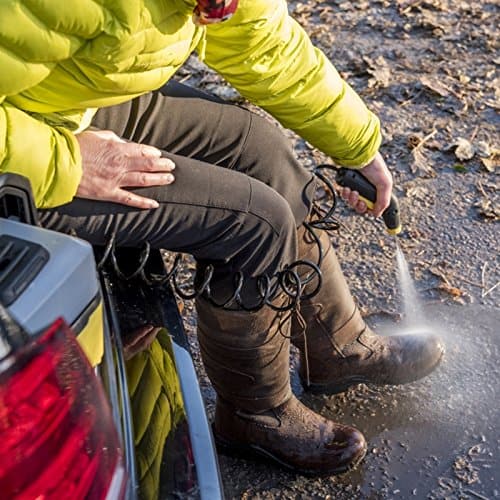 The hose is coiled and when stretched out reaches between 1-2 metres. The coil makes it easy to store away and also stops it getting tangled up. The pressure washer is powered by a rechargeable battery which needs connecting to the mains for charging, however there is mention of 12 Volt supply lead coming soon allowing you to power the device from your car if the battery is flat or needs recharging.
Uses for the Mobile Pressure Washer
Cleaning dirty walking Boots
Cleaning football boots
Cleaning your bike
Washing the paws of your dog
Washing your hands
You can buy an 'add-on' for this, the Accessories box Adventure for Karcher OC3, a brush attachment for the trigger gun, a box to store it in as well as a suction tube attachment to allow you to use water from an external source, such as water container or bottle.
What we love
It is portable, compact and actually very useful, ideal for campers and caravaners, or outdoor sports, such as cleaning your dirty boots after a match and getting back in the car. The design is simple and easy to use, once charged you just need to ensure the water tank is filled up.
Any issues?
Well as much as we love this, there is one, and it is a largish issue, the cost, at over £100 it isn't cheap and when you could get the Karcher K2 for less than this is makes it seem even more expensive.
Our Verdict
A great device that is well designed and actually has many uses and is very useful, it is expensive, but if you are a keen camper, going mountain biking most weekends, or have 3 pairs of football boots to clean each week then it may well be worth the investment. Price aside this is a great and works very well, with many uses it is a great thing to have in your car, or caravan.
*Disclosure: This article may contain affiliate links, and at no additional cost, this site may earn a commission if you buy.Last updated on 2020-09-23 / Affiliate links / Images from Amazon Product Advertising API