Kärcher K7 Premium Eco Home Pressure Washer Review

Published By -

28th March 2015


*Disclosure: This article may contain affiliate links, and at no additional cost, this site may earn a commission if you buy.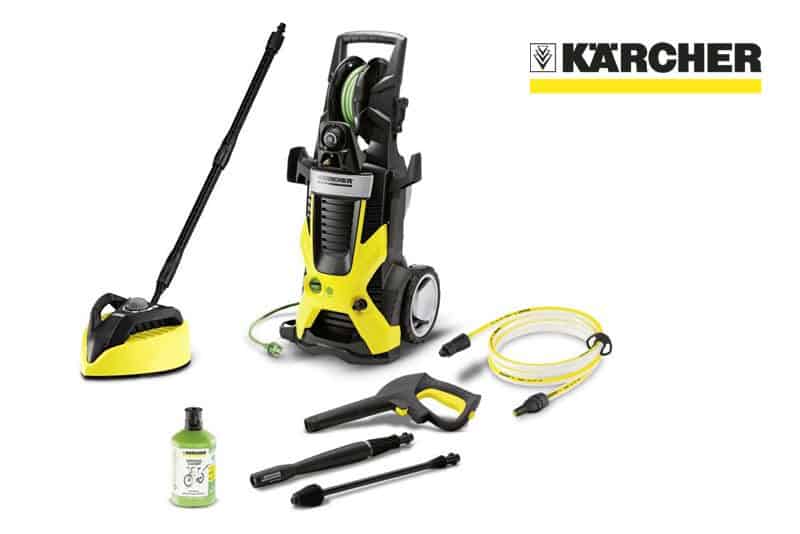 Editor Rating

Rated 4.5 stars

Outstanding
---
Reviewed by:

Published on:

Last modified:
---
Summary: The top spec Karcher pressure washer, the K7 is perfect and powerful enough for any job you may throw at it, comes with a range of attachments and if money is no issue then this is a fantastic pressure washer.
Note: This model is now discontinued, check out the new version, the Kärcher K7 Premium Full Control Home Pressure Washer here.
---
The top spec pressure washer in the Karcher range is the K7 Premium Eco Home water cooled pressure washer. It is from the home professional series of Karcher and certainly packs a punch.
OVERVIEW
The K7 Premium Eco Home water cooled pressure washer is the most powerful in their range and will tackle any job thrown at it.
Waterflow – 600 l/h
Pressure – 160 Bar
Hose Length – 8m
Motor – Water-cooled
Watts – 2800
Included with this model is everthing you could need, Vario lance, Dirtblaster, the T450 T-racer Patio Cleaner, Universal Eco Plug & Clean Detergent, Trigger Gun and a Suction Hose & Filter.
Kärcher K7 Premium Eco Home Pressure Washer Review
Performance
The Karcher K7 pressure washer has an in-built water cooling mechanism that cools the motor. Before the water pumps out of the machine, it flows through a network of pipes around the motor to keep it perfectly cool. To test the product we started with the garden pavement that was very long as it wound around the entire house. The results were just excellent; the entire pavement was cleaned just in one round and was shining like anything.
The washer comes with a much powerful T450 patio cleaner. This is perfect for bringing your patio up like new. The patio jet has an extra flat nozzle which helped get rid of the dirt from the corners and the places that are difficult to clean. The pressure washer has an additional detergent regulator switch for controlling the quantity of detergent being used. The regulator dial can be set on minimum or maximum as required depending on how you are using it.There are handles on the unit which allow you to wash vertical surfaces, great for cleaning your garage do for example.
The environment friendly washer saves almost 20% of the water and power. It judiciously uses the water and prevents any kind of wastage. Even the body of the pressure washer is made up of recyclable material. To initiate an eco friendly cleaning just twist the switch to the eco sign and automatically the device regulated the water and electricity consumptions.
The pressure washer is easy to use and move. It is operated in an upright position making it easy to grip and move across to different places. To increase the coverage area of the washer it comes with a 10m long hose. This hose is wound over the in-built reel under the handle. The Karcher K7 Premium Eco Home pressure washer reel helps to neatly wound the hose.
There are specific slots to store the gun and accessories directly onto the washer thus making it easy to store and organise. The pressure washer is electrically safe as the switches have a rubber coating and also the wheels are rubber coated for a safe and smooth mobility. It is a heft bit of kit and the twin wheels make it easy to move around like a suit case, also the weight ensures that it won't easily fall over.
What's Included:
This washer brings along a range of accessories for different tasks, included is a:
1. Vario Lance: Choose the water pressure according to your needs. For a very dirty and sticky area you can have a higher pressure and for a simpler dust a simpler pressure would do. An easy twist can change the pressure of the water considerably.
2. Dirt Blaster: A great accessory when you need to clean vehicles covered in mud, or dirt and grime from your patio or driveway.
3. T450 Patio Cleaner: The splash free cleaner helps to clean the wooden fences and also the roof top without any effort.
4. Ecological Universal Plug & Clean Detergent: Effortlessly removes oil, grease and dirt from all round the home and garden. Simply plug the container into your Plug and Clean facility or put the detergent suction tube into the container.
5. Ecological suction Hose & Filter: There is a filter inside the hose that protects the washer from any running dirt or debris.
6. High Pressure Hose: To be able to get a rid of still harder dirt I used the high pressure hose that is easy to screw on and use. The hose has an incredible coverage area of 10m.
The Karcher K7 Premium Eco Home water cooled pressure washer is a great device and a much powerful washer. Whenever you need to do a large area of cleaning then this is the best bet. The performance and quality of cleaning is highly appreciable and effective.
Perfect for…
Being the top model from Karcher it has enough power to tackle any job, the pressure is more than powerful enough to clean your car so make sure you adjust the vario lance. This is perfect for cleaning your drive, patio and brick work as the power and pressure will make it quick and easy. The K7 is ideal for cleaning boats, bikes, cars, caravans and everything else.
Why Buy?
The top model, the K7 is just about perfect for every job, a robust machine that certainly packs some power and comes with an array of useful attachments and the super T450 Patio Cleaner. Whatever task you have in mind this is certainly powerful enough, the 8m long hose makes it easy to get on with any job without having to move the washer around constantly, the power is extremely high and makes tasks such as cleaning your patio or driveway an ease and also a quick job too. Although a hefty price tag it certainly is a longterm investment and will be powerful enough for any job you throw at it, or may throw at it in the future.
5 Year Warranty. The Karcher K2 comes with a full 5 year warranty covering against everything including malfunctioning or defects in material and workmanship.
Conclusion
This top spec Karcher pressure washer is fantastic, it will tackle any job thrown at it, is well built and comes with all the attachments you need. The only thing holding it back from 5 stars is the price, it is top of the range but this hefty piece of kit also comes with a hefty price tag. The price, very expensive compared to industrial pressure washers but it certainly packs a punch.
If you will be using your pressure washer a lot, for work or weekend car cleaning then this is certainly worth investing in, the K7 Premium Eco comes with a 5 year guarantee so piece of mind.
Note: This model is now discontinued, check out the new version, the Kärcher K7 Premium Full Control Home Pressure Washer here.