Kärcher K4 Home Water-Cooled Washer Review

Review By -

28th March 2015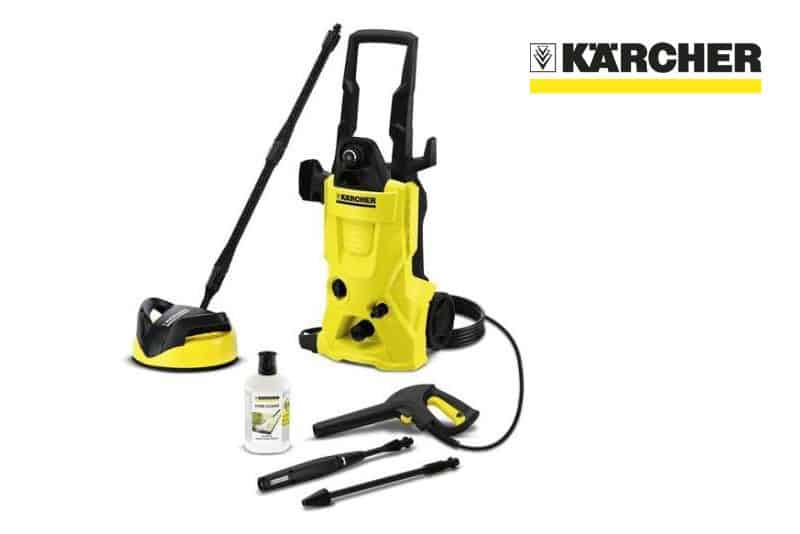 Editor Rating

Rated 4 stars

Excellent
---
Reviewed by:

Published on:

Last modified:
---
Summary: The Karcher Pressure washer is a great value for money. It is affordable and is rugged & a compact design. Handling and maintaining the pressure washer is really simple and safe.
This model is now discontinued, however Karcher have released a new K4 version, read our review here.
---
Kärcher K4 Review
The Karcher K4 home Pressure washer is in the middle of their pressure washer range and is slightly more powerful than the entry K2 model. The K4 is not only more powerful but also comes with more features and an array of extra attachments.
Overview
The K4 home water-cooled pressure washer is ideal car or bike cleaning, it comes with an array of attachments and includes the patio cleaner fitment ideal for driveways and slabs as well as cleaning vertical surfaces such as garage doors.
Waterflow – 420 l/h
Pressure – 130 Bar
Hose Length – 6m
Motor – Water-cooled
Watts – 1800
Included with this model is the Vario Lance, Dirtblaster, T350 Patio Cleaner and Universal Eco Plug & Clean Detergent.
Specification
The K4 model is in the mid range of the Karcher pressure washers and the next on up from the entry level K2. When it comes to spec everything is more, you get a longer hose at 6m, increased water flow to 420 litres per hour, powered by a 1800 watt motor giving 130 bar pressure. Another difference is the motor, this model and the K5 and K7 are water cooled where as the entry level K2 is air-cooled. What this means is the motor is wrapped in hose, so when in action the cold water is pumped around the motor to keep it cool, this is a great feature and means there is no fan to go wrong.
The extra power this model has makes it more suited for regular tasks such as car cleaning but also packs enough punch to tackle your patio and drive removing winter stains, moss and dirt.
Performance
From the outside it is  robust and well built piece of kit, black plastic with a bright Karcher yellow front, it certainly looks the part. It is quite large and is weighty, it has 2 wheels on it so that is can easily be moved around like a suitcase on wheels, it is robust and certainly won't fall over easily.
It is quick and easy to set up, the washer can be connected up to your main tap or a water butt if you have one, there is a filter built into the pump that stops and debris or particles from going through it so you don't need to worry about this if you are using a water butt. All fitments simply push and connect so it really is simple to get going and use.
The Karcher pressure washer is easily moved from one place to another with its rubber wheels. It comes with a well placed  on/off switch that has a rubber coating which is easy to wipe clean. The pressure washer is very good to perform a range of cleaning tasks like cleaning the pavements, walls, garage doors, outdoor furniture, cars, bikes, etc.
This K4 model also has the T350 Patio Cleaner attachment, this is designed specifically for tackling patios and helps prevent spray and water going everywhere, as well as being designed so that you are not just pushing the dirt and grime around. This really does work and removes dirt and grime built up not just through winter but of which has been there for years. Check out this video below.
This K4 model is the lowest model in the Karcher range to have a water cooled motor, as opposed to the entry K2 model that is air cooled. With the water cooled model the water that is pumped through the pressure washer is pumped around the motor first to help keep it cool before then coming out the hose. The power consumption of the Pressure washer is also very low thus making it a complete value for money product.
This model comes with a refillable detergent bottle that slots into a holder on the machine allowing you to use whatever you like depending on the task.
Accessories
The portable Karcher pressure washer came with a host of standard accessories that are ideal in performing various kinds of cleaning jobs.
1. Vario Lance: The accessory has a twistable jet that can be used to adjust the water pressure according to the job that we want to perform. While cleaning the algae off your drive you can twist the nozzle to have a high pressure so that the alga is pulled out, but while cleaning the leaves off the plants you may want a very low pressure.
2. Dirt Blaster: For cleaning the stubborn dirt particles and algae this accessory is amazing. Dirty and sticky pavements of the garden can be cleaned thoroughly and very quickly with little effort.
3. T350 Patio Cleaner: A real great thought process has gone into designing this product and attachment. The Patio cleaner is a splash – free cleaning accessory. It can be used to clean both the horizontal and vertical surfaces and ensures you don't just push the dirt around, great for cleaning patios, slabs and even your garage door.
4. Stone Plug and Clean Detergent: Just plug the bottle of the detergent into the device and the appliance will automatically use the detergent. You can use various kinds of detergents depending on what you are doing.
5. High Pressure Hose: To be able to get a high pressure the Karcher Pressure washer has a 6m high pressure hose which is easily connect to the device.
Ideal for
Cleaning the pavements, patios, driveways, walls and garage doors
Outdoor furniture, BBQ's and pools.
Cars and Bikes
The K4 is perfect for cleaning your car, patios, bike and even your garage door, it will also do a good job on your driveway too. If you have a larger patio or driveway and will using it for that too then you may want to take a look at and consider the K5 which is slightly more powerful which you will notice in the speed that it will clean your drive and remove dirt.
Customer Review
"It has been almost 8 months now that I have been using the Karcher K4 Home water cooler Pressure washer and I must say that it is an amazingly efficient and powerful. The washer cleans the dirty area completely and leaves a complete shine on the surface. My house and car are now always shinning and smelling fresh thanks to the engineers at Karcher who designed this wonderful and amazing product that has been a delight to use." – Amazon Customer
Why Buy?
A good all-rounder, ideal for car cleaning, and getting the garden ready for the summer, enough power for most tasks while still being reasonably priced. The patio cleaner powered by the k4 is certainly powerful enough to tackle most driveways.
2 Year Warranty. The Karcher K4 comes with a full 2 year warranty covering against everything including malfunctioning or defects in material and workmanship.
Bottom Line
This model is now discontinued, however Karcher have released a new K4 version, read our review here.
Overall the K4 is a great bit of kit, it includes everything you may need and is certainly powerful for what you will want to use it for, cleaning a driveway will bring it up like new and the dirt blaster will even kick up any cement on there too. It is simple and easy to use, easy to set up and get going as well as quick to pack away. Compared to the entry K2 it seems quieter even though it is a lot more powerful, in terms of price it is great value and certainly worth the money. At nearly double the price of the entry level K2 model, however it packs a bigger punch and is maybe better suited for more regular use.
If you only want it to clean the car we still recommend this one as it does that that little bit more power that does make a difference. If you think your patio is clean wait till you have had the patio cleaning fitment on it, you will be amazed at the difference and also the speed in which it changes from dirty to clean moving round.