Hilka RAC HP221 Pressure Washer Review

Published By -

12th October 2017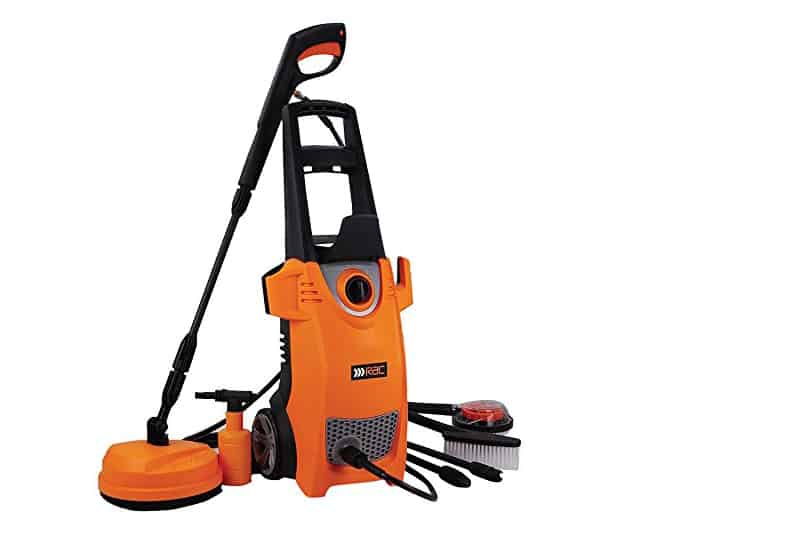 Editor Rating

Rated 3.5 stars

Very Good
---
Hilka RAC Pressure Washer

Reviewed by:

Published on:

Last modified:
---
Summary: Hilka RAC pressure washer is perfect for all domestic outdoor cleaning including windows and outside areas. The machine is compact, lightweight and easy to use hence no initial training is required. It works when mounted on wheels and comes with a handle and an auto-stop function for easy operation when working with it. The device gives unexceptional results, and we are sure that you will like it on the first day of usage.
RAC Pressure Washer Review
This is the world leading cleaning instrument that will never leave any dirty in all areas where it is involved. Its maximum working flow rate per minute is 6.7 liters which perfect for domestic cleaning. It includes a high-pressure lance, a fixed brush, soap dispensing bottle, and a patio cleaner for efficient results. This is the best pressure washer in the entire market that is designed with customer needs in mind, and we are sure that it will serve you hence fulfilling all your goals.
Overview
The Hilka RAC-HP221 RAC Pressure Washer is a compact and lightweight unit that is mounted o the wheels and it's fitted with a handle and an auto-stop function for smooth operation.
Motor – 2000 Watt
Pressure – 150 Bar
Flow rate – 6.7 liters per minute
Cable – 5 meters
Washer weight – 12 kg
The pressure washer is famous and comes with pressure lance and a fixed brush which makes washing of vehicles secure as all parts can be reaches and all dirt removed.
Performance
The product is lightweight to make it easy to move from one place to another doing the cleaning task. It is also compact to obtain transportation from one place to another easy. You can use the product to clean hard to reach area since light and can be lifted to the required height where dirt has accumulated. Usage's very easy hence no initial training is required. When instructions are followed correctly, everything becomes easy.
The Hilka RAC pressure washer is mounted on a movable wheel that makes it effortless to change location or the position of cleaning. This feature enables you to clean all the corners of your outdoor house or all the vehicles in their packing bay. Wheels are sturdy and guarantee you many years of continuous usage without replacement or repair.
It is fitted with and handles that give you a firm grip when using the device. The handle makes work easier since you can hold it while scratching difficult stains which can't be removed by the brush only. This handle is also useful when storing the pressure washer as you can hang it away from children who can bring destruction to it.
There is an auto stop feature which notifies you when the place is clean. This feature enables you to multitask while using this pressure washer. The feature also saves power because it shuts down immediately when the cleaning task is over. It also makes the product reliable giving you peace of mind as you know when all places are clean the device will be off.
See it in action in this video here –
Its maximum working rate saves water as the maximum amount of water that flows per minute is only 6.7 liters. This is ensured by the bar pressure which does not extend 150. Washer weight is convenient for this device as its lightweight for smooth operation which is required for many. Dollars used in the purchase of this product are worthy since it will serve you beyond expectations.
Accessories
There are several accessories that are supplied together with this washer to enable you to get the best from it. There is a handle that makes cleaning with this device easy and tireless. There is also a five-meter cable that is supplied together with the washer so that it can operate within a large diameter. A soap dispensing bottle and a rotary brush are both available to make cleaning comfortable and enjoyable. A pressure lance and a turbo lance are also termed as accessories.
Pros
It is a powerful pressure washer that can be relied on especially when you need to clean your car in few minutes;
Good value for the specification and power of this pressure washer
A very long cable that does it all reaching all the places.
It is compact hence saving lots of space in your room for other accessories and items.
There is a handle which makes its operation accessible and enjoyable through giving you a firm grip of the washer.
Cons
Feels cheaply made and not the most robust of pressure washers.
In the box
The Hilka RAC pressure washer is packed together with the following accessories
1 x Pressure Washer
1 x High-Pressure Lance
1 x Turbo Lance
1 x Fixed Brush
1 x Rotary Brush
1 x Patio Cleaner
1 x Soap Dispensing Bottle
Bottom line
This pressure cleaner is ideal for all outdoor cleaning jobs in your house. It can also be used to clean cars in minutes as it has a brush which performs the duty. It has been made using the latest technology with most features which customers will never find in other related products. The instrument comes as an ideal solution for those who are tired of buying low product goods which will satisfy you fully.
It has hundreds of reviews on Amazon with a 5-star rating, and it's currently the best pressure washer in the whole world. The Hilka RAC pressure washer has a range of attachment and cannot be compared to any other product in the market. Make an order today and enjoy the fantastic services of this product.
*Disclosure: This article may contain affiliate links, and at no additional cost, this site may earn a commission if you buy.Last updated on 2020-08-05 / Affiliate links / Images from Amazon Product Advertising API