FoxHunter Quality Petrol Pressure Washer Review

Published By -

18th April 2017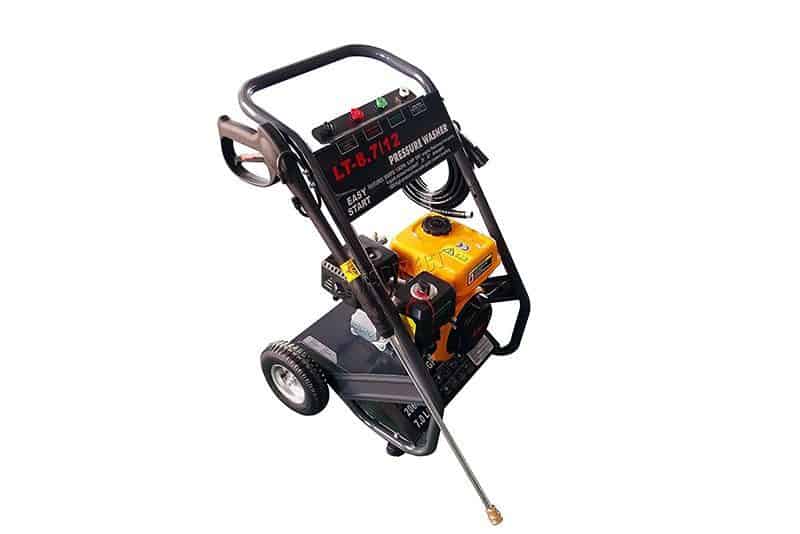 Editor Rating

Rated 3.5 stars

Very Good
---
Reviewed by:

Published on:

Last modified:
---
Summary: This pressure washer can deliver well over 3000PSI of power and a water flow of 7.5 liters per minute to suit almost any of your unique cleaning needs.
If you have been searching for the perfect addition to your cleaning activities, then you have not considered anything until you have tried out the FoxHunter Quality pressure washer. This pressure washer can deliver well over 3000PSI of power and a water flow of 7.5 liters per minute to suit almost any of your unique cleaning needs.
If you are not aware, pressure washing is by far one of the most effective methods of cleaning available out there on the consumer market today. This is because these things have special motors and cleaning nozzles that will help you to power wash any type of surface. The added benefit of using water with this sort of high pressure will enhance your cleaning results since the pressure washer will hit the surface and eliminate the dirt with exceptional results. The following FoxHunter Quality pressure washer review is the perfect place for you to start.
FoxHunter Quality Review
For those who are not aware, pressure washing and power washing refers to a particular cleaning solution, whereby water is sprayed using water under high pressure to mitigate the effects of dirt and without necessarily having to use detergent. This makes it an excellent method for cleaning automobiles, concrete floors, dust and soil from various surfaces and with exceptional results. Regardless of the scope of your cleaning procedure, this task can be made much more convenient when you use a good pressure washer. The Gasoline powered pressure washers to be specific are perfect for handling almost any type of cleaning procedure.
Quick Look
The Foxhunter Quality Pressure washer can deliver well over 3000PSIs of cleaning power, and it also comes with dynamic nozzles that make it perfect for your cleaning procedures. The added benefit of this pressure washer is that it comes with an efficient four stroke engine along with the well-positioned wheels that allow for convenient portability.
Features
OHV engine – One of the main features of this pressure washer is that it features a low OHV engine that will deliver an outstanding maximum power of 3400 PSIs. Besides that, this engine also comes with a unique low oil engine protection feature that informs you when it's time to change the oil. As a result, you not only save up on engine servicing costs, but you also enhance the overall lifespan of your engine as well.
Professional trigger gun and dynamic nozzles – The FOX hunter pressure washer also features a professional trigger gun that lets you dispense the water with exceptional side effects on the affected areas. To be specific, the trigger gun has been well positioned to allow users to choose the most appropriate pressure washing power that will suit their cleaning needs. Additionally, the dynamic cleaning nozzles include the 0, 15 and 40-degree nozzles that are perfect for performing cleaning procedures.
Compact and ergonomic features – The Foxhunter quality pressure washer is also compact and weighs in only at 8kg. In this way, you can carry it around to wherever you require the immense cleaning power, or you can opt to push it around using the well-positioned wheels. Best of all, this pressure washer also features ergonomic features on the wand and the pushing bar, which enhance your comfort during the entire cleaning procedure.
Pros
This pressure washer is compact sized and powerful
It comes with various types of nozzles
This pressure washer features low oil engine protector and detergent injector
It also comes with pneumatic transport wheels and a Professional trigger gun
Cons
This pressure washer is not perfect for large scale cleaning projects
The motor is significantly loud during operation
In the box
Heavy duty Lance- yes
Detergent nozzle-yes
Detergent suction tube-yes
Fan nozzle-yes
Pencil jet nozzle- yes
Conclusion
Taking all these points into perspective, this FoxHunter Quality pressure washer review is the perfect place to start if you want a unit that provides exceptional cleaning capabilities. This unit was chosen based on its compact nature and with the capability of providing immense cleaning power for various applications. Besides that, it also comes with a low oil detector that will help increase the lifespan of the engine and a detergent injector for added convenience. Therefore, we highly recommend that you consider investing in this unit due to its exceptional performance result and design features as well.s
*Disclosure: This article may contain affiliate links, and at no additional cost, this site may earn a commission if you buy.Last updated on 2020-08-05 / Affiliate links / Images from Amazon Product Advertising API