Bosch AQT 45-14 X High Pressure Washer Review

Published By -

31st March 2017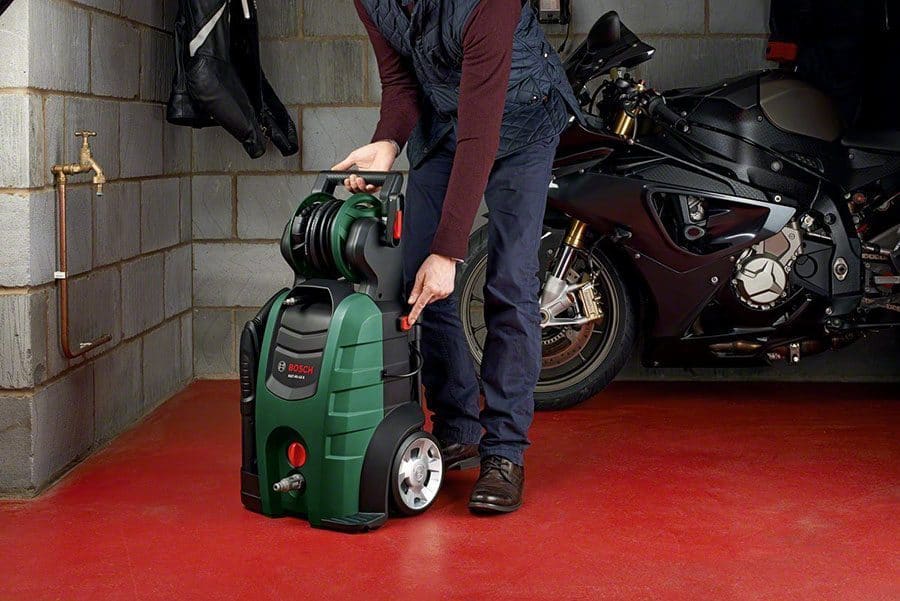 Editor Rating

Rated 4 stars

Excellent
---
Reviewed by:

Published on:

Last modified:
---
Summary: Turn the pressure all the way up. Bosch has engineered a heavy-duty high pressure washer with superior flow rate and surprising manoeuvrability.
This Bosch AQT 45-14 X High Pressure Washer is robust and well-designed. When you see it, you can tell right away it's a durable and strong machine. And when you turn it on? Well, not many washers can match the pressure and flow rate of the AQT.
So how strong is it and does that power come at a cost? Read on to get our full review.
Bosch AQT Review
The Bosch AQT is a pressure washer made for tough-to-clean machinery and surfaces. While the pressure is variable, the highest settings aren't matched by most competitors. The intense cleaning ability of the AQT is where it truly shines.
Use this pressure washer to clean old grime off a driveway, wash the dirt off a patio, or clean your truck. The telescopic handle and wheels will help you get to hard-to-reach parts of any surface.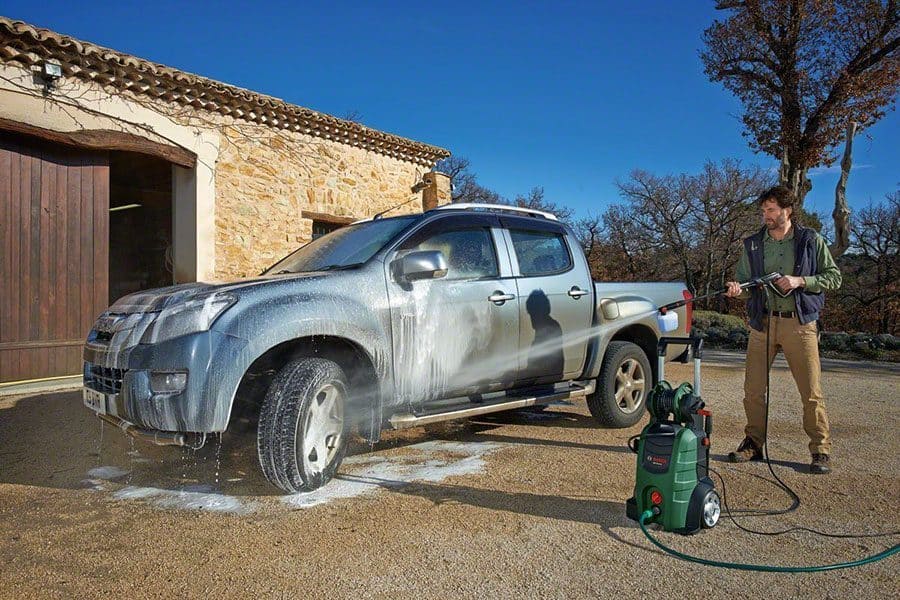 The Bosch may be overkill for smaller jobs that can be done with less pressure, but its well adapted to cleaning large and very dirty surfaces.
Features
After reviewing the Bosch AQT 45-14 X, there were a few features that stood out to us. These are the features that set this pressure washer apart and every prospective buyer needs to know about it.
Powerful
The Bosch AQT 45-14 X is a powerful machine. You can appreciate the craftsmanship the moment you pull it out of the box. This is a sturdy pressure washer and it packs a punch.
The Bosch AQT has a max pressure of 140 bar and a flow rate of 450 l/hr. This comes from its 2100 W motor. Unlike smaller washers, the rapid, high pressure flow of the Bosch enables it to clean large vehicles, driveways, and patios.
30-second setup
Don't be intimidated by the power of this machine. It's been engineered to be powerfuland easy to use. From the moment you open the box, you can have the Bosch AQT setup and ready to go in 30 seconds.
You don't have to take our word for it either. Watch the video on the Amazon page to watch them do it.
Manoeuvrable
We all know that a tidy homes and cars often come with a price: sore backs, legs, and arms. In designing the AQT, Bosch accounted for this by adding an adjustable height fold down handle. This makes it easier to use without compromising your health. The adjustable height makes it easier to store too.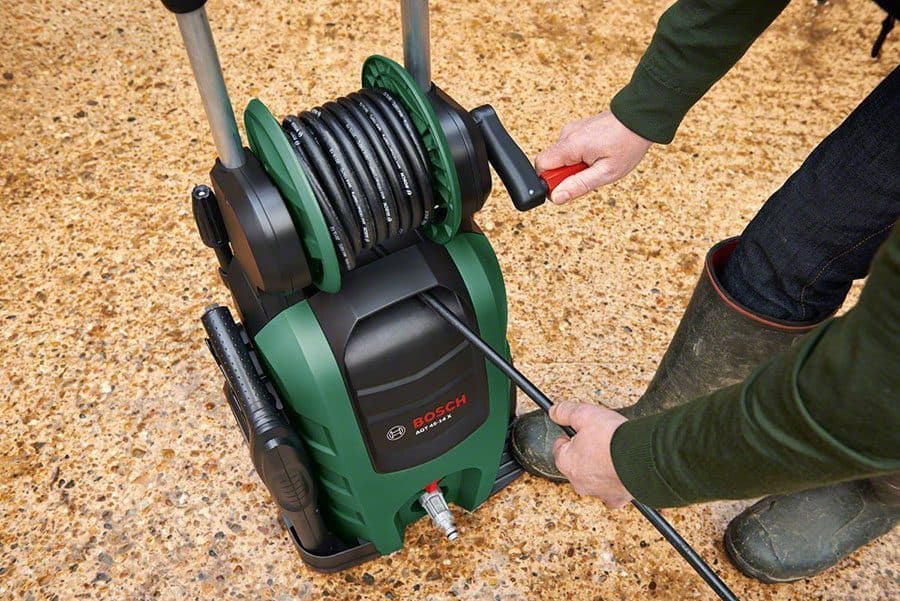 Another nice touch is the hose reel. The hose extends without require you to pull too hard, and the crank lets you quickly reel it back in after completing a job.
Accessories
Sure, you can clean a patio or eighteen wheeler with this thing, but with the right nozzle, it can be used for gentler cleaning. THe AQT 45-14 X includes:
Variable jet-fan lance
90 degree nozzle
roto-power lance
patio cleaner
detergent nozzle
Additionally, there is a suction nozzle and drain cleaner house available.
Energy efficient – Running a machine like this for a few hours can eat up a lot of power. That's why the engineers at Bosch developed their Auto-stop system.
With Auto-stop, the AQT 45-14 X completely stops using energy when not in use. That means you can keep it plugged in for hours, and only use up power when you're actively running it.
Pros and Cons of the Bosch AQT
While the AQT 45-14 x is feature-packed, there's a bit more you should consider first.
Pros
Easy to use
Fast to setup
High-pressure unit
Quiet
Loaded with accessories
Cons
Heavy
Excessive for some jobs
Some customers report nozzle leakage
In the box
1 x Bosch AQT 45-14 X High Pressure Washer
1 x Variable jet-fan lance- 1 x 90 degree nozzle- 1 x Roto-power lance- 1 x Patio cleaner- 1 x Detergent nozzle
1 x Instruction manual
When you purchase the Bosch AQT 45-14 X High Pressure Washer, you also get a free 2 year warranty. You can optionally register the tool with Bosch via their online portal, MyBosch, to extend your warranty to 3 years.
Conclusion
If you need a powerful pressure washer, the AQT 45-14X is an excellent choice. It has a high enough pressure and flow rate to make cleaning large machinery and surfaces simple. Also, it's surprisingly manoeuvrableand quiet.
One drawback to the AQT is its weight. It is a heavy machine, so despite its wheels and adjustable handle, it could be a challenge for some users to move around.
Given the amount of useful accessories included and the 2 year warranty, anyone in need of a high pressure washer should consider theBosch AQT 45-14 X.
*Disclosure: This article may contain affiliate links, and at no additional cost, this site may earn a commission if you buy.Last updated on 2020-09-23 / Affiliate links / Images from Amazon Product Advertising API