Bosch AQT 37-13+ High Pressure Washer Review

Published By -

26th July 2015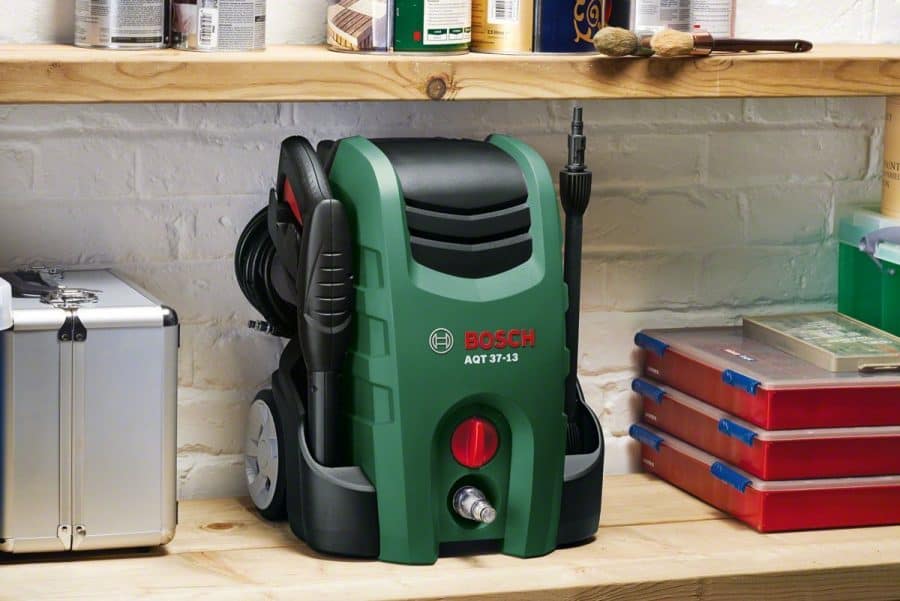 Editor Rating

Rated 4 stars

Excellent
---
Reviewed by:

Published on:

Last modified:
---
Summary: This is a good all round pressure washer great for being wheeled out every weekend, it has enough power to do most tasks, and is certainly good enough for cleaning your car.
The mid range pressure washer from Bosch is the AQT 37-13 High Pressure Washer. In terms of spec it is 130 bar pressure and a 370 litre water flow rate, all powered by a 1700 watt.
It is a well built machine with 2 wheel allowing it to be pulled around, weighting at 6.53kg it makes it easy to bring out and use. This model comes with a 6m long hose which makes it great for cleaning your car, patio or guttering, so there really isn't much need to move the pressure washer once it is out.
Putting it together is quick and straightforward. There are not many parts and the hose simply clips in. From there it is a case of plugging in and away you go. When not in use everything clips away making it easy and tired to keep packed away and easy to bring out when needed.
Bosch AQT 37-13 Review
The Bosch AQT 37-13 High Pressure Washer is a durable, sturdy, efficient and powerful electric pressure washer which you can use to power wash your patios, cars, trucks, bikes, garden furniture, brick walls, gutters etc, and you are sure to get amazing results.
There are dirt's and there are dirt's, not all dirt's can be cleaned just by using water from your garden hose and soap. Some stubborn dirt's need the help of a pressure washer. With this Bosch high pressure washer, you can get rid of the toughest of dirt's.
Whether it is mud on your patio which has accumulated over the years, dried up mould on the drive way or the roof of your home, or even vehicles that have been stained by accumulated oil, road salt or mud, they can look as clean and good as new with the help of this pressure washer. With the AQT 37-13 + Bosch pressure washer, washing out tough stains is a breeze.
The Bosch AQT 37-13 High Pressure Washer has a number of great features that have made it a fantastic equipment.
Its Features
370 litres per hour water flow – This power washer dispenses 370 litres of water per hour, which provides for a powerful, fast and efficient clean. With this water flow rate, cleaning the dirtiest patio is made easy and fast. No more standing around for long hours trying to get a section of your patio or garden furniture clean. Use this model of Bosch power washer for a quick wash and enjoy the best results.
1700 watts motor – With its 1700 watt motor, the 130 bar it provides is its highest pressure. This feature makes it ideal to use this equipment to clean your home every day. Not that you would need to, as pressure washing cleans so well, you will not have to do it every day. But at least you can use it as often as you wish without worrying about its electricity consumption.
Auto stop system – The Bosch AQT 37-13 plus High Pressure Washer stops the flow of water automatically when it is not being used. This feature helps this equipment last longer. Which means it is durable and efficient, as it only comes on when it is needed.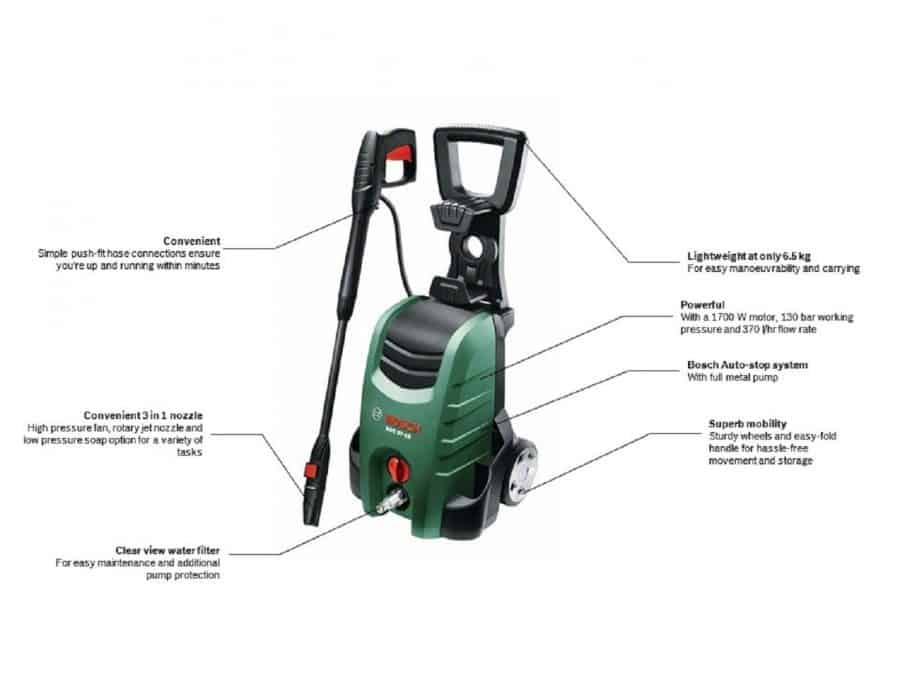 Quick-connect SDS fittings – This pressure washer needs minimal assembly. Its quick connect feature means that the item comes ready to use with little or no assembly needed. As soon as you bring it out of the carton, all you have to do is set up the hose and lance, connect it to electricity and wash away.
Adjustable wheel and handle – The wheels make moving this equipment about easy, and its adjustable handle helps you set this pressure washer to the most comfortable position that suits you.
This power washer is compact and weighs 6.5 kg – With a weight of 6.5 kg, the Bosch AQT 37 – 37 PLUS is Lightweight. It also has a compact design. Its compact design makes it easy to store away without consuming much space. This product will be ideal especially for those who do not have enough storage space in their homes. Its light weight makes it easy to carry about. Whether you are climbing up or down the stairs, with its 6.6kg weight, you will find it easy.
2 years' guarantee – This Bosch pressure washer model comes with a 2 year guarantee. So, if this equipment happens to develop any problems within 2 years of purchase, you can return it and it will either be fixed or replaced. Good value for your money right?
Bosch AQT 37-13+
3 In one and 90-degree nozzle – These nozzles allow for versatility of the Bosch pressure washer. It provides it with the ability to cover a wide range of cleaning areas. Corners, holes, etc. The 90 degree nuzzle makes cleaning places like the roof top, wheel arches or gutter easy, as you will not need to strain your back while bending or stretching to reach your desired section.
It also consists of a detergent nuzzle – It has a nuzzle for detergent for when you want to use detergent to clean tougher stains.
Box Contains
The Bosch AQT 37-13 doesn't come with any other accessories, however if you want more features then the Bosch AQT 37-13+, notice the +, comes with 3 extra attachments, Patio Cleaner, 90 degree Nozzle and the Wash Brush.
1 x Bosch AQT 37-13 Pressure Washer
1 x 3 in 1 nozzle
1 x Instruction manual
Good & Bad
Here are details of the good and not so good of this Bosch pressure washer.
Pros
This pressure washer dispenses 370 litters of water per hour. So, cleaning is quick and easy
Minimal assembly required. Which means, as soon as you bring it out of the box just connect to electricity and it's good to go
It is Versatile. Use it to wash your vehicles, patios, garden furniture, roof, brick walls, etc.
Automatic switch off. With this, you do not only save energy, this feature will help prolong the life of this equipment. So, it is sure to last long.
This pressure washer has a detergent nuzzle so you can power wash with detergent for stains that are harder to get rid of.
It comes with a 2 year guarantee. This means you can buy in confidence knowing that for the next 2 years your pressure washer is covered.
It also comes with wheels and it is light weight, which makes it easy to manoeuvre
Cons
Some customers who purchased this product complained that the hose was not strong enough
How it compares
Nevertheless, there are other models of the Bosch AQT High Pressure Washers.
When compared to the AQT 35-12+; this is a smaller and less powerful equipment. Its pressure bar is 120 and the water flow rate is 350 litters per hour. This model weighs 5.5kg and also has a 3 in one nozzle. This AQT 35 – 12 model is smaller than our very own AQT 37-13 +.
The AQT 37-13 model; is just like this AQT 37 -13+ except that it does not have a patio cleaner.
The AQT 40-13; has a pressure bar of 130, shoots 400 litters of water per hour, works on 1900 watts of power, has a fan jet and weighs 6.8 kg. Obviously this one is more powerful than the AQT 37 – 13 +
Our Verdict
I would definitely recommend the Bosch AQT 37-13 Plus High Pressure Washer to anyone who needs a powerful, lightweight but compact pressure washer that is guaranteed to fulfil all your pressure washing needs. With the water flow pressure it releases, this pressure washer is sure to get the toughest of dirt's removed in a breeze. Get your walls, patio, garden furniture, drive way, and vehicles looking clean and new again with this magnificent Bosch pressure washer. With a 2 year guarantee you will be purchasing this item in confidence and you are sure not to regret it.
This is a good all round pressure washer great for being wheeled out every weekend, it has enough power to do most tasks, and is certainly good enough for cleaning your car.
*Disclosure: This article may contain affiliate links, and at no additional cost, this site may earn a commission if you buy.Last updated on 2020-09-26 / Affiliate links / Images from Amazon Product Advertising API