Bosch AQT 35-12 High Pressure Washer Review

Published By -

26th July 2015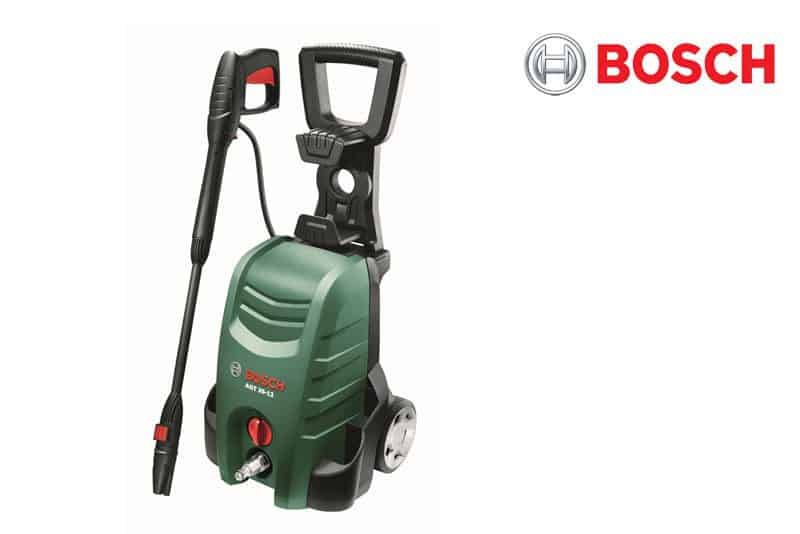 Editor Rating

Rated 3 stars

Good
---
Reviewed by:

Published on:

Last modified:
---
Summary: A well priced pressure washer ideal for cleaning your car, bike or patio, it is basic and doesn't have all the bells and whistles of other pressure washers but is quick and easy to use and does the job well.
The Bosch AQT 35-12 High Pressure Washer is a well priced, well built and good quality machine for cleaning tasks such as cleaning your car, Motorbikes, BBQs and Garden Furniture.
When it comes to spec and power the Bosch AQT 35-12 is a 120 bar pressure washer with a 150 Flow Rate (L/hr) powered by a 1500 watt motor. It comes with a 5m hose making it ideal for getting around your car for cleaning.
The pressure washer gun comes with a 3 in 1 nozzle which has 3 settings, high pressure fan, rotary jet and low pressure soap settings. This makes it great for a different range of tasks and can be adjusted for what you are doing.
This model is basic, there is no detergent container, it doesn't come with any other accessories although it has a 3 in 1 nozzle. Now although it is basic it is still great value and is ideal for anyone that wants some quick and easy to use to wash down their car, bike or patio. If you want something that you will use more regular and has extra features and options then I would advise checking out the Karcher range.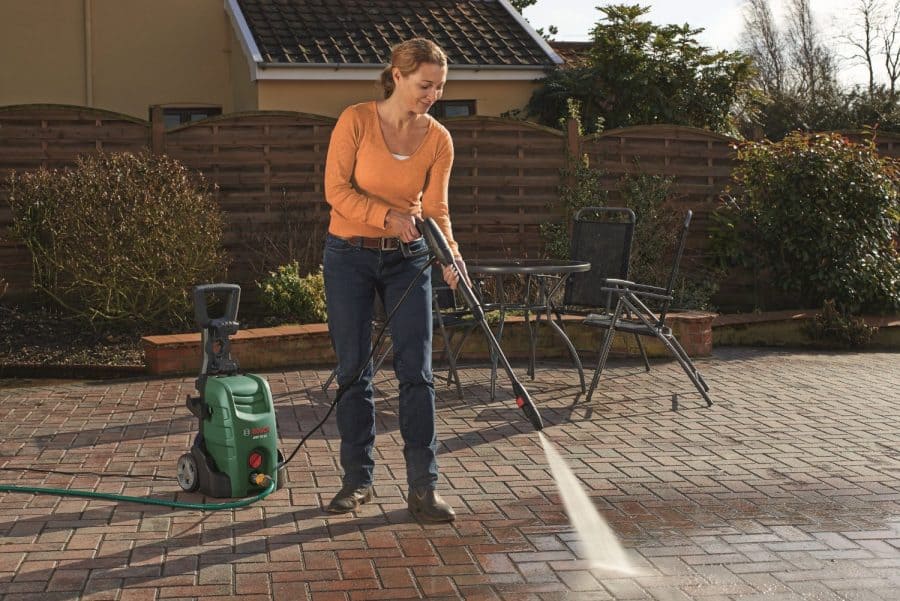 Although this model doesn't include any extra accessories they can still be picked up, Bosch offer a 90 degree nozzle which allows you to remove dirt from hard to reach places without bending down to much, this is great for when cleaning the wheel arches of your car or roof gutting. There is a patio cleaner ideal for removing grime and dirt from your slabs, they also offer a suction nozzle for removing water puddles, and there is also a drain cleaner hose which can be used to help clear blocked pipes. All of these are sold separately and can be bought if needed depending on your needs.
Although there is a patio cleaning attachment you can buy which will help clean your patio this pressure washer is more than powerful enough to clean up your slabs and remove dirt.
The machine is quite noisy so may not be great for a early Sunday morning car wash, and also the lack of attachments are some of the downsides to this. However it is a great entry level pressure washer ideal for most household tasks, simple and easy to use and if you want something easy to use without the bells and whistles then this is certainly worth a look.
In the box
1 x Bosch AQT 35-12 Pressure Washer
1 x 3 in 1 nozzle
1 x instruction manual
*Disclosure: This article may contain affiliate links, and at no additional cost, this site may earn a commission if you buy.Last updated on 2020-08-05 / Affiliate links / Images from Amazon Product Advertising API