Best Electric Power Washers for Home Use

Published By -

31st May 2016

Finding the best electric power washers for home use can make all the difference in the lives of homeowners everywhere. People need electric pressure washers that are going to allow them to easily clean the outsides of their houses, their driveways, and nearly everything else related to the exteriors of their homes. The worst pressure washers on the market are going to cause additional trouble rather than solving problems, since they're going to be difficult to handle, difficult to store, and even harder to maintain over the years.

However, the best electric power washers for home use will ultimately save people a great deal of time and money as they're trying to go about keeping their properties presentable in every way. Lots of the best electric power washers for home use were designed with sustainability in mind in this day and age, so people should be able to find some versions that will use comparatively less water and some versions where people will find it easier to turn the device on and off without consuming any additional fuel. The best electric power washers for home use are going to be better for people to use every step of the way.
Karcher K5 Eco
Many homeowners are looking for electric power washers that are more environmentally friendly, and this is a model that definitely fits the bill in more ways than one. Thanks to the Eco Switch in this device, people will be able to save around twenty percent of the water that the device is using whenever they want to be able to regulate its water level. People don't always need to be able to use a lot of water for many of the smaller tasks around the house, and the Karcher K5 Eco was designed with that principle in mind. Since people will save water, they are also going to be able to save on money at the same time. People can easily clean their medium or even large patios using the Karcher K5 Eco, which is still capable of generating a great deal of water and helping people power through an enormous undertaking like the cleaning of an entire outdoor space.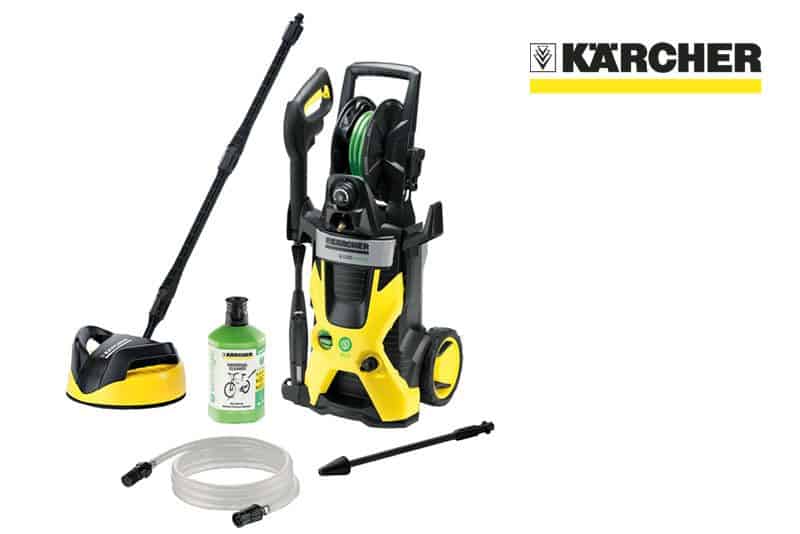 The Karcher K5 Eco can release five hundred liters an hour of water, which is a lot for a seemingly small device that was designed with environmental friendliness in mind. Its removable detergent tank makes the entire process of cleaning out the Karcher K5 Eco much easier. The 145 bar working pressure also tends to make theKarcher K5 Eco a more efficient device in general. The hose is a full eight meters long, which is going to make the overall cleaning process easier for the people who are trying to clean off most of their homes and their patios with the device. The Karcher K5 Eco was truly designed with the needs of consumers in mind. It also has one of the more visually appealing designs on the market, which many people will appreciate. Read our review here.
Nilfisk Alto E140.2
Nilfisk devices in general produce some of the best machines on the market in this product category. These are devices made in Europe, which some people are going to prefer for various reasons. TheNilfisk Alto E140.2 is actually much less expensive than many of the other electric power washers of comparable quality in this product category, so people are going to be able to get a great device at a fairly reasonable price. This is one of the best electric power washers for home use because it has a lot of the attributes that people would normally associate with the best electric power washers for commercial use, such as a telescopic handle, metal pump, induction motor, robust aluminum tubes, and pressure regulation. People will truly get a bargain device with the Nilfisk Alto E140.2.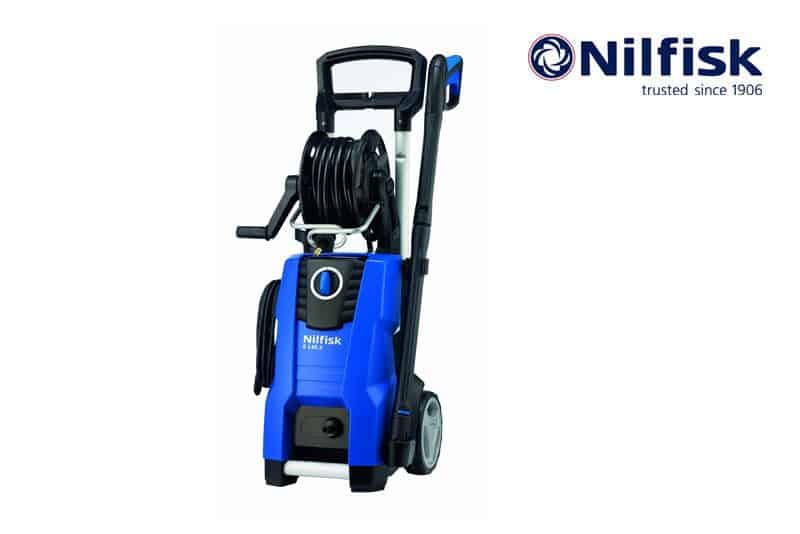 With a maximum pressure of 140 bar, the Nilfisk Alto E140.2 is one of the most powerful devices within its product range. This is also a device that is equipped with a hose that extends for nine meters. People are going to find that wielding the Nilfisk Alto E140.2 will be that much easier for them as a result. The automatic stop and start feature will make the Nilfisk Alto much easier for most people to control, and it should also allow them to save some energy and water in the process. The Nilfisk Alto E140.2 truly deserves a place among the best electric power washers for home use on the market today. Read our review here.
Mac Allister 1900W
People who have their eyes on high-quality European electric power washers should definitely consider what the Mac Allister 1900W has to offer. The Mac Allister 1900W may not have the most visually appealing design in the world, especially in contrast to the Karcher K Eco and some of the other models on the market, but it isn't visually unappealing and many people aren't going to care one way or another. The reputation of the factory that has produced this device is above reproach, and with good reason. People will get 390 liters an hour with the Mac Allister 1900W. The maximum pressure rating of 130 bar is going to be more than sufficient for the needs of the people who are using the Mac Allister 1900W. The hose is six meters long, which should be good enough for most people.
The turbo nozzle and the patio deck cleaner components of the Mac Allister 1900W will manage to make the device that much better at getting a wide range of different surfaces clean, including many of the most important surfaces that people are going to have for the exterior of their homes. The Mac Allister 1900W has the versatility and the power that people need in this product niche. To make matters better, the Mac Allister 1900W isn't as pricey as people would expect for a device of this caliber, which should allow more people to afford it.
Something a little more compact…
Karcher K2 Compact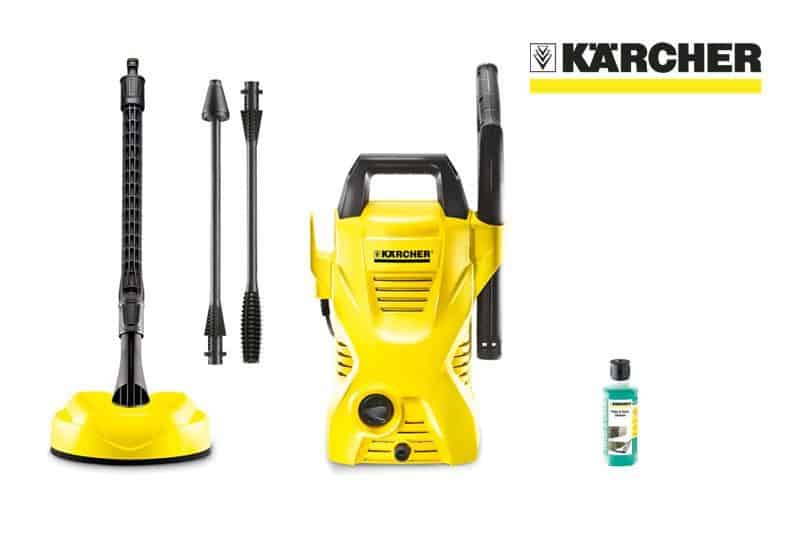 If you are looking for something a little more compact and easy to move then the Kärcher K2 Compact Home Air-Cooled Pressure Washer is one to consider. With 110 bar pressure and a water flow of 360 l/h it is perfect for washing your garden furniture down, bike or giving you car a quick clean over once a month. It is a good size and doesn't take up as much room as other pressure washers. It is good for little jobs like washing down your bike or patio chairs, however for bigger jobs such as cleaning your patio or drive then you would want to get a larger and more powerful electric washer. Read our review here.